The Museum of Old and New Art (MONA) lies on the Berriedale Peninsula in Hobart Tasmania and is the largest privately funded museum in Australia. I say lays, because the architect Nonda Katsalidis of Melbourne felt that to built a structure soaring into the sky would destroy the natural setting of the peninsular, and so designed this structure to lie on the ground, and travel three levels into the earth and cliffs of the peninsular.
Australian David Walsh (a millionaire with a very interesting past), has spend many millions in developing the site into what is considered a very unique privately owned gallery (both inside and out) and probably equal to the Guggenheim in Bilbao. Walsh was said to have refused public funding for his gallery so that he could have the only say in how it was built, what it housed and how it was managed. Yeah David Walsh!
I spent about four hours at the gallery a few months after it was opened in 2011 and I have to say it was the most inspiring and yet confronting day Iíve spent at a gallery anywhere in the world. Walsh has built this gallery to house his enormous eclectic collection of 400 artistic works (thatís how many are currently exhibited; apparently he has many more hundreds in storage). Eclectic is the term to be used because his collection is very diverse. From ancient Egyptian mummies to wonderful art installations such as Sydney Nolanís Snake and onto ultra modern installations that are designed to shock and awe; MONA has it all!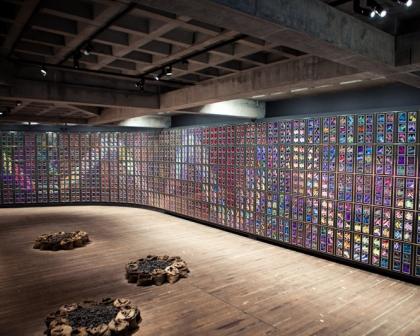 The gallery will delight and disappoint in equal measures, and the only advice I can give to the run-of-the-mill gallery visitor isÖÖ take a deep breath and look at everything.
The ability to understand what the viewer is seeing and experiencing has been made much easier by the introduction of the most up to date interactive technology for visitors. An iPod with quality headphones are supplied and special software and GPS are combined so that the iPod informs the viewer of the artworks in the immediate surroundings.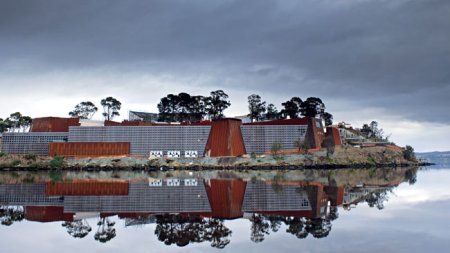 To get to the gallery, you can drive around the shores of the Derwent River; or take a helicopter flight or preferably take the modern MONA ferry ($15.00 return from the iconic docks in Hobart), where you can enjoy the sights of the Derwent River as you make your way to the gallery.
The grounds of the gallery are truly spectacular and there is the opportunity to sit or roam the grounds and enjoy a glass or two of wine and reflect on your experiences in the underground galleries below your feet.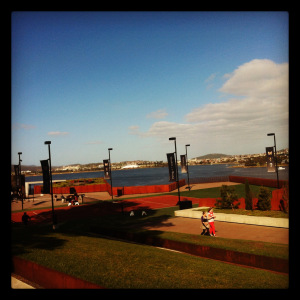 Donít be put off by the entrance to the gallery. Yes, it is a tennis court, perfectly manicured and yes you are expected to walk across it to get to the opening portal. Leave your expectations and attitude at the door. Go with the flow and enjoy the experience.