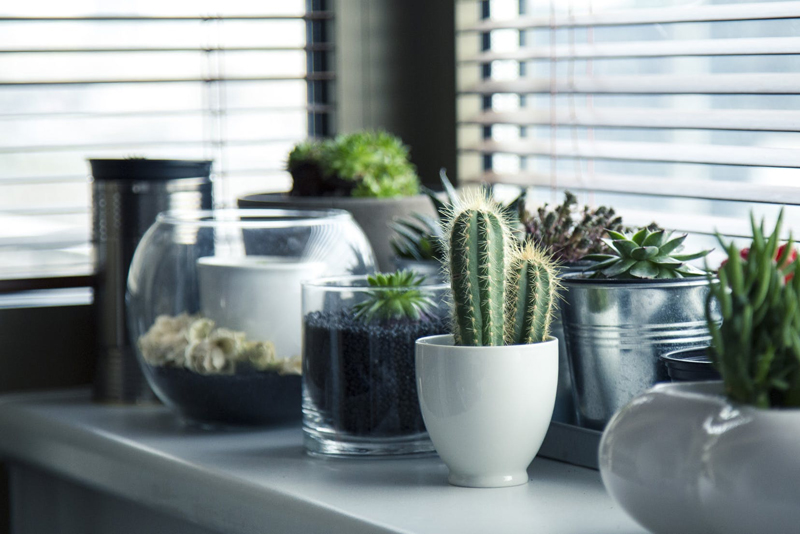 This is a plant that I really love. Don't let the name "Devil's Ivy" fool you. It's an easy grower and a great beginner houseplant. I have one that I've owned for about 6 years, and it's given me nothing but luscious foliage.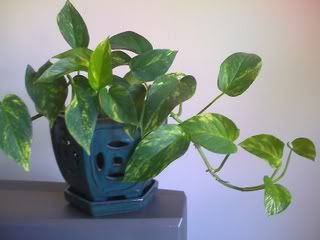 Golden Pothos is a beautiful climber with nice variegated leaves. There are other varieties of Pothos that have white markings, but the Golden Pothos is so named because of the attractive yellow markings that appear on the medium green leaves. Pothos are sometimes confused with Philodendron. They are in the same family, but are of a different genus. The leaves are somewhat heart-shaped and grow alternately on a vine. You can create a lovely hanging basket, train it to climb, or use it in a mixed basket. Pothos is reputed to filter toxins from the air. I like to keep a Golden Pothos in every room; not just for its great looks, but for health benefits.
Pothos is a pretty agreeable plant. It prefers to be out of direct sun, and can take droughts and drafts. Keep in on the dry side if you are not sure how often to water it. I often let it go until I see a slight wilt and that seems to work okay. This plant is one that I often end up inching further and further from the window when showier plants requiring higher light move into the house. I have grown this plant under all light intensities except for direct sun, and it seems to make no difference. The plant will be equally happy in any shaded place.
Propagation of Golden Pothos is a snap. Just snip off a leaf with a small segment of the vine attached and stick it into moistened potting soil. Rooting hormone may be used, but with Pothos there really isn't any need. You'll have a new plant in no time. I like to put three or four of these into one pot so that the resulting plant is nice and full. The new plant would be considered a "clone" of the parent plant, since they are genetically identical. You can also propagate Pothos by snipping off that same segment and placing it in a glass of water until roots have formed.
As far as general maintenance goes, Golden Pothos doesn't ask for much. I've never had bugs invade this plant. It benefits from the occasional leaf washing. You'll find that after a while, the leaves get very dusty. I use tepid water with just a touch of Ivory dish soap to wash the surfaces of the leaves. I always see a burst of vigor from my plants after they receive this luxury treatment! You may also want to think about occasionally giving your Pothos a trim. Cutting vines back will help encourage new growth and branching. For aesthetic reasons, don't leave a bare stem at the end of the vine: cut just above the last leaf you want to leave on the plant. Keep these tips in mind, and your Golden Pothos will give you as many good years as mine has.
This site needs an editor - click to learn more!

You Should Also Read:
Plants for Dark Corners
Passion Flower
Houseplants Newsletter




Related Articles
Editor's Picks Articles
Top Ten Articles
Previous Features
Site Map





Content copyright © 2022 by Lisa Beth Voldeck. All rights reserved.
This content was written by Lisa Beth Voldeck. If you wish to use this content in any manner, you need written permission. Contact BellaOnline Administration for details.