Red Dinosaur Learns About Buddhism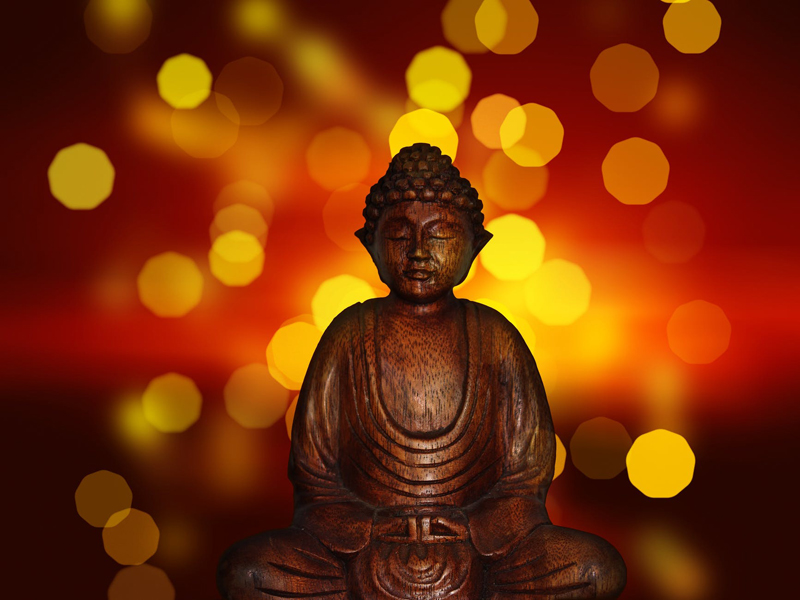 Hi! I am Red Dinosaur. I am learning about Buddhism, let's learn together.
The Buddha lived along time ago. He was born a prince and had everything he could ever want. When he was grown up he decided that he found that having
everything did not make him happy. He wanted to find a way to always be happy so he left his kingdom to search.
He started looking for happiness by living a life that was much different then his life as a prince.
Instead of having the best food, he ate only what was left over. He did not eat much of this food. Instead of having a soft bed he slept on rocks. Instead of having warm clothes he did without most of his clothes.
After many years he learned that this was not the way either.
He decided to sit and just breathe under a tree. After many days he realized the reason dinosaurs are not always happy. He also realized how dinosaurs could always be happy.
The Buddha was kind and shared what he had learned. He said there were four main things that we all needed to know about life. We call these the Four Noble Truths
There is suffering in life
This does not mean that we are never happy. It means that we are happy, but that there are times when we are not happy.
The reason we suffer (not happy) is because of our wants.
We want the best. We want more then what we already have and more then what we need. We want new toys, more money, candy and so on. This doesn't make you bad, everyone wants something.
There is a way to stop suffering.
We can all reach enlightenment :)
The way to stop suffering is to follow the Eightfold path
The Buddha told us about the way to reach enlightenment. He called it the Eightfold Path. The Eightfold Path has helped many dinosaurs, both big and small.
Right Understanding/View
Dinosaurs take the time to know why some things are. Taking the time to know why things are helps
dinosaurs understand them and is a very important part of Buddhism.
Right Thoughts/Intentions
This has to do with why you do things. It is something to really think about. Why you do something is more important then doing them.
Right Speech
Dinosaurs say only words that are true and helpful.
Right Action
Right action is achieved by following through on thoughts and intentions that are of pure motive. Right actions are not doing something with a bad attitude or because you will get something in return.
Right Livelihood
This involves having a job that is not harmful to any one else. Big dinosaurs have job that do not hurt anyone else.
Right Effort
By having right effort a dinosaur does everything as best as they can.
Right Mindfulness
Mindfulness is about knowing what is going on around you.
Right Concentration
Sometimes dinosaurs have a hard time with this. Concentration is being able to do one thing and one thing only without being side tracked by things around them.


Editor's Picks Articles
Top Ten Articles
Previous Features
Site Map



Follow @mommymystic
Tweet



Content copyright © 2022 by Samten Tsomo. All rights reserved.
This content was written by Samten Tsomo. If you wish to use this content in any manner, you need written permission. Contact Lisa Erickson for details.