St Madness - Vampires in the Church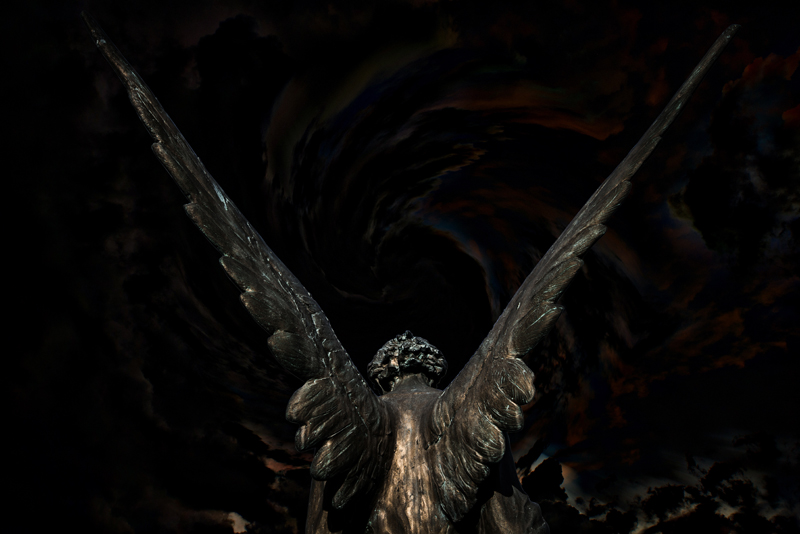 St. Madness throw it down just the way metal should be played; nasty and unapologetic and with a bit of soul to round things out. I had never heard of this Arizona outfit before stumbling across them on MySpace and now I'm confused as to why I haven't heard of them before. This is one of the best metal releases I've heard in some time and this is their sixth record so I've got a lot of catching up to do.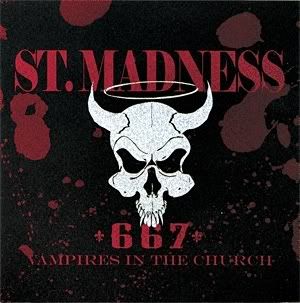 St. Madness mix the music up expertly, sidestepping the usual blitzkrieg that most bands heave at your ears. No sir, these guys can play it fast and heavy and then pull back for some melodic hard rock that hits all the right spots. And they've got a healthy sense of humor to boot, albeit a dark one. Best of all, while other bands offer up 10 or 11 tracks, these guys deliver a whopping 15 with no filler (only one brief instrumental track) or toss-off songs to help pad the set.
The record opens with the title track, starting ominously with the eerie music and other-worldly narrator. Slipping into the song, vocalist Prophet takes command of the mike with a confidence that brings you on board right away. The band is tightly coiled and you're banging your head before you know it. Prophet sounds a lot like the singer from Molly Hatchet at times, with maybe more of an edge to his sound.
"Speaking in Tongues" follows up and by now you should be in full banger mode. What really sold the band to me was the next cut, "Arizona". This is a freakin' excellent cut! It starts off with an acoustic intro before cranking into the Sabbathy-chorus. Prophet sounds awesome here, with his voice drawing you in during the verses and then slicing the air in the chorus. I just can't stop playing this song! Incidentally it was chosen to be part of the Montel Williams MS Foundation's 2007 Hard Rock / Heavy Metal Compilation CD to aid MS research.
We get treated to some delta blues to kick off the amusing "Covered in Blood Again", showing a bit of diversity. And the lyrics…I mean how can you resist a band that sings "Searching for a smorgasbord, humans come in flavors galore." Hot on its heels is another cut in the same vein, "Carl the Clown".
Outside of "Arizona", there are two high points of the record for me. The first is "Head" which is another funny track with a straightforward admission from Prophet about his view on relationships. His vocals on the first verse sound a lot like Ozzy before returning to his more throaty singing throughout the rest. Excellent stuff.
Coming right after the song is the other high point; "Ever After". This is a slower cut that sounds like Sabbath (on the chorus) mixed with Blue Oyster Cult (verses). A wicked, wicked cut that I cannot stop playing. Possibly the cut where Prophet shines the brightest.
The rest of the cuts are all up to the task of making your ears happy. Notable is a cover of Pantera's "Walk" which the boys do up in fine fashion.
If you like Ozzy-type hard rock music with a lethal dose of humor, I strongly urge everybody to check this awesome band out. I can't say enough about this record and guarantee you won't you be disappointed. "Vampires in the Church" rolls with a variety of styles here that should please almost everybody. The guitar leads are razor sharp and condensed optimally and their songs all come equipped with a memorable hook. This band deserves to get their music heard by a wide audience. Once people hear them, the rest is obvious. Hit their MySpace (see link below) for samples
You Should Also Read:
St. Madness MySpace


Related Articles
Editor's Picks Articles
Top Ten Articles
Previous Features
Site Map





Content copyright © 2019 by Morley Seaver. All rights reserved.
This content was written by Morley Seaver. If you wish to use this content in any manner, you need written permission. Contact Morley Seaver for details.