This is a supplement to the article,
Sacrament of Reconciliation - Confession
.
Confessing sins to a priest is something that was a universal practice and never debated in the Early Church. Below are several quotes from the Early Church Fathers confirming that the basics of this most powerful sacrament have always been part of the Church.
The Didache
"Confess your sins in church, and do not go up to your prayer with an evil conscience. This is the way of life. . . On the Lord's Day gather together, break bread, and give thanks, after confessing your transgressions so that your sacrifice may be pure."
(Didache 4:14,14:1 -- A.D.70)
The Letter of Barnabas
"You shall judge righteously. You shall not make a schism, but you shall pacify those that contend by bringing them together. You shall confess your sins. You shall not go to prayer with an evil conscience. This is the way of light."
(Letter of Barnabas 19 -- A.D. 74)
Ignatius of Antioch
"For as many as are of God and of Jesus Christ are also with the bishop. And as many as shall, in the exercise of penance, return into the unity of the Church, these, too, shall belong to God, that they may live according to Jesus Christ."
(Letter to the Philadelphians 3 -- A.D. 110)
"For where there is division and wrath, God does not dwell. To all them that repent, the Lord grants forgiveness, if they turn in penitence to the unity of God, and to communion with the bishop."
(ibid. 8)
Origen
"[A filial method of forgiveness], albeit hard and laborious [is] the remission of sins through penance, when the sinner . . . does not shrink from declaring his sin to a priest of the Lord and from seeking medicine, after the manner of him who say, "I said, to the Lord, I will accuse myself of my iniquity." "
(Homilies in Leviticus 2:4 -- A.D. 248)
Basil the Great
"It is necessary to confess our sins to those to whom the dispensation of Godís mysteries is entrusted. Those doing penance of old are found to have done it before the saints. It is written in the Gospel that they confessed their sins to John the Baptist [Matt. 3:6], but in Acts [19:18] they confessed to the apostles."
(Rules Briefly Treated 288 -- A.D. 374)
John Chrysostom
"Priests have received a power which God has given neither to angels nor to archangels. It was said to them: "Whatsoever you shall bind on earth shall be bound in heaven; and whatsoever you shall loose, shall be loosed." Temporal rulers have indeed the power of binding: but they can only bind the body. Priests, in contrast, can bind with a bond which pertains to the soul itself and transcends the very heavens. Did [God] not give them all the powers of heaven? "Whose sins you shall forgive," he says, "they are forgiven them; whose sins you shall retain, they are retained." The Father has given all judgment to the Son. And now I see the Son placing all this power in the hands of men [Matt. 10:40; John 20:21-23]. They are raised to this dignity as if they were already gathered up to heaven."
(The Priesthood 3:5 -- A.D. 387)
Ambrose of Milan
"For those to whom [the right of binding and loosing] has been given, it is plain that either both are allowed, or it is clear that neither is allowed. Both are allowed to the Church, neither is allowed to heresy. For this right has been granted to priests only."
(Penance 1:1 -- A.D. 388)
Return to Sacrament of Reconciliation - Confession
Resources for Reconciliation
From Getfed.com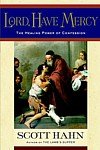 Lord Have Mercy by Scott Hahn

Catholic Parent Know-How - Preparing Your Child, First Reconciliation

For more Reconciliation Resources, visit Getfed.com