Tatted Insertions Comfort Tatting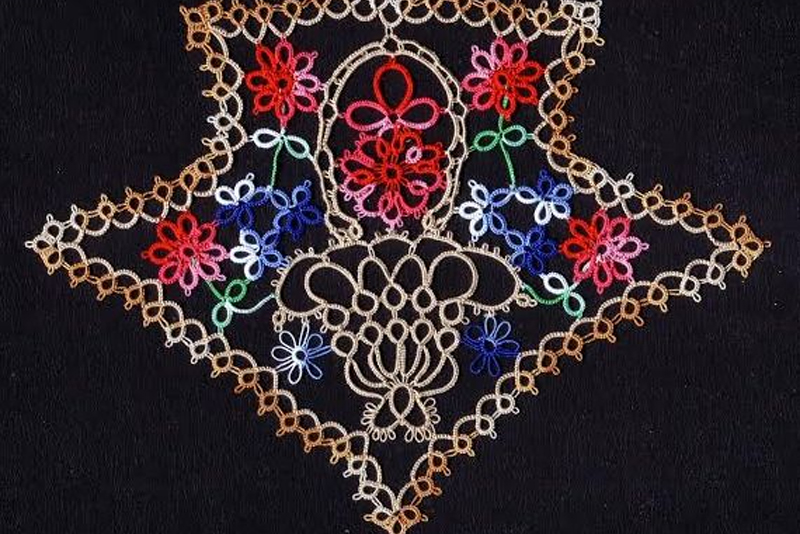 "Tatting Designs" by Comfort Workers, 1917 was published by W.H. Gannett, Inc., Augusta, Maine. (Comfort Workers including Mrs. F.L. Smith, Mrs. Frank Beal, Gladys Williams, Helen Merritt, Mrs. Nellie B. (Wheeler) Wilkinson and others.)I have only 3 pages of this booklet. Among those pages is an insertion. This pattern is a good one to practice modernizing the techniques and enhancement the look with the all front/back side effect.



This insertion is tatted in two passes and the separate edgings are joined across the center to create the insertion. It is not a difficult pattern. Although it is hard to see, one side has the rings front side up and the other side has the rings back side up. The joining rings in the center strip alternate showing front or back side. As we have studied previously, tatted lace was traditionally tatted with the rings indicating the front of the work and the chains were back side up. In modern times, however, the all front side up look has become more the norm.


Any traditional pattern may be altered to create the all front side up look with only a small change in the order of making the half stitches. The reverse order double stitch (RODS) requires beginning the double stitch with the second half stitch first, followed by the first half stitch second and then any picot(s.) If we consider the ring to be the front, then when we reverse work for the chains we also reverse the order of the half stitches. Also, if a ring is thrown off this chain, then it too, may need to be worked in RODS.


To determine the front side, check the legs of a picot. If there is a bar across each leg, that indicates the front. If there is no bar across the leg, that indicates the back side of the work.







Two Thread Insertion







Every other chain has a small ring. On the small ring, the joining picot should be very small. To create the front/back side effect, tat steps B, C, D, and F in RODS. If you are using two shuttles instead of one shuttle and the ball thread, then use shuttle two to throw off the small rings. If using two shuttles then you do not need to rw before or after the small ring.


A. R 1 - 1 - 1 - 1 - 1 - 1 - 1 - 1 close ring. (7 picots) RW


B. CH 5 RW


C. R 1 - 1 - 1 - 1 - 1 - 1 close ring. (5 picots) RW


D. *CH 5 RW


E. R 1 - 1 + 1 - 1 - 1 - 1 - 1 - 1 close ring. (7 picots) RW
F. CH 3 - 3 RW
G. R 1 - 1 + 1 - 1 - 1 - 1 - 1 - 1 close ring. (7 picots) RW
H. CH 5 RW
I. R 1 - 1 - 1 - 1 - 1 - 1 close ring. (5 picots) RW
Repeat from * for length desired; join small rings across on return pass (small rings do not join to each other.)
I include two additional diagrams for inspiration. Note the bottom diagram has rings with picots facing inward. Those are created by tatting a self-closing mock ring, i.e., a pearl tatted chain that folds back and joins to itself...but that is a lesson for another day.


Related Articles
Editor's Picks Articles
Top Ten Articles
Previous Features
Site Map





Content copyright © 2023 by Georgia Seitz. All rights reserved.
This content was written by Georgia Seitz. If you wish to use this content in any manner, you need written permission. Contact Georgia Seitz for details.