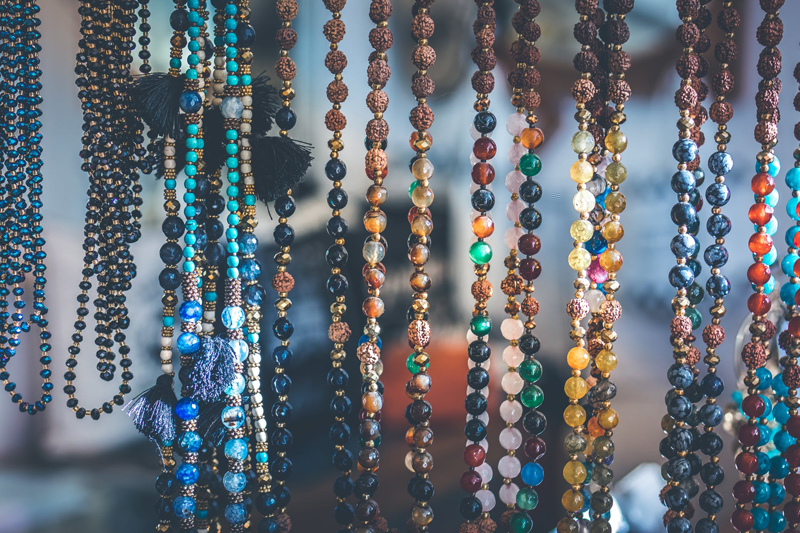 My mom was a hippy, born in 1947, she spent the 60s in California before she volunteered to come up to Alaska to teach children to read. She was a big believer in recycling. She also believed the best recycling was to re-use and re-purpose things, not to send them to a recycling plant to put more pollution in the air.
I remember how she used to go through our clothing, what was good enough to be re-used was donated or given to friends who had children that were about the right size, what wasn't was stripped of parts like zippers and buttons that were sorted carefully in her sewing box, and the scraps were turned into colorful napkins, or given to use to make things out of. Rags were the final step of an item of clothing.
I learned that from her. To look at things with an eye to how I can reuse them. Plastic milk jugs get used to back barrettes. I don't actually buy milk in plastic, but I have friends who do who know I'll use the plastic. Plastic containers for things like cheese, I sort my beads and findings in. Plastic deli containers, as long as they are marked #6 for the recycle code
can be shrunk
for fun and lightweight pendants and earrings.
Junk mail is a great source for
colorful beads
.
My daughter walks with her eyes on the ground. She's never sure what she'll find, but she's found lots of washers and nuts she strings on necklaces.
When I needed an anvil, I talked to friend who worked for the railroad, and he came up with a cylinder that's about 6 inches tall and about 5 inches in diameter made of steel. He says it was a ball bearing. Polished, it's a wonderful anvil, and very portable too.
Wire can come from all sorts of sources if you let people know you want it. My husband once found a foot long piece of very thick copper cable. The wire in it was at least 6 gauge. Wonderful for bangle bracelets, and you sure can't complain about the price.
Everyone knows pill bottles and mint tins can be used to hold supplies or even to create little sewing kits from, but pill bottles can also be used as a form for tubular peyote, some of the bottles themselves could be beaded.
Speaking of beading bottles, I've got a friend who is hooked on the tiny sample size bottles of cologne. He saves the empties for me, they have great shapes and the shapes often inspire me to bead them a particular way.
Do you have friends who smoke cigars? I used to be a bartender, and I wasn't shy about asking for the tubes some of them come in, the tubes, painted with a peyote stitched band are the perfect size for holding steel crochet hooks. So are the tubes from the large M & M minis. Peel the label off, and stitch a band to glue around it as a special gift for the thread crocheter in your life.
I like re-using and re-purposing things, and since people know I do, they keep an eye out for me to. I wind up with scraps of lace, and tangled spools of fishing line. All sorts of things that will get used by me or my children to create something.
If you have other ideas, please do send me an email. I'd love to include them.


Related Articles
Editor's Picks Articles
Top Ten Articles
Previous Features
Site Map



Follow @shala%5Fbeads
Tweet





Content copyright © 2023 by Shala Kerrigan. All rights reserved.
This content was written by Shala Kerrigan. If you wish to use this content in any manner, you need written permission. Contact Shala Kerrigan for details.