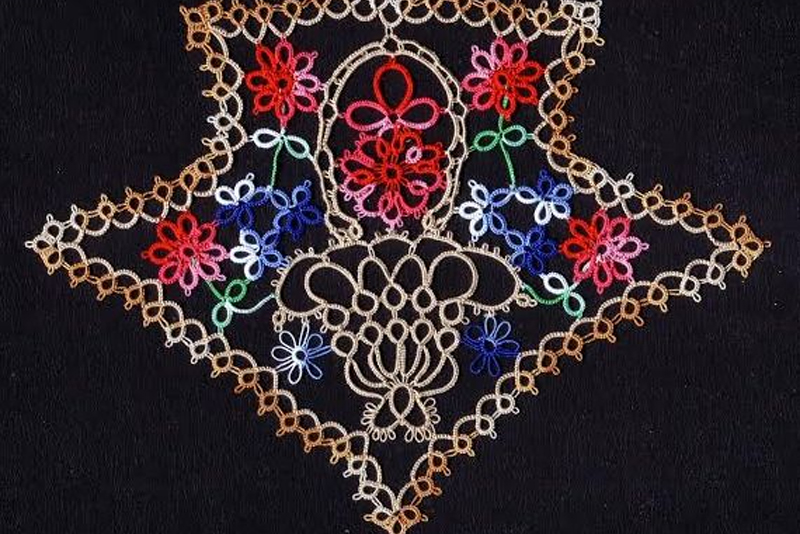 Chemical Lace, Machine-made Tatting, Faux Tatting
I first encountered chemical lace in a hanky which became a study lesson for the Online Tatting Class in 2001. It was apparent that something about the tatting was "wrong" the more we studied it. It was a tissue-thin delicate hanky edging supposedly from Switzerland. It was necessary to examine the lace under magnification to confirm that it was not tatting but machine-made chemical lace.
Pictured on the left is the original hanky with chemical lace from the study lesson. On the right is the same pattern recreated in color in true tatting.
The clue to the identification came from the threads that attached the lace to the hanky and to different sections of the lace. I eventually realized that those were not picots. They were "brides."

"Brides" is a term from bobbin lace. They are bridges of thread that join sections or motifs of lace to each other. True tatting does not have brides. Instead sections of tatting are joined by using the picots.
This type of machine-made tatting was first heavily embroidered on a fabric background. Then the entire fabric is treated with a chemical which dissolved the fabric leaving only the "lace" behind. Chemical lace is also called Schiffli Lace after the machine which makes this embroidery. Originally the chemical baths were highly toxic and polluting so the practice was discontinued. Today there are water soluble environmentally friendly substances to create this effect for decorative purposes.

The chemical lace hanky in the study lesson was identified by Pam Palmer as being manufactured by Lehner of Switzerland. Lehner still makes hankies with chemical lace process. For further examples of chemical lace see: https://www.lehner-switzerland.ch/
Here is a set of diagrams showing the construction of the chemical lace edging if recreated in true tatting. It shows a possible path to work the edging without cutting and tying by using split rings.

You Should Also Read:
Joins
Negative Space in Design


Related Articles
Editor's Picks Articles
Top Ten Articles
Previous Features
Site Map





Content copyright © 2023 by Georgia Seitz. All rights reserved.
This content was written by Georgia Seitz. If you wish to use this content in any manner, you need written permission. Contact Georgia Seitz for details.