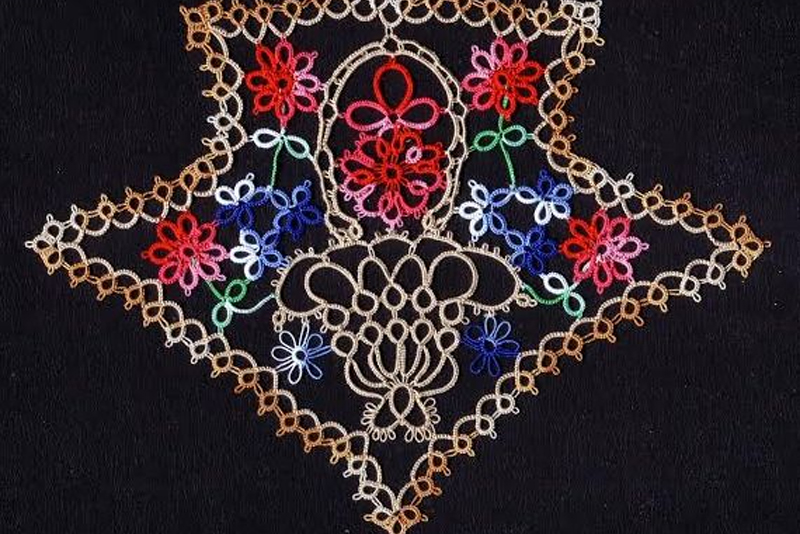 A History of Tatting, A work in Progress
I do not believe we will ever be able to pin point the true origin of the art of tatting. Whether it stemmed from needle lace, the needles used for netting ladies' tote bags or repairing fishermen's nets or from other string work like macramé found on many textiles over the centuries. I am just thankful that it became known and shared so we can enjoy it today.

And, no, Queen Mary of England, referenced in Sir Charles Sedley's poem, was not a tatter. She was knotting. Knotting is also a very traditional form of braid or cord making. These embellishments were sewn down in "pleasing patterns" afterwards. The shuttles look beautiful in the many historic paintings but they are larger than today's tatting shuttles and they are round at the points where our modern shuttles are pointed.

Dale Pomeroy's report on the Historical and Etymological Roots of Tatting makes clear that we not only do not know the true origin of tatting, we can't even pinpoint the origin of the word itself amongst many, many possibilities. He has determined that the earliest printed reference to tatting as we use the word today was in an 1841 periodical, "The Ladies' Cabinet of Fashion, Music and Romance", vi 51, "Trellis Edging. Materials: - Tatting Shuttle and Tatting Cotton"

The earliest publication which mentions tatting that I have found so far is "The Ladies Handbook of Millinery, Dressmaking and Tatting." It was published in 1843. "The Lady's Assistant for Executing Useful and Fancy Designs in Knitting, Netting, and Crochet Work" was printed between 1840 - 1846. There is a quote in it by Mrs. Jane Gaugain in the 1842 vol. II on pg. 411 about "Common Tatting Edging." On pg. 412 is this note: "If the Tatting has not been properly worked, this scollop (sic) will not draw. All Tatting stitches must be formed with the loop around the fingers." Tatting has come a long way since then.

Strips of tatted lace and individual motifs were arranged in "pleasing patterns" and then the picots were sewn together before the true join was developed. Dale Pomeroy has found an 1851 booklet, named "Tatting made Easy, and how to join with the shuttle explained and exemplified." This is dated 1851. I do not yet have a copy of it.

Mademoiselle Eleonore Riego de la Branchardiere became a legendary figure in tatting. She published her first book ("Knitting, Crochet and Netting") at the age of 12 in 1846. She went on to publish 72 books on the needle arts of which 13 were tatting books. Reprints and compilations brought the tatting total to 16 books. Mlle Riego began with borders and insertions in tatting and went on to create gold-medal award winning tatting featured at the world expositions (1851, 1855, 1862, 1872. )

Mlle Riego took credit for the use of picots to join the rings together but she used a needle to do it at first and not a shuttle.

However, Mrs. Mee is now considered to have originated the true join which greatly improved the construction of tatting. Mlle Riego developed the central ring with picots as a starting point for many larger pieces and this was emulated for decades. The classic wheel is seen on so many piece of tatting. The true chain was another great step forward for tatting, too.

Mlle Therese de Dillmont, published her book the Encyclopedia of Needlework 1886 and it is still being reprinted today. Published by DMC for decades, Mlle de Dillmont went beyond edgings and insertions to create projects such as bedspreads (some of which combined tatting and crochet). She added on the use of two shuttles and two colors. Mlle de Dillmont is credited with inventing the Josephine "knot."

Lady Katherine Hoare's "The Art of Tatting" (1910) was not an instruction book but a book of inspiration using photos of her work and the tatting of Elisabeth, Queen of Romania. Queen Elisabeth's work in tatting used real gold and precious gems and pearls (mostly religious items) into the pieces. Lady Hoare made popular the chain and she wrote: "with two shuttles and an imaginative brain there is no end to the designs that may be invented." Words still true today.

Frau Tina Frauberger (1861-1937) and her husband founded an institution to teach tatting to those blinded during in WW1. A talented needle artist her best known books are "Spitzenkunde" (1894) and "Handbuch der Schiffchenspitze, I and II." She is best remembered for popularizing the "onion ring." Although rings had been surrounded by chains and attached with a shuttle lock join, Mrs. Frauberger developed a way to surround rings with rings that is still much seen today.

And then along came Anne Champe Orr (1875-1946). She was endlessly fascinated with needle work and designed and sold hundreds or thousands of pattern for cross stitch, quilting, crochet, filet crochet. She worked with Southern Woman's Magazine, Good Housekeeping and Better Homes and Gardens. Decades after her death, Dover Publications continues to reprint her needlework patterns and instruction books, including Quilting with Anne Orr. Prior to designing quilt patterns, she produced knitting, crochet and tatting patterns and books, and ran a successful mail order business. She also provided employment for women in the Appalachians making appliqued quilts and delicate tablecloths for sale. The tatting community is grateful for her many tatting patterns. She is thought to have developed the split ring technique.

Tatting had many ups and downs during the second half of the 1900's and through those log years, one of the guardians of the art was Myrtle Hamilton who produced wonderful designs of all kinds which were published in the Workbasket, Stitch n Sew, Popular Needlework, Old Time Crochet and many others. Myrtle kept tatting alive in the USA.

Meanwhile Downunder, Norma Benporath began at an early age to produce magnificent tatting designs which were published by SEMCO and in the Australia Home Beautiful magazine. Although blind at the end, Norma was awarded the Order of Australia Medal for her contribution to the arts and attended meetings of the Tatting Guild of NSW which became the guardian of her works. In the UK three books by Elgiva Nicholls turned tatting upside down with a freeform approach so different from traditional tatting. In the 70's and 80's similar free-style books were published by Rhoda Auld and Irene Waller. Mary Sue Kuhn's work with split rings and 3-dimensional work became popular at this time too. More recently Helma Siepman of Germany has popularized a freeform floral style reminiscent of impressionist paintings.

And then there is the work of Dora Young, a different style of split ring and forerunner to today's split chain. Rebecca Jones, whose book "The Complete Book of Tatting" is a standard reference, would be surprised at tatting's advances in techniques. The tatting world is blessed with wonderful designers today and the many books available are a great treasure.

I continue my study of the history of tatting and welcome any additional information concerning its origins and antique publications.
You Should Also Read:
Tatting History work in progress
Edwige Renaudin - La Frivolité aux Navettes


Related Articles
Editor's Picks Articles
Top Ten Articles
Previous Features
Site Map





Content copyright © 2023 by Georgia Seitz. All rights reserved.
This content was written by Georgia Seitz. If you wish to use this content in any manner, you need written permission. Contact Georgia Seitz for details.