Interview with Crochet Designer, Yarn Store Owner and Author, Tess Dawson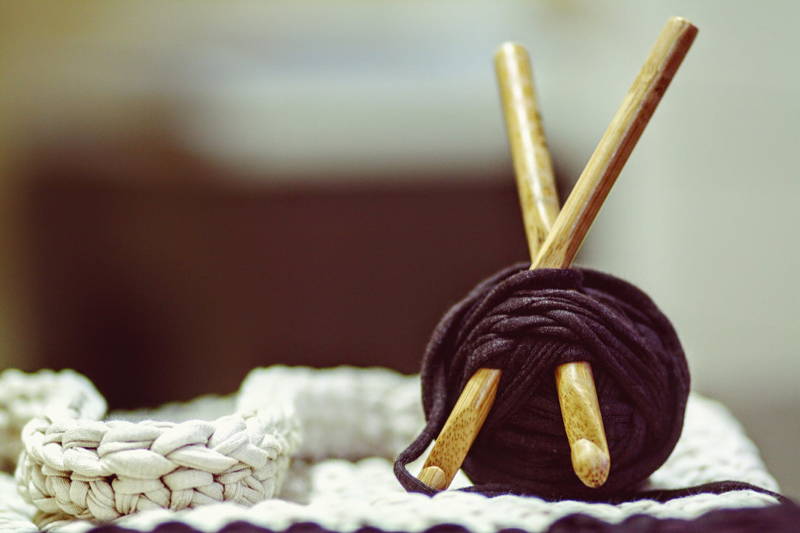 Tess Dawson
Crochet designer and author, Tess Dawson, also runs a busy yarn store - Angel Yarns. Tess has designed a range of garments and has a distinctive style, her first book
Crochet Designs: 25 Must-Have Items to Make
, has recently been published. In this interview we learn more about how Tess started to crochet, took her first steps into designing and about life in general as a busy crocheter. This interview splits over two pages so be sure to click the link at the bottom of the page to take you to the second section.
KP: How long have you been crocheting, who taught you?
TD: I've been crocheting since I was a little girl, my aunt Mina in Malaysia taught me and gave me my first set of hooks which I still have and use today. She was incredibly patient and would sit for hours showing me different stitches and techniques. My father was a rubber planter so we lived in the middle of nowhere and in the monsoon there wasn't very much to do as you couldn't play outside so I would sit and make things instead. It was an amazingly beautiful place to grow up in.
KP: When did you first start designing and why?
TD: Toy shops were pretty thin on the ground where we lived in Malaysia so I would make clothes for my teddy and dolls, and every now and again, unpick them and restyle so designing started pretty early on for me. I didn't have any patterns and just worked round things like sleeves and shaping with trial and error. A lot of unpicking went on (and still does even now!) but I have always enjoyed the challenge of trying to figure out a solution to a problem.
KP: How would you describe your style?
TD: That's a hard one. I suppose it's what I would want to wear myself, something flattering and eye-catching, and of course you get the satisfaction of saying you made it yourself. I like to see what is in fashion in the shops and design my own take on it. I try to keep up with current trends so I know what designs people are looking for. The first time I walked down the street and saw someone wearing something I had designed was a huge kick, it's something that still makes my day!
KP: What makes a good design?
TD: That's an easy one for me, I think a good design makes the person wearing it look good, feel comfortable and confident in what they are wearing. Whether it is simple or complicated the end result should always be something that flatters. I've seen some amazing designs on hangers which on actual people look daft, I know there are always going to be cutting edge designs out there but in all reality would it suit real women with real shape? To me a good design is something to enhance who you are, something you can feel proud to have made and show off.
'Crochet Designs' by Tess Dawson
KP: Your book 'Tess Dawson Crochet Designs' has just been published - how does it feel to have your designs published in a book. How did the book come about?
TD: I still can't quite believe it's a reality. I have my copy at home on the table and stop to look at it now and again when I walk past, I suppose I must finally be a grown up now I'm a published author. I often think how lucky I am to be in a business I enjoy so much.

I had originally agreed to do the book in October 2005 but had to put it on hold as I fell pregnant with my fifth (yes seriously) child and was hit badly with morning sickness. I restarted it at the end of 2006 again and a few months later it's finally here. My editors Gerri and Rachel were incredibly patient with me, I found it quite hard going with the baby and launching another new business at the same time. Rachel in particular kept me going, we also had a few hiccups as some designs had been made in yarns that were soon to be discontinued so I had to start from scratch with a few.
KP: How did you pick the 25 designs to go in the book?
TD: You would laugh if you had seen it! I had a huge box filled with things I had made and we tipped them out onto the carpet and Rachel and I sorted through which ones we liked and then tried to get an even amount of garments covering each section. We were short of a few so I had to quickly run up a couple of new ones but it doesn't take me long to design and make things up so it wasn't too hairy. It was quite funny as we tried things on as we chose them, anyone looking through the window would have thought we were playing at dressing up!
KP: Do you have any advice for budding designers?
TD: Keep trying, don't ever give up, especially if it's something you love. Approach people with your designs, wear them, offer to make them for your friends, the best advert is someone walking round wearing something you made. There are some wonderfully talented designers out there, they just need to be seen.
Continued - click HERE for next page


Related Articles
Editor's Picks Articles
Top Ten Articles
Previous Features
Site Map





Content copyright © 2022 by Kate Pullen. All rights reserved.
This content was written by Kate Pullen. If you wish to use this content in any manner, you need written permission. Contact Holly Messenger Aamot for details.