Memories of Achill Island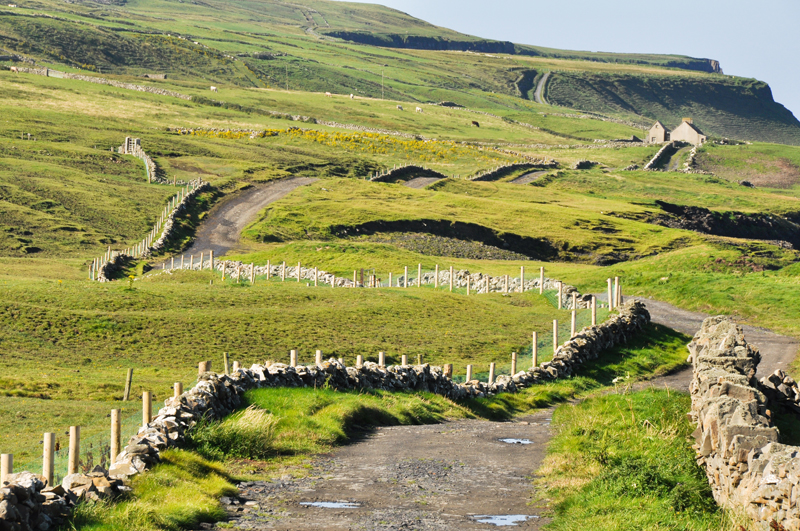 Achill Island is a small island that stands on the Currane Peninsula off the West Coast of Ireland, in county Mayo. Today it is a thriving tourist Mecca, with its official festivals and ample accommodations. In the mid-50's however, Achill Island was a somewhat desolate and isolated memorial of the old ways and the old days. Only a handful of people called this rugged coastline "home"; most of them eked out a living through farming and working part-time on the mainland.

It was a rare handful of adventurous spirits who heard Achill's wild call to "come visit". There was nothing there ----no hotels; no shops or restaurants; no parks or picnic areas ---just the rugged isolation of Ireland's West Coast.

Yet, over a number of years, in our Belfast swimming club, it had become a tradition to visit Achill once or twice a year ---just for the sole purpose of "having a dip" in the frigid waters off Ireland's Northwest. Traditions are sometimes based on foolish notions, and probably such was the concept of our trips to the West Coast ---but what a tradition it turned out to be! The trip was always made on a Sunday ( perhaps a rebellious decision made to "miss" church). A pre-dawn breakfast of sausage and eggs with soda bread was meant to carry you through first part of the journey. Then the convoy of three or four cars set off for what was always a memorable trip across the northern half of the country.

The culture of Ulster in the 50's was still very much permeated with pre-war ideas. Cars were becoming more popular, but had not yet reached that stage of "commonness" that they are today. So for young boys ( no girls allowed this time !) to travel through and see so much of the country was a rare and valued privilege. The trip sped us through the winding roads of Armagh and Fermanagh, providing us with visual though brief memories of Portadown, Aughnacloy and Enniskillen. Crossing the border at Sligo, we curved around to Ballina, dropping down to Castlebar and then the final short hop to Achill itself.

First impressions are always lasting, and the memory of stepping out of the car and feeling the biting wind come roaring off the ocean is still very real. Summer or winter, the ruggedness and wildness of the coastline could only excite such young and unseasoned travellers. The first order of the day was an immediate swim through the crashing waves. After such a lengthy trip, no cowards, babies or excuses were allowed. The initial shock of the freezing ocean always took one's breath away. A few minutes was all even the hardened adults could stand. Then, dressed and a hardy meal of sausages, well-fried bread and hot tea, all cooked over an open fire and it was time for farewells and the long, quiet ride home.

Much of the culture of that day left memories of sadness and troubled times. Yet, here and there, a memory pops up of times of adventure, fun and excitement. The thoughts of Achill Island bring a shiver to the bones as I think of the first plunge into the icy waves; but it also brings a warmth to the heart to remember friendships and happy times. People today will sometimes comment that everything in the 50's was better. Memories of Achill Island would make me want to agree.





Related Articles
Editor's Picks Articles
Top Ten Articles
Previous Features
Site Map





Content copyright © 2022 by Tony King. All rights reserved.
This content was written by Tony King. If you wish to use this content in any manner, you need written permission. Contact Bee Smith for details.