The Big Book of Tatting - Eeva Talts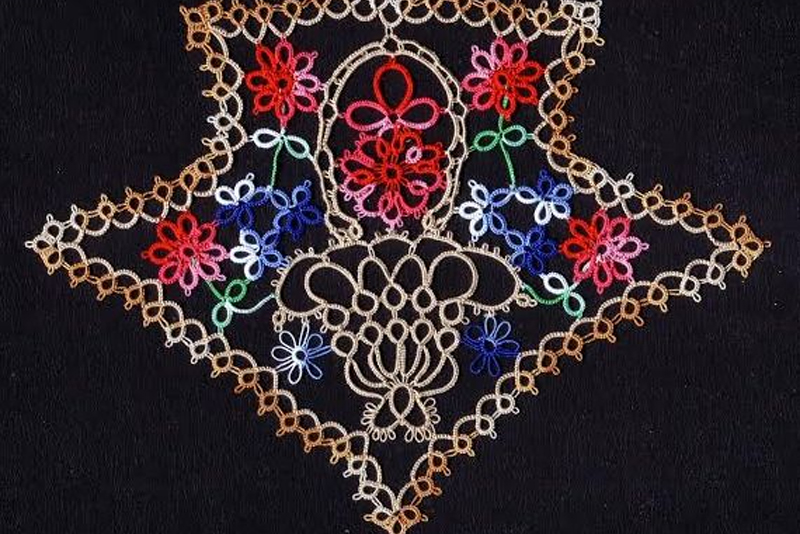 Tatting lives in Estonia! I am both pleased and surprised to find a tatting book from Estonia. My copy is a translation into German from the original Estonian. In English, the title is "The Big Book of Tatted Lace. In German, it is called "Das große Buch der Schiffchenspitze." And, "Suur Pitsiraamat" is the original Estonian title. The original was published in ©2012 and this German edition in ©2013 by Leopold Stocker Verlag, Graz and it was printed in Slovenia. How much more international could a tatting book be?




Eeva Talts is the tatting designer of this 144 page hardcover book 8.5" x 10.5". I look forward to learning more about her. There is a three page biography included in the front of the book. It ends with a photograph that explains the purpose of her book in one glance. A grandmotherly woman has shuttle in hand and is teaching a young woman to tat. One generation teaching the next. A marvelous photo.




Included also is a bit of history (and a touch of misinformation...Queen Mary II of England used a knotting shuttle to make knots which were couched in pleasing fashions...knotting is not tatting.) Other items of European tatting history were very interesting to read. And I was so glad to see the multilingual list of tatting abbreviations and important terms. This chart gives the terms in six different languages, Estonian, English, German, Swedish, Finnish and Russian. One pattern of seven rings and chains was used to explain how the patterns would be presented in each of those languages. All the methods used are defined in full word and abbreviated forms. The ds counts are presented accordingly also, i.e., English R 7 ds p 7 ds p 7 ds rw = German Ring 7-7-7 = Russian K 1, 3, 5, (7 + 7 - 7) rw etc.




The actual techniques of tatting are illustrated in very large format. Below is a sample of the formation of the starter picot. The patterns which Eeva includes are teaching patterns. Each has a technical purpose. The lace is shown in full color photos with black and white diagrams. I regret that the beautiful strong threads available to us like Lizbeth do not seem to be available there. The tatting would be enhanced with the use of a hard twist 6 cord thread instead of soft pearl cotton.




Something sets this book of tatting patterns apart from others. It is the photos. Each chapter is punctuated by photos showing tatting as a part of everyday life. Snowflakes hanging as a garland, finished motifs crowed on a table, decorating clothing, plus handmade pins and brooches with tatting are featured. Above all the photo on page 92 touched me. As a teacher of tatting I have been in that moment so many times. The "grandmother" tatter has her hands extended and fingers held wide and the young lady is slipping her hand into the loop to take over.




The book concludes with samples of tatting with other mediums such as hairpin crochet lace (aka Maltese Crochet), rickrack, needle weaving, crochet, Irish crochet, buttons and beads.



Note: I acquired this book for my personal tatting reference library. G. Seitz




You Should Also Read:
German Language Tatting Books
Foreign Language Tatting Terms


Related Articles
Editor's Picks Articles
Top Ten Articles
Previous Features
Site Map





Content copyright © 2019 by Georgia Seitz. All rights reserved.
This content was written by Georgia Seitz. If you wish to use this content in any manner, you need written permission. Contact Georgia Seitz for details.