Italian Party Sandwich Recipe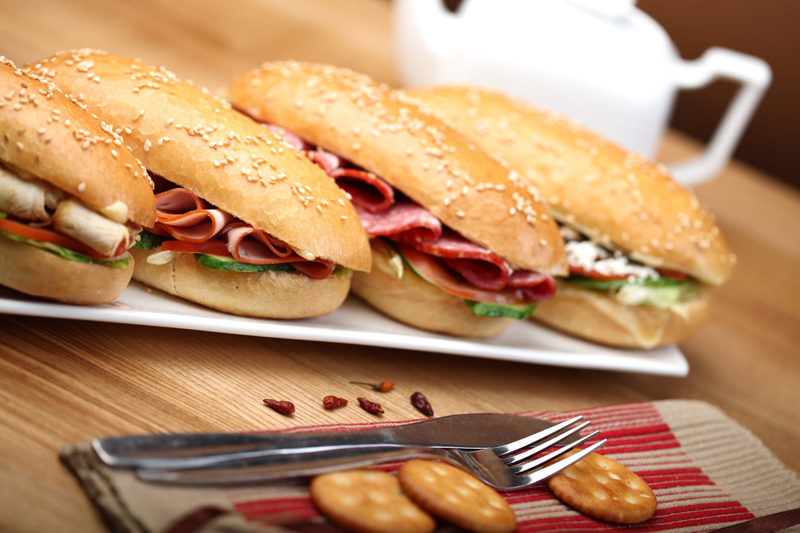 Are you having an informal get-together where you want to spend more time with your guests than in the kitchen? The Italian Party Sandwich provides a fantastic basis for a great buffet table. Let your guests gather around the table and serve themselves. Everybody gets what they want to eat, and you get to party with your friends and family!

Cold Italian Party Sandwich Recipe
Each Sandwich Serves 6 – 8 people

Ingredients For Each 15-Inch Sandwich:

1-15 inch Italian bread loaf
1 pound assorted deli meats-I used 4 ounces each of DiLusso bologna, ham, pepperoni, and Genoa Salami
½ pound thinly sliced cheese-I used 4 ounces each of DiLusso provolone and pepperjack.

Slice the bread horizontally, being careful to keep the cut as uniform as possible. Open the bread out flat with the cut side up.

Hollow a bit of bread out of both the top and bottom pieces. I took out between 3 and 4 cups of bread chunks. Set them aside. The meat, cheese, and condiments fit better into a slightly hollowed out bread loaf. You may skip this step, if you prefer.

On the bottom piece of bread, put a layer of cheese. Then, add layers of meat. Complete the stack with cheese on top. Here is how I layered mine from the bottom to the top: pepperjack, bologna, salami, ham, pepperoni, and provolone.

If you are serving the sandwich immediately, you may add thinly sliced lettuce, tomato, pickles, onions, olives, and jalapenos to the top of the meat and cheese stack, then cover that with the top layer of bread. Cut the sandwich into serving sized pieces. These don't have to be uniform, since some of your guests will be famished, while others will have delicate appetites. If you are serving your sandwich later, put the condiments in bowls and have guests add their own mix to their chosen sandwich.

Variations:

Make individual sandwiches from cocktail rolls, onion Kaiser rolls, pumpernickel rolls, or hard rolls.

Use your favorite meats: roast beef, ham, turkey, chicken, pastrami, salami, bologna, pepperoni, olive loaf, pickle and pimento loaf, or any other meat that you prefer. Combine them to suit your tastes.

Serve your favorite cheeses: Swiss, provolone, Colby, cojack, pepperjack, mozzarella, cheddar, mango fire, Muenster, and American, or any other cheese that you enjoy.

Condiments bring individuality to each person's sandwich. Thinly slice some vegetables. These include: lettuce, tomatoes, onions, sweet petite peppers, pickles, hot peppers, and olives. You may dress the sandwiches with your favorite combinations of mayonnaise, mustard (have several varieties), Ranch, olive oil dressing, Italian dressing, horseradish sauce, and catsup.

Serving suggestions:

Serve the sandwiches with any combination of these:

a variety of chips and dips;
several prepared salads;
soup in a crock pot;
a green salad;
a fruit platter;
a veggie platter.


The Italian Party Sandwich makes an excellent meal for watching a football or basketball game. It's easy to make a plate during commercials. Blend different flavors of meats and cheeses to bring variety to your buffet. Satisfy your guests, and have a super time.

You Should Also Read:
Spinach Mushroom Creamy Soup Recipe
Broccoli Cheese Soup Recipe
Simple Corn Chowder Recipe


Related Articles
Editor's Picks Articles
Top Ten Articles
Previous Features
Site Map





Content copyright © 2022 by Connie Mistler Davidson. All rights reserved.
This content was written by Connie Mistler Davidson. If you wish to use this content in any manner, you need written permission. Contact Connie Mistler Davidson for details.