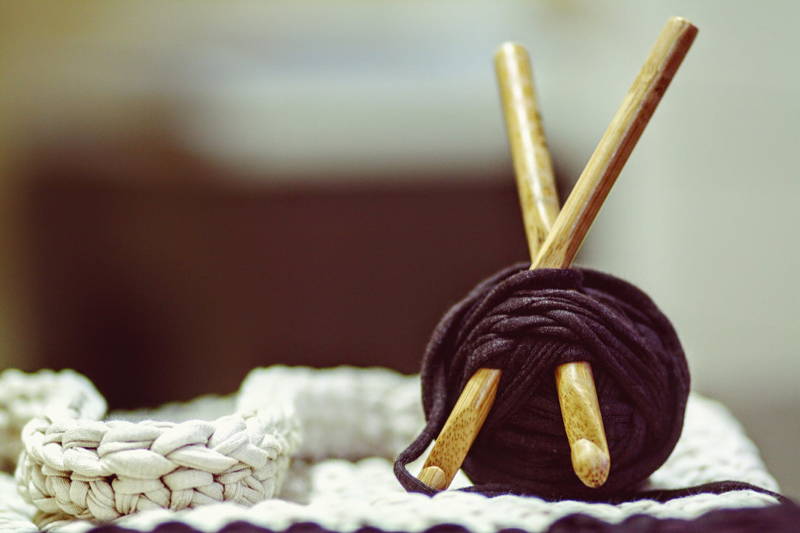 It's always a good time of year to give your yarn stash and tools a quick overview and organize things a bit. If you're anything like me, projects get started and may or may not be finished before the next project is underway. Yarn may get pulled out to use as an accent color, and not put back in its proper place. Tools generally end up in the right area, but aren't always neatly put in their place.

So, here's what I do about twice a year to make sure my yarn stash is as beautiful as the things I make with it.

First, I organize my yarns by weight. That way, when I'm looking to match yarn to a particular project, all the yarns that qualify are in the same place. I have square baskets to hold my yarns that sit nicely next to each other, so I line them up from crochet thread on the left to super massive on the right. This way, whether the baskets are labeled or not, I can easily approximate where to look, based on the weight required for my project.

Then I have subcategories within each yarn weight category. For me, the first division is between fiber types. I like to keep my wool yarn separate from alpaca, silk, cotton or mohair, etc. Each gets its own section.

Then, within the fiber types, I organize by color. That way, it's really easy to see at a glance what colors will complement each other for a project, and I believe it's easier to be creative when things are visually appealing and organized.

Organized yarn makes a beautiful display item. Perhaps you'd like to group some neutrals together in a basket as a visual feature on the bookshelf in your study. Or perhaps balls of bright holiday colors in a bowl are the perfect coffee table conversation starter.

And, of course, there's no need to keep your main stash stowed away in the dark, no matter the size. You may be surprised, especially once it's organized by color, how beautiful your stash is. Bookshelves with cubbies or baskets turned on their sides are a wonderful place to store yarn. A large portion of my current stash is in stackable wooden crates, turned on their sides and stacked creatively.

Tools can also be stored beautifully. Hooks look lovely stored in pen cups, or rolled in a custom sewn cloth storage pouch. Tapestry needles and stitch markers are cute when stored on items meant for earring storage. Buttons and other notions are lovely in clear glass jars.

It's easy to think of your yarn and supplies as the ugly or utilitarian side of your creative endeavors, but this doesn't have to be so. You choose beautiful yarns, and they can be beautiful even in the waiting.



Related Articles
Editor's Picks Articles
Top Ten Articles
Previous Features
Site Map





Content copyright © 2023 by Holly Messenger Aamot. All rights reserved.
This content was written by Holly Messenger Aamot. If you wish to use this content in any manner, you need written permission. Contact Holly Messenger Aamot for details.