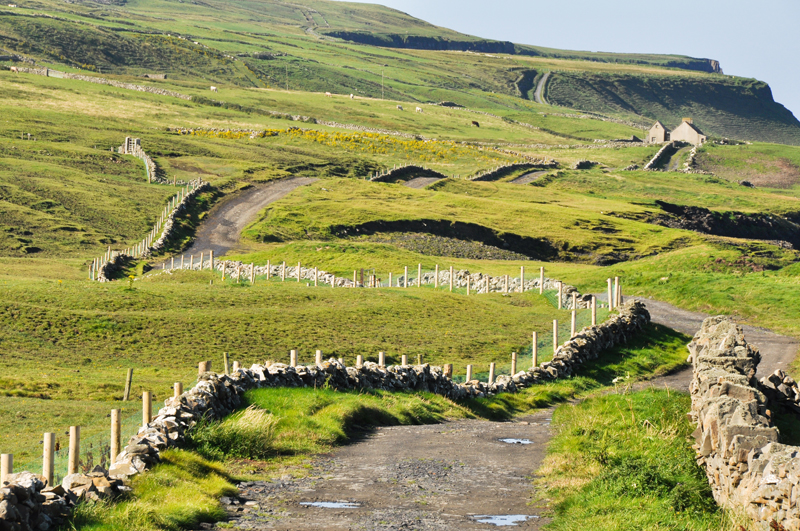 Interesting Facts About Ireland:

Fact #1: The history of Ireland goes back to around 6000 BC. when it is believed that parts of the country were inhabited by Stone - Age people. Around 4000 BC, invaders from Europe arrived bringing a Neolithic culture with them. Evidences of this era can be seen especially in County Meath, where the "passage tombs" were built around 3000 BC ---- allowing the Irish to claim archeological sites more ancient even than Stonehenge and the Pyramids of Giza.

Fact # 2: The Vikings first tried to conquer the land at the beginning of the 800's AD. Around 840 AD, Dyflinn (later to be known as Dublin) was seized by force, but the invaders were repelled by what we would call today "local militiamen". Almost 20 years later, Olaf the White led a conquering force that managed to establish a permanent Viking settlement in the area. Parts of the original town defenses can still be seen at Dublin Castle.

Fact # 3: St. Patrick was not even Irish.! The boy Patrick was seized by Irish raiders , probably from the West Coast of Wales, and taken to Ireland as a slave shepherd boy. Estimates say he was about 17 years of age at this time. In what must have been an exciting adventure which neither history nor Patrick himself records, the lad later escaped his captors, managed to find ship back to Britain and returned to his homeland . After dedicating his life to God as a monk, Patrick became troubled by visions and in answer to what he believed was the clear calling of God on his life, he returned to Ireland to lead the people away from their Druidic and occultic faiths and turn them towards the Christ of Christianity. Sometime in the mid 400's Patrick died , a revered Bishop and leader of the Church. Tradition says that he is buried in Downpatrick Cathedral in County Down. Other traditions teach that he drove all the snakes out of Ireland ----- probably false since there is no record of the country being so snake-infested. Perhaps the best known tradition concerning Patrick is his use of the threefold shamrock to teach the people the truth of the Trinity ( three in one) ----- and if Patrick didn't use this "object lesson" himself,this tradition has been copied by thousands of Sunday school teachers for years!

Fact # 4: The "troubles" (in the North) did not begin with the Battle of the Boyne in 1690. William of Orange did have a decisive victory over the Catholic King James, but this was not a religious war-- rather a political coup.
The "trouble's" really had their origin in the horrors of the potato famine in 1845 through 1890. The country was devastated with over a million people dying from starvation and complications from associated diseases. Millions of people were displaced through lack of work and poverty and while the great Irish emigration era stole even more millions of her sons and daughters to the USA, Australia and other "greener shores", many remained trying to eke out a living under circumstances that were even more horrific than the urban problems we face today. Jobs became scarce and employers looking for workers began to hire only "their own sort" ( i.e. of the same faith). This bred resentment and hatred which boiled over in the early 1920's into the beginning of all out civil/religious war. It is a sad reflection on the history of Ireland that for the next 50 years, bigotry and hatred, accompanied by a "jobs for the boys" mentality , became rampant throughout the country. The separation of the populace into Catholic and Protestant ghettoes was more self determined than government dictated. Suspicion and fear grew this hatred into an almost inbred or intuitive response to people "from the other side". Wars are always fed by hatred and misunderstanding and Ireland's "troubles" are no different. True peace only comes through an acceptance of all people as being in the image of Christ. It's a sad reflection on our nature,stubbornness and (dare I say it?) stupidity, that fifteen hundred years after the work of Patrick, it would seem that the Irish are no closer to practising this basic tenet of Christianity.It's one thing to practise one's faith by attending church and talking the talk; it's quite another thing to live one's faith by walking in the steps of the One who left us the great example of "love your enemies; do good to those that persecute you".




Related Articles
Editor's Picks Articles
Top Ten Articles
Previous Features
Site Map





Content copyright © 2022 by Tony King. All rights reserved.
This content was written by Tony King. If you wish to use this content in any manner, you need written permission. Contact Bee Smith for details.