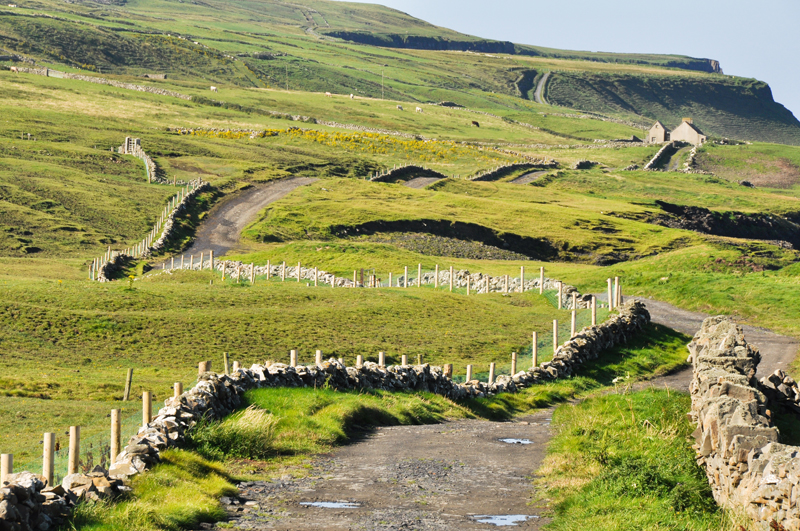 (Theobald) Wolfe Tone:

In the 18th century, Wolf Tone was one of those rare men who managed to find himself well-respected by the political leadership in both the north and the south of Ireland. Although of Protestant stock ( which may shock some), he vehemently supported the cause of Irish Independence and set about to be a conciliatory intermediary between Catholics and Protestants throughout the country. In 1798 the consensus of opinion throughout Ireland was that an imminent French invasion would enhance the opportunity for independence and so the Nationalists rose up against the British occupying forces. Sadly the long-awaited invasion never took place; the rebels were soundly defeated; Tone was condemned to hang, but rather than face this final humiliation at the hands of the English, he took his own life by slitting his throat.

Michael Collins:

Was born at the end of the 19th century in County Cork and while still a young man, was one of the leaders of the famous "Easter Uprising" at the Dublin post office in 1921. Five years later, he was one of the group which signed the treaty to end the war between England and Ireland, much to the disgust of many of his compatriots. At the actual signing, Collins is reported to have said words to the effect of: "I believe that I have signed my own death warrant," Sadly, his foreboding became reality when he was ambushed and killed in his native County Cork on August 22nd, 1922. He was only about 32 years old. In the years of the rebellion, Collins was responsible for organizing all resistance to English rule in Ireland and it is said that he alone is the author of all Guerilla Warfare tactics used today throughout the world.
(Editor's Note: If you ever get the chance to see a movie on the life of Michael Collins, starring Liam Neeson, you will find it extremely informative and entertaining. The movie is called : "Michael Collins". Also, while on the subject---- "The Informer" with Victor McLaglen is another great "Irish" movie to view)

Monsignor Hugh O'Flaherty:

Whether Catholic or Protestant, the story of this man's life and heroism can only leave you breathless with a feeling of awe-inspiring admiration. Assigned to the Vatican during World War II, he was solely responsible for establishing a rescue service by which he managed to save the lives of over 6000 Allied Troops and have them (miraculously) returned to their respective units via Switzerland. Since many of these soldiers were Jewish by birth and faith, their fate at the hands of the Nazis was all too certain. Yet Hugh O'Flaherty had them hidden by families in Rome and had them issued with Catholic Birth Certificates ( so that if they were captured, at least they could claim Catholic heritage and safety). Sometimes called " The Scarlet Pimpernel of the Vatican", his great nemesis was the Gestapo Chief in Rome, Colonel Herbert Kappler. It is estimated also that of the nearly 10,000 non-military Jews in Rome in 1942, only 1000 were shipped to concentration camps, mostly through the rescue efforts of Monsignor O'Flaherty. After the war, Colonel Kappler was sentenced to life imprisonment as a war criminal. It speaks volumes about the character of Hugh O'Flaherty when we learn that during all his years in prison, Kappler's only visitor was a certain Monsignor priest who visited the wretched Gestapo Chief once a month. The Vatican's "Scarlet Pimpernel" eventually advanced to some of the Catholic Church's highest positions until his retirement in 1960. Three years later he died and is buried in his native County Kerry.



Related Articles
Editor's Picks Articles
Top Ten Articles
Previous Features
Site Map





Content copyright © 2022 by Tony King. All rights reserved.
This content was written by Tony King. If you wish to use this content in any manner, you need written permission. Contact Bee Smith for details.