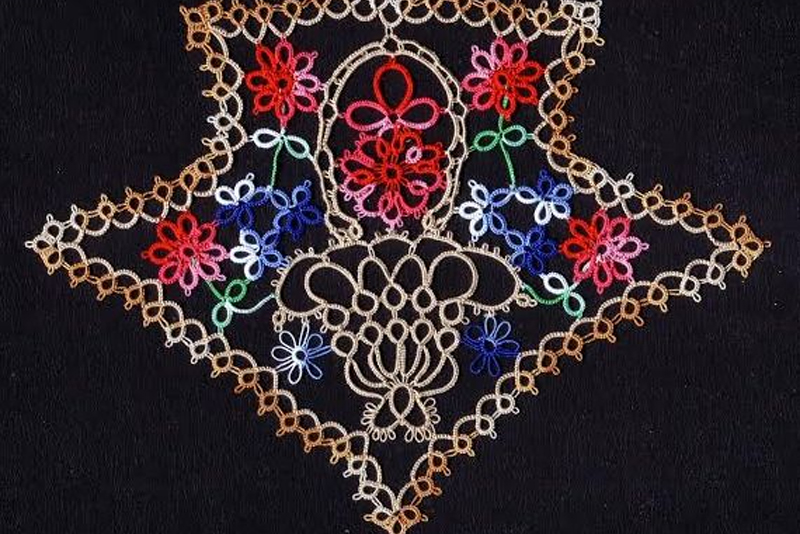 The Tatted Cross
The tatted cross is a perennial favorite with tatters everywhere. It is a great learning tool and a great gift item. It offers so many possibilities for creativity. Here on BellaOnline.com is a list of 21 tatted crosses by tatters such as Roger aka Freedman from the Needle Tatting website, Gillian Buchanan, a former BellaOnline.com editor, Julie Patterson from Australia (see https://www.bellaonline.com/articles/art21948.asp), Vickie Reynolds interpreting a design by the late master tatter Mary Konior (see https://www.bellaonline.com/articles/art70461.asp and https://www.bellaonline.com/articles/art13568.asp), and the Italian tatting designer, Edda Guasstalla.
In the Online Tatting Class one lesson we were actually tatting as we talked in class online. We were teaching a very simple ring and chain repeat, with all double stitch counts 3 between every picot or join. But along the way I became distracted with answering questions and skipped a chain. This left two rings joined together. As I looked it seemed to make a corner so I kept going. Eventually it turned into the "Boo-Boo" Cross here:
21 Cross Patterns: https://www.bellaonline.com/subjects/374.asp
And Spring time is just right for tatted Easter Eggs, too. You can find an edging of a row of bunnies and cabbages. Or perhaps, Helen Bailey's interesting Celtic Easter Egg with interweaving techniques will intrigue you. Or Inger's happy little chick. And patterns for decorating eggs, too. Let these patterns inspire you to decorate everything!
21 Easter Patterns: https://www.bellaonline.com/subjects/5891.asp
Enjoy!


Editor's Picks Articles
Top Ten Articles
Previous Features
Site Map





Content copyright © 2019 by Georgia Seitz. All rights reserved.
This content was written by Georgia Seitz. If you wish to use this content in any manner, you need written permission. Contact Georgia Seitz for details.