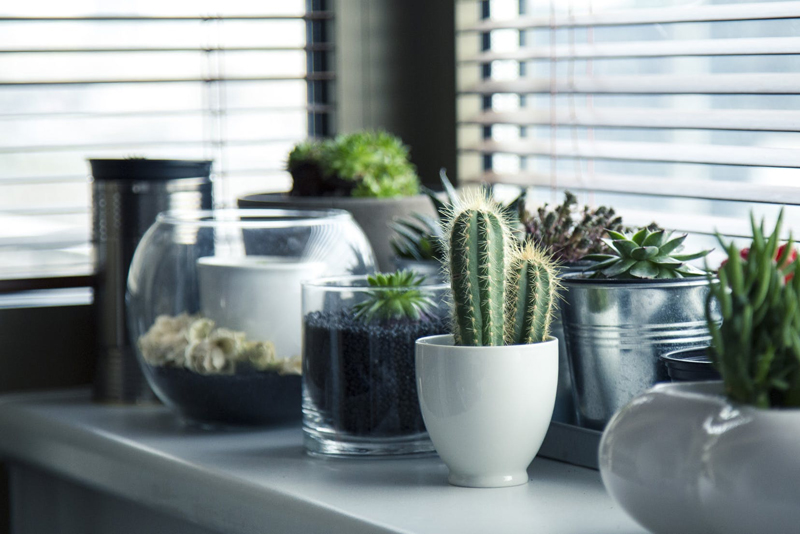 Dracaena is one of the first plants I learned about when I was shopping for my very first houseplant. They are found at nearly every store that carries plants and seem to be a staple plant for interiorscapers. I've seen them in offices, malls, hair salons and dorm rooms. Virtually anywhere there are people, there are Dracaenas.

The most popular Dracaenas grown as houseplants are D. fragrans, D. marginata, and D. sanderiana. Dracaena fragrans has many common names including Corn Plant and it has very fragrant flowers, though it rarely flowers indoors. There are several popular cultivars of this species available, including 'Janet Craig Compacta', Warneckii' and 'Massangeana'. Dracaena marginata is also known as Madagascar Dragon Tree and Dracaena sanderiana is better known as 'Lucky Bamboo'. D. sanderiana is usually seen growing in a glass of water.

These plants are popular because they are easy to care for and they can become very large. If you would like your Dracaena to be happy and healthy provide it with bright shade and temperatures around 70 degrees Fahrenheit. The average room temperature in most homes is suitable. Dracaenas need excellent drainage, so be sure there are holes in the bottom of the pot you plant it in. You can add extra perlite to the potting mix, if you like, and allow the plant to dry out somewhat between waterings.

If you find that your Dracaena is getting too tall, simply chop its top. Assuming the plant is healthy, the bottom portion of the plant will send out new shoots or branches from where it was cut. The top portion can be placed in water until roots have formed or treated with a rooting hormone and placed directly in soil. Air layering can be done with larger plants, but is not really necessary.

Dracaenas don't often have trouble with pests, but occasionally spider mites, mealy bugs or scale can infest the plant. Take care to inspect the plant before you purchase it and ensure that it isn't carrying any bugs. Once the plant is established in your home, it is unlikely that you will ever find new bugs on it.

An extra tip for happy Dracaenas is to avoid Fluoride, if possible. Fluoride is found in tap water and Dracaenas hate it. It can cause the leaf tips to turn brown, and if levels are too high it may even kill the plant. Rain is a great source of Fluoride-free water if you would like to spoil your Dracaena a little bit. Fertilization isn't necessary; in fact, Dracaenas would prefer if you didn't.

There are many different species of Dracaena that are grown as houseplants, and if you don't already own one, you should look into obtaining one. Dracaenas are one of several plants known to filter the air of toxic chemicals such as formaldehyde and benzene. There are lots of reasons that Dracaenas are everywhere – they've earned it! Try one out and you'll wonder why you haven't grown one before. If you already have one, I wish you continued success and enjoyment of your beautiful Dracaena.

This site needs an editor - click to learn more!

You Should Also Read:
Water Quality and Your Plants
Repotting a Plant




Related Articles
Editor's Picks Articles
Top Ten Articles
Previous Features
Site Map





Content copyright © 2022 by Lisa Beth Voldeck. All rights reserved.
This content was written by Lisa Beth Voldeck. If you wish to use this content in any manner, you need written permission. Contact BellaOnline Administration for details.