Gardening in Small Spaces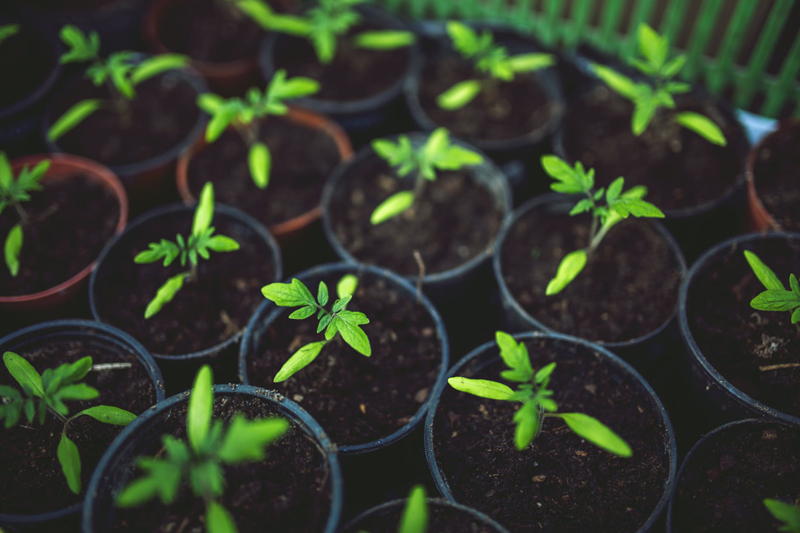 I bet a lot of you are like me-a person with a passion for gardening who lives in the concrete jungle known as the city. Or maybe you're in the suburbs but have a tiny backyard. Well, don't despair! Even apartment dwellers can take part in the joys of gardening. It doesn't take much space-all you need is a balcony or a sunny window. These days, the selection of plants suitable for containers and small spaces keeps growing. You can grow houseplants, flowers, herbs, and yes, even vegetables! These days, there are more and more varieties available for small spaces. Look for the words "Bush" or Patio" in the name. There are compact varieties of everything from cucumbers to tomatoes. If you can't find a compact variety, look for smaller varieties of the vegetable you want to grow. For example there are "baby" versions of carrots, watermelons, pumpkins, and more.

Another way to maximize space to by vertical gardening. By using fences, trellises, and other vertical supports you can grow tomatoes, beans, cucumbers, grapes and more-and don't forget pretty flowering vines like Morning Glory, Sweet Peas and Climbing Roses. Vertical gardening is also a great way to hide an ugly wall or create a unique privacy screen.

If your gardening space is confined to a patio, porch, or balcony, fear not! Just about anything can be grown in a container. Just pick a compact variety and an appropriate container. Suitable containers can be found at garden centers or home improvement stores of course, but there are other places to find great planters as well. Try a bakery, deli, or grocery store-most will be happy to give away their empty 5 gallon food pails. Another great idea is to simply plant them right into a bag of potting soil or in a large plastic trash bag. The only things you need to keep in mind when choosing a container is drainage and size. Without good drainage your plants wil die from root rot.
You'll also have to remember to water regularly as plants in containers dry out much faster than plants in the ground.

If your space gets at least 6 hours of direct sun you'll be able to grow just about any vegetable. If it doesn't, there is still plenty you can grow. Just look for plants that prefer partial shade, like coleus, ferns, and leafy vegetables such as lettuce and leeks. Or, if your space allows it, you can just move your containers to follow the sun.

Don't forget hanging planters either! They are great for flowers, herbs, and even vegetables-cherry tomatoes do very well in them and look great too!
You can also try strawberries and even peppers or small squash.

Is that balcony or patio just not enough? Want more? Get involved with your local community garden! There are thousands throughout the country, and they provide not only your very own garden plot, but a chance to meet and make friends with other urban gardeners and even the opportunity to give back to your community. Many community gardens donate a portion of their crops to local food pantries and soup kitchens. So don't let small spaces discourage you from enjoying your green thumb!




You Should Also Read:
Community Gardens
Urban Gardening


Related Articles
Editor's Picks Articles
Top Ten Articles
Previous Features
Site Map





Content copyright © 2019 by Sue Walsh. All rights reserved.
This content was written by Sue Walsh. If you wish to use this content in any manner, you need written permission. Contact Gail Delaney for details.