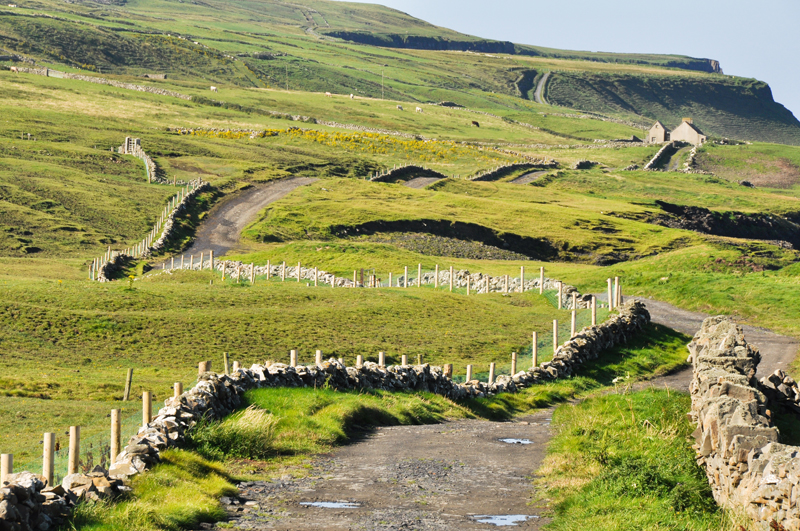 Undoubtedly, the humble spud, or potato is Ireland's national food. When I first moved to Ireland I was shocked that when I was having a restaurant meal, the classic 'meat and three veg' usually included potatoes cooked in three different ways. You could have them boiled, mashed, as chips, 'roasties' or 'garlic potatoes', which is a garlic laced scalloped potato side dish. Rural restaurants cater for the Irish appetite for potatoes.

To make the perfect smooth mash or the quintessential roast potato that is fluffy on the inside and crunchy on the outside, you need to know your potato varieties. The Great Irish Potato Famine has taught Irish agronomists that seed monoculture, over reliance on a particular seed variety, can have desperate consequences. The Great Famine came about because the Irish peasantry was almost completely reliant on a single potato variety, the Lumper. This variety happened to have very little resilience in the face of potato blight. The weather conditions over those summers in the 1840s were laboratory perfect to test its resistance. Blight needs very specific conditions to thrive. It needs to be warm and wet continuously for forty-eight hours. In Ireland, that means continual rain and a temperature that hovers in the low 70s Fahrenheit. Rain in summer can be a good thing if you for other crops. But a late frost in May can turn first early varieties black. Humidity and warm temperatures in June can bring on the blight.

Growing a few varieties of potato not only makes good gardening sense, it also ensures that you also have the perfect potato suited to your menu plan. For instance, a first early like Orla keeps it shape when you boil it and won't fall to mush. But a 'floury' variety like Rooster makes superb mashed potato or a baked potato that is fluffy when you cut it open to stuff it with butter. Charlottes and 'waxy' potato varieties are perfect for summer potato salads. Although in Ireland, you do find a sort of mashed potato salad on offer in delicatessens.

Agricultural developments mean that you can find a potato variety now that is blight resistant and eel worm resistant, too. Copper sulphate (or Blue as it is referred to in the country) is used to protect potato crops when Met Eireann, the Irish weather service, issue Blight Warnings. Organic gardeners also mix up a brew of horsetail and garlic to spray on crops to protect them when the weather threatens to turn 'blighty.'

The potato is actually a fairly recent innovation to the Irish diet. Sir Walter Raleigh brought potatoes back from the New World as a gift to Queen Elizabeth I. Despite being indigenous to a very different kind of climate, the potato grew well in the British Isles and became a menu favorite over the next two centuries. Cheap to buy and relatively easy to grow, it became a garden and kitchen staple by the 18th century.

But what did the Irish eat before English colonizers introduced it? The main carbohydrate component of the pre-historic Irish diet was barley or oats. Spelt and wheat for bread making came later, when the milling technology had been refined. It is one of those peculiarities of modern life that the inevitable ingredient for Irish national holiday meals was completely unknown to any of Ireland's national saints. St. Patrick, St. Brigid and St. Columcille all predate the introduction of the potato into Irish culture.

With St. Patrick's Day just around the corner many people in the global Irish diaspora will be celebrating, not just with beer and porter, but with a potato based dish. Boxty or potato bread may grace breakfast tables on this national holiday. Or you could just follow the rural custom and serve up your main meal of the day with potatoes served in three styles. You can get recipe ideas here.



You Should Also Read:
The Famine in Ireland
Irish Potato Pancakes


Related Articles
Editor's Picks Articles
Top Ten Articles
Previous Features
Site Map





Content copyright © 2022 by Bee Smith. All rights reserved.
This content was written by Bee Smith. If you wish to use this content in any manner, you need written permission. Contact Bee Smith for details.