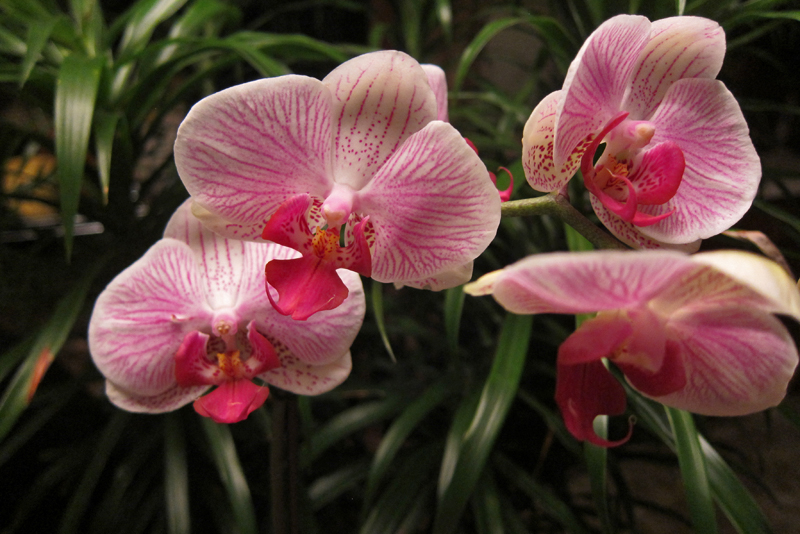 Just as my water needs are different from yours, similarly each orchid species has its own particular water requirements. But, how do you decide the water needs of different orchids? This is done either by hit and trial method or by judging the water needs through a series of steps. Let me discuss this in this article. Water requirements of a plant are normally decided by the morphology of the plant as well as the native ecology of the surrounding where the plant grows.

Steps to judge the water requirements:
1. Morphology: Many orchids have water storage organs such as pseudobulbs and succulent leaves. Orchids possessing such storage organs require less water, as the stored water also gets utilized when the growth medium becomes dry.

2. Growth habit: Epiphyte orchids are adapted to surviving on very little water, unlike terrestrial orchids. Epiphytic orchids get their water supply from rain, and rest of the time they face drought like situation on the tree branches. The terrestrial orchids compete with other plants including the big trees when absorbing ground water. So both epiphytes and terrestrial orchids make do with least amount of water even when they are growing in rain-fed forests.

3. Type of growth medium used: Water requirements need to be adjusted according to the growth medium being used. A medium which can absorb and retain water needs lesser amount of watering than a more porous medium. Medium like peat should not be allowed to dry completely as it will take a long time to re-absorb water. Top of the growth medium consisting of moss can appear dry while still holding some water at the base. Sand and mud mixtures will hold more water than moss, peat or tree bark.

4. Time of the year: In summers watering should be more frequent than winters. Optimum watering in summers is once daily and in winters it can be reduced to once in a week. Humidity levels keep changing according to different seasons. High humidity means less amount of watering, especially in the case of epiphytes which can absorb water for air. Low humidity means more watering.

5. Location where the orchid is placed: How and where the orchid is placed also affects the watering need of the orchid. A place where there is more evaporation will require more frequent watering. Orchids placed in an area with high air circulation will dry up at a faster pace.

6. Methods of watering orchids
a) Spraying: By this method the orchids are sprayed with water using a water-can. Water logging can be avoided by this method of watering. But when spraying water try not to wet the leaves, flowers or the pods.
b) Drip watering: By this method the orchid gets water one drop at a time. Though there is no question of water logging, but there is a danger of water not reaching each part of the plant. So, the dripping water has to be carefully arranged so that the water spreads evenly at the base.
c) Dunking: In this the orchid is dunked in a bucketful of water and is left in it for some time. This method should be avoided in areas having high humidity, as the wet aerial parts of the orchid can rot and are easy prey to fungus and bacterial attacks.
d) Pouring: Pouring water individually in each pot and basket can be bit tedious. But if done properly, by pouring just the required amount of water at the base, a number of water related problems can be avoided.

7. Precautions: Some orchid should never be allowed to completely dry, especially if the humidity is low. Before watering the orchid remember to check the base of the medium which can be still wet while the surface may appear dry. If the pots are placed in a tray containing water, the tray should contain some gravel. The pot should be placed on this and the water level should be lower the base of the pot.

You Should Also Read:
Orchids and Humidity


Related Articles
Editor's Picks Articles
Top Ten Articles
Previous Features
Site Map





Content copyright © 2022 by Anu Dharmani. All rights reserved.
This content was written by Anu Dharmani. If you wish to use this content in any manner, you need written permission. Contact Anu Dharmani for details.