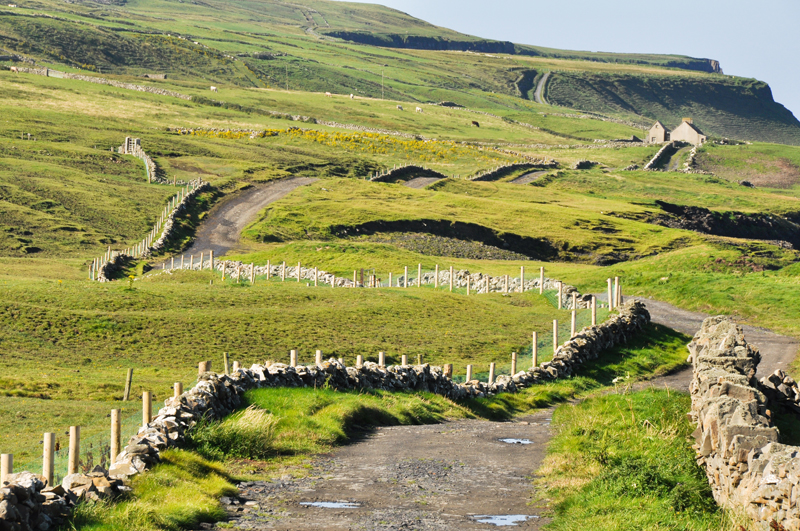 Ireland not only has two patron saints but also a matron saint, St. Brigit. The redoubtable Abbess of Kildare is sometimes referred to as the Mary of the Gaels, which shows how highly she has been venerated over the generations.

St. Brigit's feast day is still widely celebrated in Ireland with weaving rushes into St. Brigit's crosses on 1st February. The snowdrops that emerge at this time are also associated with her and the seasonal turn of spring. She has a wide set of occupations and issues under her prayerful consideration: cows, sheep and chickens, holy wells, mothers and their babies, the Irish hospitality industry, midwives and nurses, poets, smiths or craft workers.

Since St. Brigit built her abbey close to the Curragh, I am willing to wager that many in the Irish racing and horseflesh sectors petition her. The Irish National Stud has its headquarters close to the holy well sacred to the saint. Kildare, the site of her monastic community, translates as Church of the Oak. You may see stained glass and other artistic depictions of the saint with an oak motif or a nun holding a cathedral in her outstretched hands.

Above all, St. Brigit is known for her generosity to those less fortunate - the homeless, the hungry and those in need of peace and justice. The Irish organization for social justice Action from Ireland (AFRI), has been the beneficiary of individuals selling St. Brigit's crosses to raise funds for their work.

The legend of St. Brigit's miraculously expanding cloak today means that asylum seekers, relief workers and peace mediators also consider that St. Brigit watches their backs. That miraculous expanding cloak was what got her the land for her abbey in the first place, with the King of Leinster having to honor his word that he would grant her the amount of land that her cloak covered. St. Brigit is the personification of a resourceful woman, canny to changing times and willing to adapt in order to protect and give succor to those less able or fortunate enough to mind themselves.

St. Brigit is believed to been born in Co. Louth, the daughter of a Christian slave woman and a pagan noble father. Like her mother she served as a dairymaid and began to become renowned for coaxing the cows to give milk three times a day if there were unexpected guests or beggars needing nourishment.

Her prowess in the 'bawn' is partly why she is not only the matron saint of cattle, but also midwives and those who look after the young. One legend says that when Mary, the mother of Jesus, was taken into labor pains in the barn in Bethlehem that St. Brigit was on hand to act as midwife. It is said that it was she who washed the Infant Jesus, swaddled him and laid him in the manger before tending to his mother. So the infant Jesus not only had angels, humble beasts, shepherds and magi in attendance pre- and post-natally, there was this capable Irish saint to act as nursemaid.

Now the current thinking is that Christ was born around 4 BCE. St. Brigit is thought to have been born in Faughart, Co. Louth around 450 CE! Remember that Ireland is a land of myth makers. Sometimes the truth is purer than literal fact.

Because of her unique role at the birth of Christ,as well as, her motherly care for all and sundry, St. Brigit is sometimes known as the Mary of the Gael.




Related Articles
Editor's Picks Articles
Top Ten Articles
Previous Features
Site Map





Content copyright © 2022 by Bee Smith. All rights reserved.
This content was written by Bee Smith. If you wish to use this content in any manner, you need written permission. Contact Bee Smith for details.