Oliver Cromwell & Ireland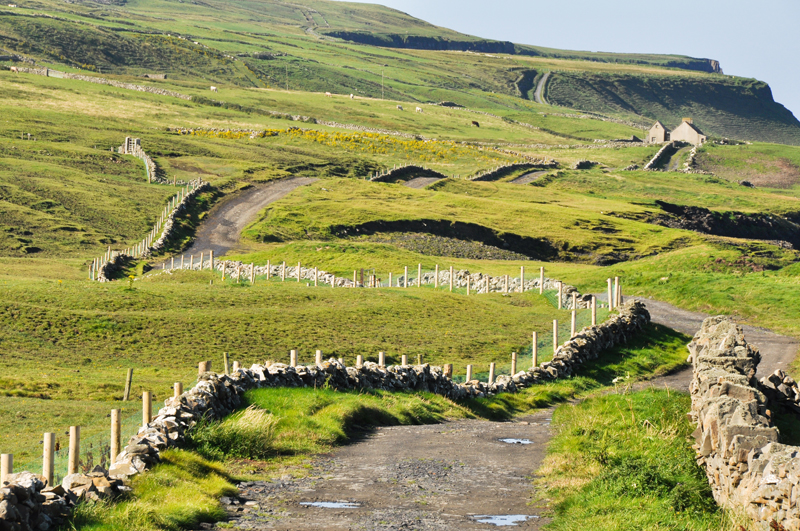 In 1649, the civil war in England had ended with the execution of King Charles I. Cromwell had led his "roundheads" in a strategic and vital win over the loyalists and finally managed in obtaining the destruction of his great nemesis. It is said that more people died on English soil during these years of the civil war than had died previously in the great battles against the French and the Spanish.

Almost immediately, Cromwell turned his eyes towards Ireland and the "Papist" rebels he had grown to loathe ever since their anti-English revolt had begun in 1641. The Irish Catholics had been somewhat loyal to King Charles, mostly because they saw the English civil unrest as a golden opportunity for them to regain independence in Ireland.

Sadly however, the Irish had not endeared themselves to the rest of the British Isles. A series of ill-conceived rebellions had resulted in the slaughter of innocent men and women throughout the country and no cries of "for the cause" will ever cleanse away the stench emanating from the horrific depths of inhumanity our nation sank to at that time.

As is always the case, these murders only enraged the English more against the Papists and instilled such a vengeful attitude in Cromwell that his now famous cry to Catholics to go "to Hell or to Connaucht", still reverberates in some parts of Ireland today.

On August 15th 1649, Cromwell landed his war-weary, but battle-hardened troops near Dublin, and set about in a systematic annihilation of Roman Catholics with a persistence and indifference to man, woman and child that makes Hitler look almost saintly. It is this episode in Cromwell's life that makes many historians question whether he should be regarded as a hero for ridding the English throne of a liar,a cheat and a law-breaker (Charles 1), or as a monster who summarily slaughtered the Irish with absolutely no quarter given.

The "Lord, High Protector" returned to England almost a year after his arrival, leaving his son-in-law in command. He proved to be every bit as lethal in concluding the genocide as was his father-in-law and within two years all Catholic resistance was at an end.

Although he was only in Ireland for about 8 months, Cromwell left such an indelible mark on the country that "The curse of Cromwell on you" has passed into the Irish language as an oath and curse on an enemy.

This period in Ireland was a time of great upheaval and turmoil and the killings and murders by one group on another fomented such hatred and mistrust between Catholics and Protestants, that it is little wonder that the same is almost intuitive in many people today.

Perhaps the saddest thing of all is that Cromwell's assaults on the Irish Catholics and their retaliation against their Protestant "supplanters", was all done in the name of Christ ---the Prince of Peace. Even today we hear the paradoxical cry that the "Christians" in Ireland are killing each other once more. It would do us all so much better,if,instead of killing people for the cause of Christ, we would live as He would have us live and win people to His cause with the love and forgiveness that He constantly showed ---even to His enemies.

The truth is that the time will come when each of us will finally understand the meaning of the little verse:
"Only one life, 'twill soon be past,
Only what's done for Christ will last".

Whether we are a Cromwell or the Irish Rebels who battled his oppressions, or a modern day Baptist, Catholic, or a "nothing", perhaps before we allow ourselves to get involved in a "religious" war, we would do well to as : "Is this really something the Prince of Peace would have me get involved in?"

Perhaps also if we "fighting Irish" would take the time to listen to His voice, we might hear Him say: "My faith is a faith of love and grace and forgiveness".

There is no greater paradox in the whole world than to hear of people killing others in and for the name of the One who could have slain so many with a single word, and yet allowed Himself to be offered as the sacrifice for all.

Whether it be the Crusades in the Holy Land, the assaults of Cromwell and the slaughterous actions of Irish Rebels,the Inquisition against the Hugenots & Albigensians and the attempted anniliation of Catholics by Elizabethan soldiers,or the "murders squads" of today's Ireland, Iraq or elsewhere, the "Killing for Christ" warcry is an assinine banner under which any reasonable thinking person could place himslf.

That motivation is fodder only for the most intellectually corrupt and morally destitute morons,who use Christ not for their own spiritual development, but for the satisfaction of their own personal greed and pyschosis.











Related Articles
Editor's Picks Articles
Top Ten Articles
Previous Features
Site Map





Content copyright © 2022 by Tony King. All rights reserved.
This content was written by Tony King. If you wish to use this content in any manner, you need written permission. Contact Bee Smith for details.