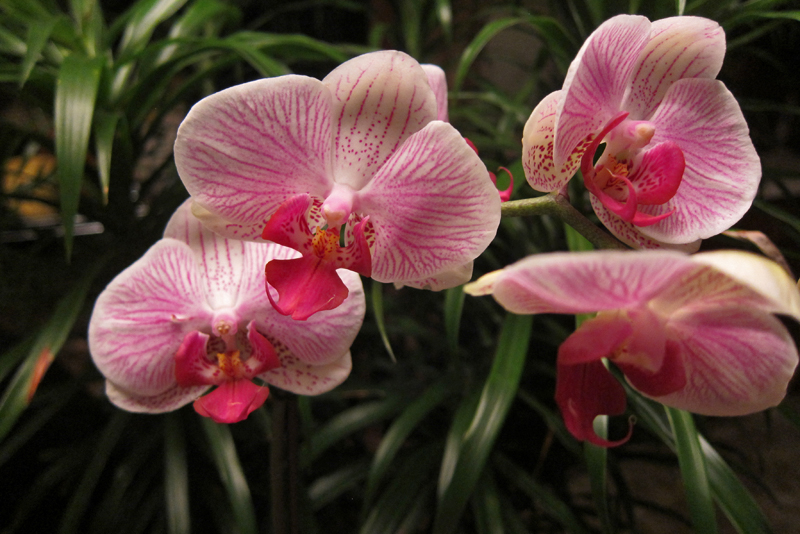 Until the 1900s orchids were considered rare and commanded prices so high that only the very rich could afford to buy them. This rarity is part of the mystique of the orchid although it is no longer true that the cost is prohibitive.

In the wild, orchids can only germinate in a symbiotic relationship with a fungus called mycorrhiza. As you can imagine, the odds for an orchid seed to land in just the right spot to have the correct fungus available to germinate are very small. Some estimates have been as high as a 1 in 100,000 chance for the seed to germinate. Early growers were only able to get plants to grow by sowing seeds in the same pot as the parent where sometimes the requisite fungus was already growing.

In 1922, when Lewis Knudson was able to germinate and grow orchids in flasks, the commercial propagation of orchids was born. Under sterile conditions in what is called a flask, orchid seeds can now be grown with approximately 90% germination rates for many species. This has allowed the incredible growth in the availability of many orchids as well as reducing the cost of those orchids so that almost anyone can now afford one of these great plants. Flasking involves the sowing of seeds into a special agar solution in a glass bottle or flask and then allowing the seeds to germinate and grow until they are large enough to move to a "compot" or "community pot."

The next step that allowed the industry to provide multiple plants was the advent of mericloning in 1956 when Georges Morel, a French orchid enthusiast, was the first to successfully clone orchids . This involves taking a small piece of a special orchid and then reducing that piece into extremely small pieces and then sowing the resultant mix into a flask. This is most often done with awarded plants of very high quality and is actually a form of cloning or producing an exact replica of the original. In this way, a grower can know exactly what he or she is getting before purchasing a plant since the new plantlet is the same as the parent plant. The flower which is what is important in an orchid will be identical.

Watch out when purchasing plants to see if you are purchasing a seed grown plant or a mericlone. With the former, you will not know what the flower is going to look like until it has produced the first one. It can be exciting to grow these, but chances are that the flower will not be of the finest quality, although you may get that one out of the cross that produces an extraordinary flower which can be awarded.

You Should Also Read:
Orchid life cycle
Foliar fertilizing


Related Articles
Editor's Picks Articles
Top Ten Articles
Previous Features
Site Map





Content copyright © 2022 by Susan Taylor. All rights reserved.
This content was written by Susan Taylor. If you wish to use this content in any manner, you need written permission. Contact Anu Dharmani for details.