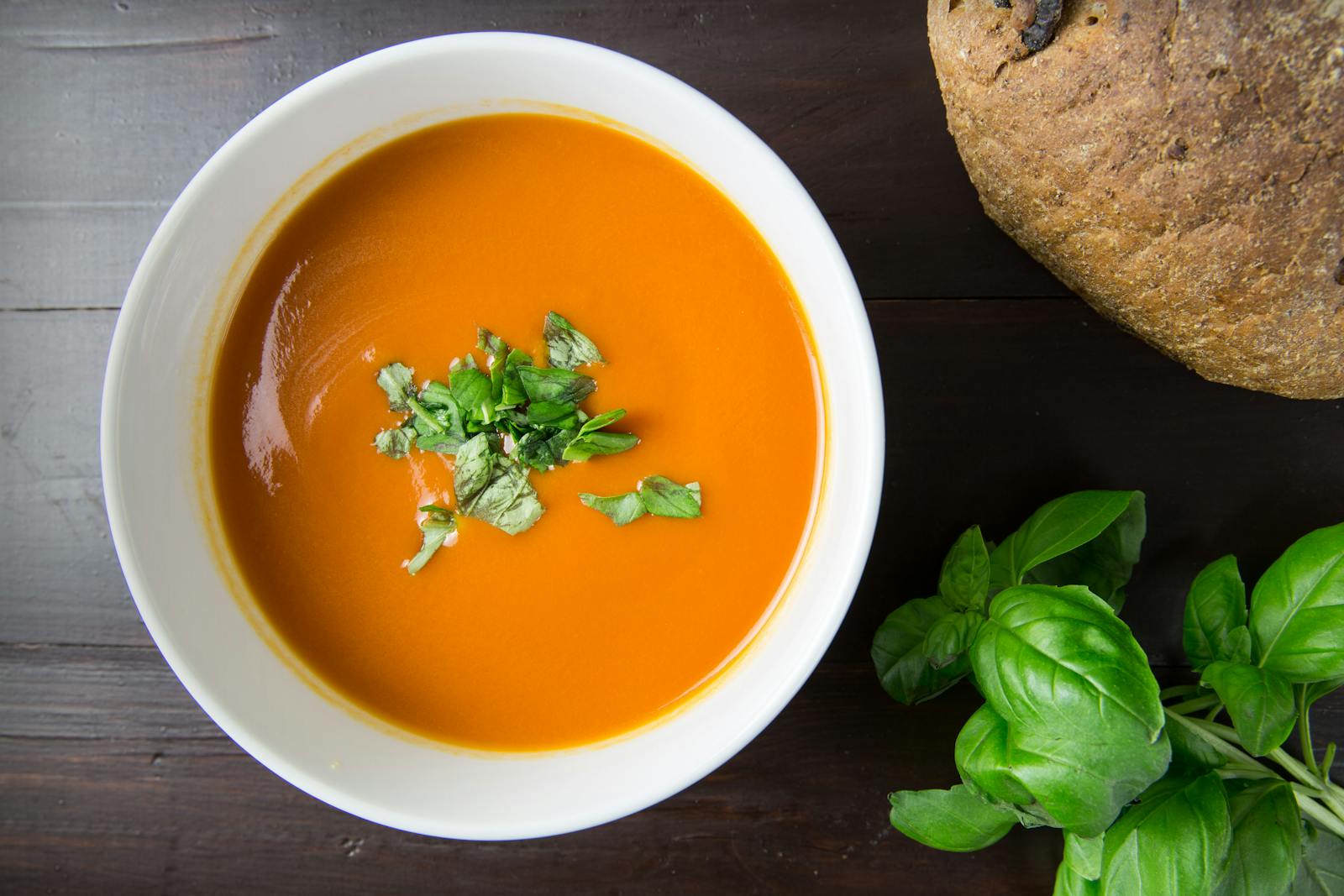 What can you do with those cute little mini-pumpkins after they've served their time as decorations? How many times over the years have you just thrown away those tiny decorative pumpkins after Halloween or Thanksgiving? Have there been times when you would have purchased some of these pumpkins, but you didn't want to spend money on them just to turn around and throw them away? Here's your solution! Turn the mini-pumpkins into a delicious soup that will elevate a sandwich to a soul-satisfying meal. This soup is comfort food at its best.

Mini-Pumpkin Soup

Ingredients:

5-6 small decorative pumpkins (enough to make 2 cups of cooked pumpkin)
2 medium potatoes (about 1 cup)
1 sweet-tart apple (I used Braeburn. You need about ½ cup of apple.)
1 medium onion (about ½ cup)
¼ cup celery leaves (optional)
1 tablespoon butter
1 cup evaporated milk
2 cups water
Vegetable broth or chicken broth to make 1 ½ cups of liquid
½ teaspoon salt (I used Spice Club seasoned salt. Adjust the salt according to your taste.)
1/8 teaspoon white pepper (There really is no good substitute for the white pepper. It lends its own special taste. Use more or less, depending on your taste.)
Dried tarragon leaves for garnish

Method:

This soup is best when you use fresh pumpkin as the base. However, you can substitute regular pumpkin, carrots, Hubbard squash, or sweet potatoes for the mini-pumpkin. Each of these will make a slightly differently flavored soup. They are all acceptable substitutes. Do not use canned pumpkin. This soup uses fresh ingredients to develop its lovely taste. Canned pumpkin is just not suitable.

Rinse the pumpkins well and pierce their skins with a fork. Place the pumpkins on a microwave safe plate. Microwave the pumpkins on high until they are soft. This takes about 10-15 minutes. My microwave is under-powered, and it took 13 minutes. Place the pumpkins in a bowl and refrigerate until they are cool. (I did this in the morning while I was getting ready for work. The pumpkins were ready to process when I got home.)

Peel and coarsely chop the potatoes, apple, and onion. Place them in a pan with 2 cups of water and the celery leaves. Rub the butter around the inside rim of the pan to keep it from boiling over. Put the rest of the butter into the vegetables. Cover the pan and cook them on medium –high about 20 minutes. The potatoes, apple and onion, along with the celery leaves need to be cooked until they are very soft. While they are cooking, process the pumpkins.

Wash your hands thoroughly. This is a job that is done mainly with bare hands. For each pumpkin, pull upward on the stem and use a spoon to scrape any flesh off into a large measuring cup. Discard the stem. Pull the pumpkin apart. Use your hands or spoon to scrape all of the seeds out. Put them into a separate bowl. You can throw them out for the birds and little critters or use your favorite baked pumpkin seed recipe with them. After all of the seeds are removed, use the spoon to scrape the flesh into the large measuring cup. Repeat this until all of the pumpkins have been processed. If you don't have exactly 2 cups of pumpkin, that's okay, as long as it's close. If it is not close, cook some carrots, either by boiling or microwaving, until they are very soft. If you have a bit too much pumpkin, that's okay, too. If it is more than ½ cup over, save the extra pumpkin for another use.

About the time when you have finished processing the pumpkins, the vegetables and fruits should be finished cooking. Remove the pumpkin from the measuring cup to the food processor. You can also use a blender, but you need to do the processing in multiple small batches. It is important that the ingredients be silken and smooth. Drain the liquid from the cooked vegetables into the measuring cup. Add broth to make 1 ½ cups of liquid. Pour ¾ cup of the liquid into the pumpkin. Process the pumpkin until it is smooth. Pour it into a 2-3 quart heavy saucepan.

Place the cooked vegetables into the food processor. Add the rest of the liquid, Process the vegetables until they are smooth. Add them to the saucepan with the pumpkin. Whisk them gently together. Add the salt and white pepper, if desired. Whisk them in. Add the evaporated milk a little at a time, whisking it in. When all of the ingredients are combined, heat gently over a medium-low flame until the soup is your desired temperature. Ladle into bowls or cups. Sprinkle with tarragon, if desired. Serve this immediately. The recipe makes about 4 cups of soup.

This is a delicately flavored soup that lets the tastes of the ingredients shine through. The pale golden soup with the bright green tarragon leaves floating on top is beautiful in a bowl or cup. This is terrific with any kind of a sausage sandwich. Serve it with a ham salad sandwich for a hearty meal. It is also good with a Morningstar Farm Chik'n sandwich. Let us know what you serve it with. Use the BellaOnline Sandwiches Forum to tell about your creative pairings with this delicious comfort food soup.

You Should Also Read:
Ham Salad Sandwich Recipe
Bacon Lettuce and Tomato Sandwich Recipe
Sausage Cheese Biscuit Sandwich Recipe


Related Articles
Editor's Picks Articles
Top Ten Articles
Previous Features
Site Map





Content copyright © 2022 by Connie Mistler Davidson. All rights reserved.
This content was written by Connie Mistler Davidson. If you wish to use this content in any manner, you need written permission. Contact Connie Mistler Davidson for details.