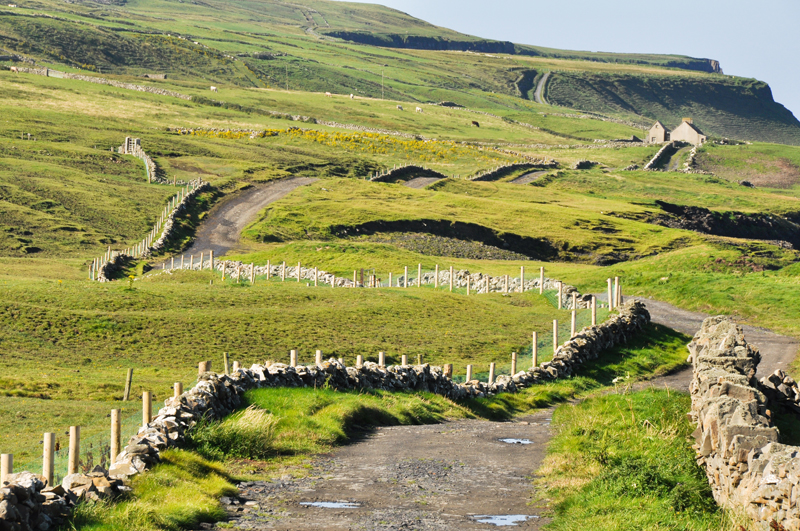 The Irish as a race are known for their musical talents and their love for nostalgia. As we come to the end of this 2007 and we look towards a New Year with our regrets and hopes, I have been asked if I could find the words and music for two songs (one reasonably new and one old) which may well bring back special memories for many of our readers.

The first of these is a song called: "Long, long before your time", performed by one of Ireland's most underrated singer/songwriters ---Johnny Mc Evoy, which tells the story of a young happy couple (childhood sweethearts) whose lives are blessed with the news of a soon-arriving baby, only to have the husband face the tragedy of raising the child alone.

You can find this song performed on YouTube ---search for "Long, Long Before Your Time" with Johnny McEvoy.

Have your tissue box handy !

You ask me why I look so sad On this bright summer's day
Or why the tears are in my eyes, And I seem so far away
Well sit yourself beside me here, and put your hand in mine
And I'll tell of someone I loved, long, long before your time

I'm sitting here and thinking, Of those days so long ago
When I was just a child like you And a girl I used to know
Through fields of green we laughed and played And sang our merry rhymes
Oh summer days were warmer then, long, Long before your time

Through childhood years our love did bloom, Till our hearts were just as one
And we promised each eternal love In the church before the town
We settled in this little house; I was proud to call her mine
Oh we were young and happy then, long, long before your time

One lovely year was all we had Until the sickness came
And stole the roses from her cheeks, My tears they fell like rain
For nine long months she carried you, But in the end she died
She chose to go so you might live long, long before your time

So you ask me why I look so sad, On this bright summer's day
Or why the tears are in my eyes And I seem so far away
It's just you seem a lot like her, When your eyes look into mine
And you smile so much like she did, long, long before your time



The second song is called: " After the ball was over" ---- another sad song emphasizing the foolishness of jealousy and the far-reaching repercussions it can have in our lives.

The 1890s witnessed the emergence of a commercial popular music industry in the United States. Sales of sheet music, allowed consumers to play and sing songs in their own homes. This "new" business skyrocketed during the "Gay Nineties," led by Tin Pan Alley, a narrow backstreet in midtown Manhattan that housed the country's major music publishers and producers. Although Tin Pan Alley was established in the 1880s, it only achieved national prominence with the first "platinum" song hit in American music history—Charles K. Harris's "After the Ball"—that sold two million pieces of sheet music in 1892 alone. "After the Ball's" sentimentality ultimately helped sell over five million copies of sheet music, making it the biggest hit in Tin Pan Alley's long history. Typical of most popular 1890s tunes, the song was a tearjerker, a melodramatic evocation of lost love.

After The Ball Is Over
(Charles K Harris)

A little maiden climbed an old man's knee Begged for a story - "Do, uncle, please!"
"Why are you single, why live alone? Have you no babies, have you no home?"
"I had a sweetheart, years, years ago, Where she is now, pet, you will soon know
List to the story, I'll tell it all, I believed her faithless, after the ball"

After the ball is over; After the break of morn
After the dancers' leaving; After the stars are gone
Many a heart is aching, If you could read them all
Many the hopes that have vanished, After the ball

"Bright lights were flashing in the grand ballroom, Softly the music, playing sweet tunes
There came my sweetheart, my love, my own, 'I wish some water, leave me alone'
When I returned, dear, there stood a man, Kissing my sweetheart, as lovers can
Down fell the glass, pet, broken, that's all, Just as my heart was, after the ball"

After the ball is over.....etc etc

"Long years have passed child, I've never wed; True to my lost love, though she is dead
She tried to tell me, tried to explain, I would not listen, pleadings were vain
One day a letter came from that man, He was her brother - the letter ran
That's why I'm lonely, no home at all, I broke her heart, pet, after the ball"

After the ball is over ....etc etc





Related Articles
Editor's Picks Articles
Top Ten Articles
Previous Features
Site Map





Content copyright © 2022 by Tony King. All rights reserved.
This content was written by Tony King. If you wish to use this content in any manner, you need written permission. Contact Bee Smith for details.