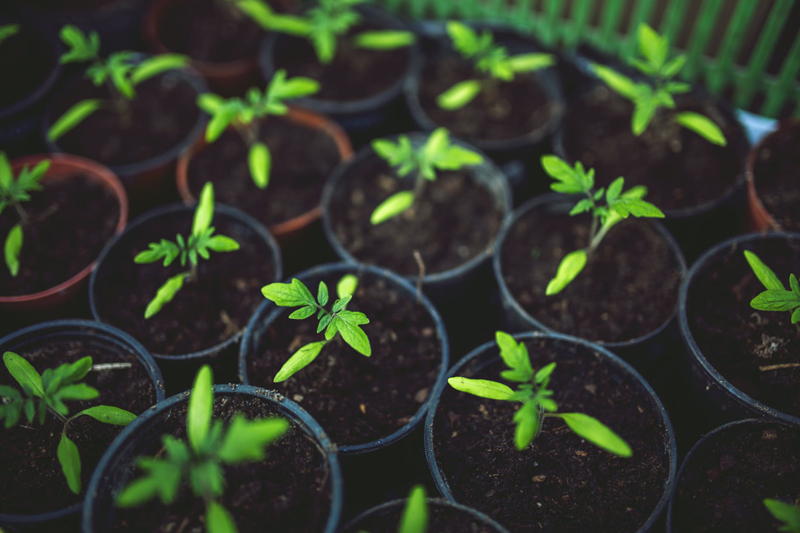 While most plants are available as young seedlings, many people prefer growing theirs from seed. It takes work, but its also fun and very rewarding!
Depending on the time of last frost in your area, you'll want to start seeds between the beginning of February and the end of April. To be successful, you'll have to have plenty of space and light. You can purchase seed trays and cups at most garden centers and box stores. Avoid the ones made from peat moss, as they dry out quickly and can be very hard to remoisten once they do. Make sure to use a soil mix specially formulated for seed starting, and moisten it before your fill your trays. Read the information on the seed packets carefully. Some seeds need to be buried in the soil while others just need to be pressed lightly into the top. Some seeds need to be soaked or lightly scored before planting. Once you've got your seeds planted, make sure to cover with the plastic dome that came with the tray. (If you notice too much condensation forming you can prop one corner open slightly). If you don't have a cover you can use a sheet of plastic wrap or a clear plastic bag. Place in a warm spot and be sure to keep the soil moist.

When your seeds sprout, they'll have one set of leaves. These leaves won't look anything like the leaves on a full-grown plant. They are there to provide nourishment to the new seedling, much like the yolk of an egg provides nourishment to the embryo it holds. Once the seedling begins developing mature leaves, these "baby" leaves will shrivel away. When your seedlings have at least one set of mature leaves, it's time to transplant. You can buy small pots for this, or use paper or plastic drinking cups. I like to use Styrofoam coffee cups. They are lightweight, provide plenty of space for the seedling's root system to grow, and fit nicely on windowsills and ledges. Use a good quality potting soil and don't forget to poke a few holes into the bottom for drainage. A pencil does this nicely. Give your transplants lots of light and air circulation and make sure they don't dry out. Once they've got their second set of leaves, it's time for the final stage of seed starting-hardening off and planting outdoors!

The first thing you'll need to do is get them acclimated to the outdoors. This is called "hardening off". If you simply take your plants from the windowsill to the garden, they'll almost certainly fail. They need time to get used to the sun and wind or they'll scorch and die. To do this, at least two weeks before your planned planting date, start by taking them outside and putting them in a shady spot, and then gradually move them to a sunnier location. Do this slowly-allow a few days between location changes. If the temps in your area stay above 50 at night they can be left out, otherwise bring them in when the sun goes down. Once you've got them used to the direct sun and wind, you're ready to plant.

When planting, make sure to leave plenty of room between each plant. Water before removing them from their pots and let drain thoroughly. Add a bit of fertilizer to each planting hole(read the directions on the box or bottle) and water thoroughly when done. It's crucial to be sure the last frost date in your area has passed as the young plants won't survive a frost. For tomatoes, you may want to put a collar made out of cardboard around the base of each seedling to discourage slugs and cutworms.



Related Articles
Editor's Picks Articles
Top Ten Articles
Previous Features
Site Map





Content copyright © 2019 by Sue Walsh. All rights reserved.
This content was written by Sue Walsh. If you wish to use this content in any manner, you need written permission. Contact Gail Delaney for details.