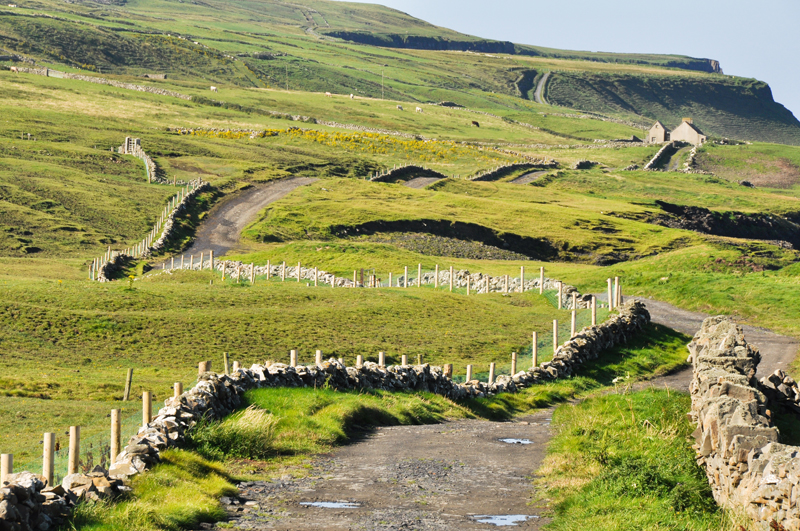 Margaret Haughery, a native of Co. Leitrim who immigrated to the USA in 1818, may be on the way to being beatified, the first step towards being canonized a saint. This indomitable woman's life is an example of charity in the face of personal tragedy, as well as enterprise.

Born Margaret Gaffney in the townland of Tully, outside Carrigallen, Leitrim, her parents boarded the ship for America with their three eldest children. Her father farmed on a small scale and perhaps also earned some income tailoring; her mother was an O'Rourke and a direct descendent of the O'Rourke chieftains of Breifne, a region including Leitrim, West Cavan, South Fermanagh, North Roscommon and North Sligo.

The family settled in Baltimore and were about to send for the younger children when tragedy struck. Both parents succumbed to the yellow fever epidemic of 1822. This mosquito borne virus was a scourge in the USA during the 19th century. At nine years old Margaret was an orphan, who survived when a fellow émigré took her in until she was old enough to obtain a housemaid's job.

At age 21 she married Charles Haughery in Baltimore Cathedral and a daughter, Frances, was soon born. Charles was said to be in frail health. The couple moved to New Orleans but Charles was advised that a sea journey might improve his condition. A native Irishman, he sailed for Ireland, but died shortly after arriving. Shortly after being widowed, her daughter Frances succumbed to a severe acute illness. At 23, Margaret was again alone in the world.

Margaret was befriended by the Sisters of Charity in New Orleans. Sister Frances Regis, who managed an orphan asylum, invited Margaret to help with the children and the running of the asylum. What may have been an act of charity towards the grieving widow became Margaret's life-long vocation. Margaret was eventually appointed manager of one orphan asylum and would, over the decades until her death in 1882, found more institutions for the care of orphans, foundling babies and other destitute persons.

Fueled by the need to support these charities, Margaret discovered an entrepreneurial flair. She worked as a laundress and sold bread or other items from a push cart. In 1853, a yellow fever epidemic was again to be decisive in her life. With many more orphans to support she opened Margaret's Bakery, a successful venture that sold bread cheaply to the public.

During the Civil War, such was the esteem for Margaret and her charitable nature that the occupying Union general, General Butler, allowed Margaret to travel freely after curfew when she obtained flour for her bakery and gave alms to the hungry or sick.

Margaret lived simply and, as a Catholic, was rather eccentric in her choice of always wearing a Quaker bonnet. But this was an example of a person who lived simply herself. Nor did Margaret ever learn to read or write. Her will, leaving her considerable fortune to the charitable institutions she founded to care for the children and orphans of New Orleans, was signed with an 'X'. The profitable Margaret's Bakery was willed to her foster son to provide him with a livelihood and to carry on the business according to her fair ethos.

Margaret Haughery was much mourned by the people of New Orleans and was accorded what amounted to a State Funeral. Soon after her death, the city of New Orleans decided to show their honor by erecting a statue. Margaret, Bread Lady of New Orleans, Angel of the Delta, became the first woman in the USA to have a statue erected in her honor. It still stands, in the aptly named Margaret's Place, New Orleans.

For her dedicated philanthropy regardless of religion or race, Margaret Haughery epitomized the Christian doctrine to love one another. Because of this, there are many Catholics who hope that this 19th century Irish American woman will one day be canonized a saint. Certainly, during her life, her practical and energetic actions performed many a miracle for orphans and the destitute in New Orleans.



Related Articles
Editor's Picks Articles
Top Ten Articles
Previous Features
Site Map





Content copyright © 2022 by Bee Smith. All rights reserved.
This content was written by Bee Smith. If you wish to use this content in any manner, you need written permission. Contact Bee Smith for details.