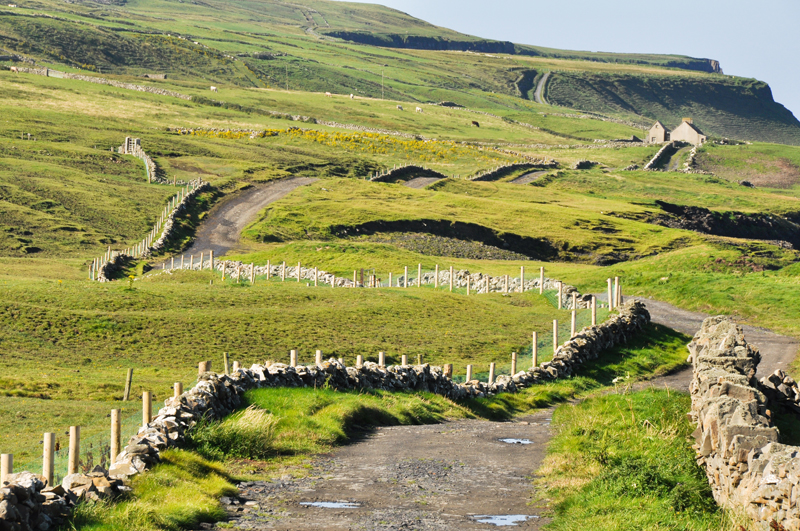 Patrick, later to become the patron saint of Ireland, was born, probably in Wales, about AD 385.
It has been suggested that his given name was Maewyn,or some derivitive of that and that he was almost certainly raised as a pagan or perhaps Druidic.

At the age of 16 he was captured by Irish raiders who had crossed the Irish Sea and having been transported back to Ireland, he was sold into slavery and it is believed that he ended up in the area around Downpatrick in County Down.

During his captivity, Patrick seems to have experienced a personal relationship with God and converted to Christianity.
After about five or six years in servitude he escaped from slavery,managing to find his way back to his home-place in Wales and then after a number of years to Gaul where he studied in the monastery under St. Germain, bishop of Auxerre for a period of about fifteen years.

During his training he became aware of an even greater calling to return to Ireland with the express purpose of converting the pagan and druidic Irish to Christianity.
However, and this aspect of his life is seldom known, Patrick's superiors did not consider him prepared enough for such a task and instead appointed another monk named Palladius as bishop to Ireland.
Two years later, Palladius followed his own personal calling to Scotland, and Patrick, now much more learned and experienced was appointed as second bishop to Ireland.

Patrick's ministry was very successful among the Irish and his ability to win converts became a thing of renown.
Naturally, the Celtic Druid Priests and leaders were angered by his success and through political and religious manipulations, Patrick was arrested several times. Having escaped the plots to bring about his demise, he set out on what even today we would consider a hazardous and wearying journey .
He traveled throughout the whole of Ireland, establishing monasteries and churches with accompanying parochial schools to help him in his mission of converting the whole island to Christianity.

Patrick continued his work for the Lord for over thirty years and then retired back to Down-patrick where it is said that he died on March 17 in AD 461.

Much of the folklore associated with St. Patrick is impossible to substantiate.
It has been reported that Patrick even raised people from the dead and of course, his great ability to drive all the snakes out of Ireland is a perpetual part of the story of his life.
As far as history and animal husbandry records, there were never any snakes in Ireland, and perhaps what is nearer to the truth in this story is that perhaps "driving the snakes" out of Ireland is simply a metaphor for his driving out the occultic and pagan practitioners who were so opposed to his Christian teachings and preaching.

Though originally a Catholic Church " holy day" in which all the faithful were required to attend Mass, St. Patrick's Day has evolved into more of a secular holiday, especially after the good old saint was demoted by the Catholic hierarchy and removed from the list of recognized saints.

Of course, the other icon traditionally associated with St. Patrick and St. Patrick's Day is the shamrock.
There is much more viable evidence available to suggest that indeed Patrick the missionary used the local plant to demonstrate the truth of the Trinity ---- that the Father, Son and Holy Spirit are all One and yet are Three distinct entities in that one.

After his death, Patrick's followers wore a shamrock as a memorial on each anniversary of his passing.

Surprisingly the celebration of St. Patrick's Day is not an Irish custom at all, but was developed in America in 1737. That was the first year St. Patrick's Day was publicly celebrated in the Boston area.

Today, all over the world, people celebrate the day with parades, "wearing of the green", singing Irish songs and telling stories of "the auld sod" and of course drinking green-colored beer.




Related Articles
Editor's Picks Articles
Top Ten Articles
Previous Features
Site Map





Content copyright © 2022 by Tony King. All rights reserved.
This content was written by Tony King. If you wish to use this content in any manner, you need written permission. Contact Bee Smith for details.