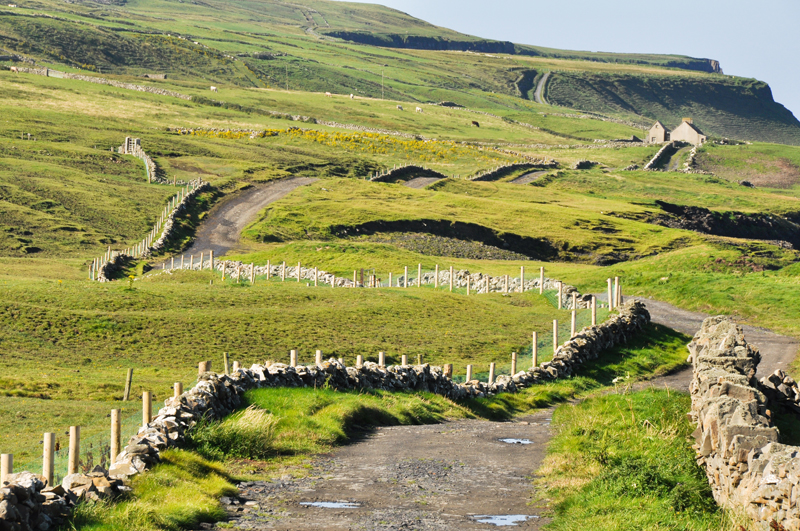 A recent forum post has asked could I clarify the history and meaning of the term : "The Black Irish."

First of all, let me say that in spite of what many people believe or have been told, the term was not well known in Ireland until recent times. In fact, "Black Irish" is a mostly USA phrase and it is only through the "Americanisation" of Irish and European cultures that it has become more familiar during the past fifty years.

Having said that, here are several interpretations of the etymology of the phrase.

1. The most common claim to the name is that after the defeat of the Spanish Armada off the west coast of Ireland in 1588, a number of Spanish sailors and soldiers integrated with native Irish women and from this union a special breed of "Black Irish" was spawned.

Unfortunately, even though this ancestry is widely believed, there is little if any historical fact available to support it.

As a matter of fact, the truth is that many of the Armada shipwreck survivors were either slaughtered as enemy combatants or later returned to Spain under an English/Spanish treaty agreement.

Genetics does not permit an insignificantly small number of Spaniards to breed a new "Black Irish" progeny, without the Southern European dark skin or swarthiness. In spite of the many claims of such Spanish looking people commonly inhabiting the West Coast of Ireland, there are very few Latino people claiming Irish ancestry anywhere in Ireland.

In 1596,only eight years after the Armada debacle, a letter was written from Ireland by six Spaniards to King Philip of Spain, asking for his guarantee of a safe passage back home. The letter claimed that these were the sole remaining survivors of the doomed naval fleet and even if several others had stayed and produced children to Irish women, it is certainly not enough to grow a specialised segment of society.

2. Since the term "Black Irish" is mostly of USA origin, it is not outside the realms of plausability that the phrase had its origins in the 1800's when the distain for "bog Irish" became so great that the common vernacular for anyone from the Emerald Isle was "White Negro" (actually a more reprehensible word was used),placing the Irish on the same "bottom rung" social status as the Black American Slaves.

At this time in American history,it was generally believed that the Irish and Negro Slaves held genetic similarities and that their intermarital unions would produce a new race of "Black Irish". It took only a short period of common slang usage for the new term of "Black Irish" to be born and carried over into everyday language.

The truth is that,though bound through a common hatred from the rest of society,each race separated from the other and thereby maintained their heritage and generational purity. Sadly, the derisive term stuck with the Irish until recent living memory.

The term "Black Irish" has also been used to describe Irish people of unique dark or swarthy complexion. Again, the truth is that most Irish people are dark-haired( either black or brown),fair-skinned with blue or green eyes.
The idea that all Irish people are fiery red-heads or "ginger" is just so much Hollywood movie make-believe.

"Black Irish" is not really a name with which I would willingly classify myself. I believe that the research that shows it to be a term of derision and mockery is closest to the truth.
If you have Irish ancestry, simply be proud of that ------ enjoy and stand up for your heritage. It is one that none of us needs to hide with shame.

You Should Also Read:
The Irish Assimilation


Related Articles
Editor's Picks Articles
Top Ten Articles
Previous Features
Site Map





Content copyright © 2022 by Tony King. All rights reserved.
This content was written by Tony King. If you wish to use this content in any manner, you need written permission. Contact Bee Smith for details.