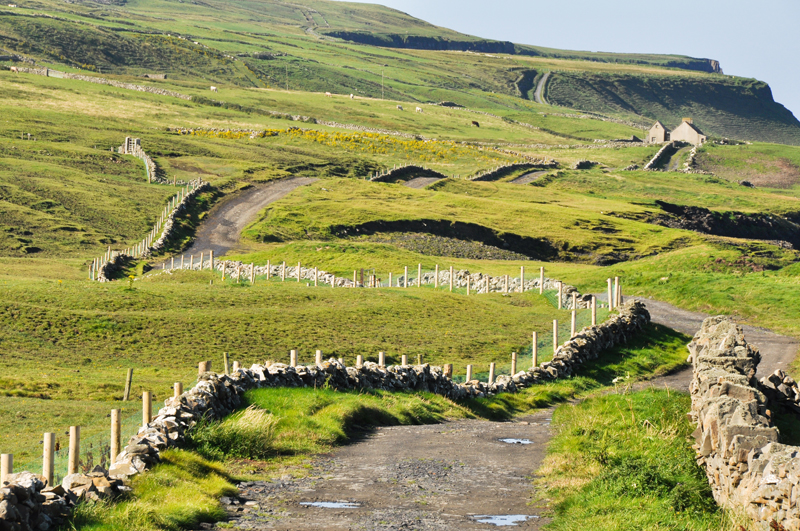 In the mid 1500's, when the Princess Elizabeth was born to Henry VIII in England, a female child was born in the south-west corner of County Mayo, to Owen and Margaret O'Malley, the chieftains of the O'Malley clan.
Little could anyone even imagine that the lives of these two children would become inter-twined through mutual admiration and bitter animosity.
At this time, the Irish leaders were regularly left to their own devices by their English overlords, and although unusual for the nobility of the day, the O'Malleys became a great sea-faring family, developing total control over the waters of the West-Irish coast.
As was common within the ranks of the nobility of that time, Grace was probably fostered out to a family for her upbringing. She received a formal education and by her teen years was fluent in her native tongue and Latin, and was conversant in English, French and Spanish.
In spite of her father's opposition, Grace was drawn to the sailing business and as a keen student in the hands of her parental mentor, she proved herself to be a forceful leader, gaining the respect of all the men on the fleet. Several political and warlike engagements on land and at sea cemented that leadership and the crews and warriors knew that Grace O'Malley was neither a weak woman nor a person to be "trifled with."
She instituted a plan whereby ships using the safety of "her" waters, were taxed for safe passage, either by paying cash or a percentage of their cargo. She employed Scottish mercenaries as well as her own Irish kinsmen to build an army and navy with which she began to plunder the outer islands of Scotland.
By now, Grace had made sufficient enemies that news of her exploits reached the English throne. As is always the case, the tales of her nefarious deeds were enhanced and exaggerated, though she was by this time, a very formidable and almost unbeatable commander.
However, a certain Sir Richard Bingham ,an English soldier and naval commander, was serving in Ireland as part of Queen Elizabeth's "re-conquest"of Ireland and was acting as governor of Connacht. His jealousy and rage against not only Grace, but all the Irish clan leaders, knew no bounds.
In 1593 he wrote to the Queen claiming that Grace O 'Malley was not only a pirate and pillager, but that even worse, she was "nurse to all rebellions in this province the last forty years."
Finally, as if to add insult to injury, Bingham seized O'Malley's sons and held them captive as "prisoners of the English Crown."
Grace sailed to England to petition for their release and met with the English Queen in Greenwich Castle. Their discussion was carried out in Latin as O'Malley claimed to speak no English and Elizabeth spoke no Gaelic.
Grace met with Elizabeth dressed in the typical refinery of the English court, thereby dispelling the thought that she was nothing more than "bog Irish".
Surrounded by guards and the members of Elizabeth's royal Court, she refused to bow before Elizabeth because she did not recognize her as the Queen of Ireland. A dagger hidden among O'Malley's dress was discovered by the guards, but Grace informed the queen that she carried it for her own safety. Some also reported that O'Malley sneezed and was given a lace-edged handkerchief from a noblewoman. She apparently blew her nose into the handkerchief and then threw the piece of cloth into a nearby fireplace, much to the shock of the court. O'Malley proudly informed the queen and her court that, in Ireland, a used handkerchief was considered dirty and ought to be destroyed.
The Queen apparently took to O'Malley, who was three years older, and the two women reached sufficient agreement for Elizabeth to grant O'Malley's requests, provided that she end her support of the many Irish rebellions and piracy against England . Among the other agreed-upon demands, Elizabeth was to remove Richard Bingham from his position in Ireland, and O'Malley was to stop supporting the Irish Lords' rebellions.
Grace returned to Ireland, and the meeting seemed to have done some good, for Richard Bingham was removed from service. However, several of O'Malley's other demands (i.e. the return of the cattle and land that Bingham had stolen from her, for instance) remained unmet, and within a rather short period of time, Elizabeth sent Bingham back to Ireland. Upon Bingham's return, O'Malley realized that the meeting with Elizabeth had been useless, and went back to supporting the Irish rebellions.
Although there are no definitive details, Grace most likely died at Rockfleet Castle in 1603, strangely, the same year as the death of her nemesis in England. Due to Richard Bingham's hatred and constant seizure of her lands, animals and finally her fleet, she was left almost penniless.





Related Articles
Editor's Picks Articles
Top Ten Articles
Previous Features
Site Map





Content copyright © 2023 by Tony King. All rights reserved.
This content was written by Tony King. If you wish to use this content in any manner, you need written permission. Contact Bee Smith for details.