Baking Oat Bran Berry Muffins With Preschoolers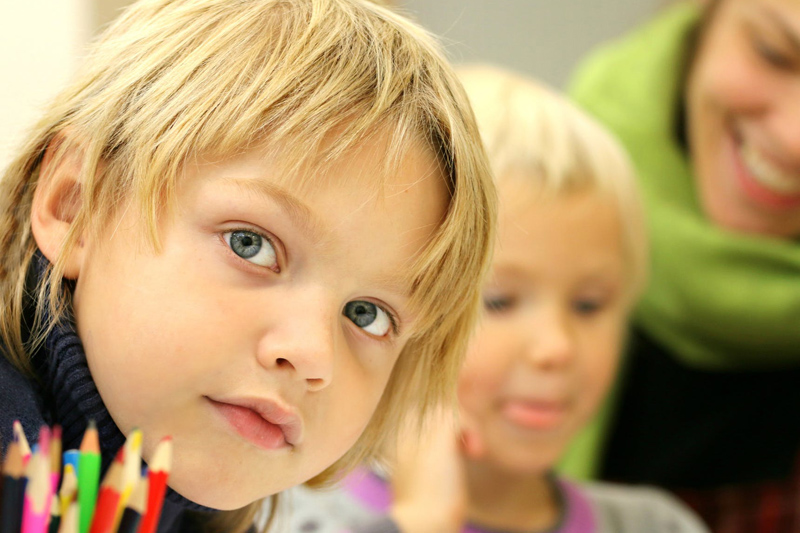 Finding healthy, kid-friendly recipes is not an easy task. In my case finding a healthy, kid-friendly, husband-friendly recipe is no easy feat as my husband is almost pickier than my toddler and preschooler! "Healthy" is of course a fairly objective term. What is healthy to one person still seems rather unhealthy to the next person. For me, it is critical to find the balance between being healthy yet not tasting too healthy, being sweet enough to entice my family to eat it yet not actually containing a high quantity of sugar.

Combine being on the quest for nutritious, delicious recipes with a case of winter boredom and my kids and I developed a tasty Oat Bran Berry Muffin recipe without using any butter or oil and a fairly small amount of sugar.

Oat Bran Berry Muffins
1 cup All Bran cereal
1 cup quick cooking oats
1 cup all-purpose flour
1 tsp baking soda
1 tsp baking powder
¼ tsp salt
½ cup sugar
1 egg, beaten
¾ cup no sugar added applesauce
½ cup plain or vanilla greek yogurt
1.5 cups mixed berries (blueberries, strawberries, and raspberries), fresh or frozen

Directions :
1. Mix the dry ingredients together.
2. Add in the wet ingredients and stir just until combined.
3. Fold the mixed berries into the batter.
4. Grease or line 12 muffin tins.
5. Divide the batter evenly among the muffin tins.

Bake the muffins at 350 degrees for 20-21 minutes. All ovens vary so watch your muffins closely at about the 18 minute mark.

This recipe is highly adaptable to your preferences. If you don't like raspberries then simply use blueberries. Out of oatmeal? Then just add more flour. These muffins are not super sweet, so you can always add a touch more sugar or a little bit of honey to sweeten them up a bit more.

Tips For Baking With Kids
1. Make sure you have enough time for them to help you. It inevitably takes longer with your children helping, so do not plan a group baking project if you are in a time crunch.
2. Set out all the ingredients and utensils before inviting them into the kitchen.
3. Give your child(ren) a specific job: pouring, stirring, etc.
4. Be patient. If your kids are helping you cook or bake, it will be messier.
5. Have fun!! Baking is a fun, bonding experience for you and your kids. Enjoy the process.



Related Articles
Editor's Picks Articles
Top Ten Articles
Previous Features
Site Map





Content copyright © 2022 by Amy Tradewell. All rights reserved.
This content was written by Amy Tradewell. If you wish to use this content in any manner, you need written permission. Contact Amy Tradewell for details.