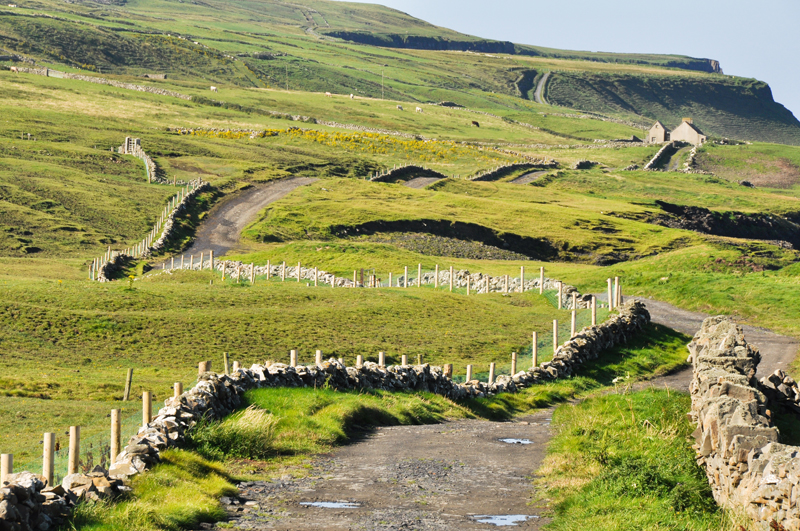 Newgrange is a Neolithic burial site located in the Boyne Valley, just outside of the typically Irish village of Slane. It is known as one of the most impressive archaeological finds in western Europe and is frequented by many notable archeologists from around the world.

Over one acre in size, and thought to have been built over 5000 years ago by stone age farmers, the enormous tomb is over 400ft long and 40ft high.

Surrounding the entrance are large kerb stones and an even larger "gateway" stone.
Many of these are etched with Celtic spirals, perhaps recording some ancient historical events, although the jury on deciphering these hieroglyphics is still out.

Newgrange is probably best known for a rather spectacular occurrence which takes place on the winter solstice, (December 21). Provided the day is clear, a natural beam of sunlight-light enters the tomb and illuminates a path to the rear of the tomb's passage way. There can be no doubt that this occurrence is a man-made event and probably stems from the heavily Druidic culture which permeated the area at that time.

The meaning and reasoning for this strange and yet mathematical and astronomical fascinating alignment with the sun has been debated for years It is now believed with some degree of certainty, that the neolithic people reckoned the sun and the coming of the winter solstice as a new beginning, a rebirth, a new year's eve of the ancient world and that the sunlight alignment is religiously tied into this theology.

The only way to see Newgrange up close and personal is to take the tour provided at the visitors' centre.
Lasting about an hour and a half, the tour takes the tomb's "students" into its interior where lessons and discussions on the ancient peoples' lives and society are frequently lively if not altogether historically correct. While there is an "official" description of the history and purpose of the tomb, there are still many "scholars" who are prepared to debate all and sundry as only the Irish can.

Although modern road and housing developments are wreaking some havoc on rural areas of Ireland, Newgrange remains one of the most accessible of all the neolithic sites in Europe, compared for example to Stonehenge in England. It is also considered a mythical and spiritual site, and draws myriads of interested people from around the world.

The world-wide interest in Newgrange is demonstrated by the fact that if you would like to participate in the solstice tour in 2018, you'd better get your name down on the waiting list today !



Related Articles
Editor's Picks Articles
Top Ten Articles
Previous Features
Site Map





Content copyright © 2022 by Tony King. All rights reserved.
This content was written by Tony King. If you wish to use this content in any manner, you need written permission. Contact Bee Smith for details.