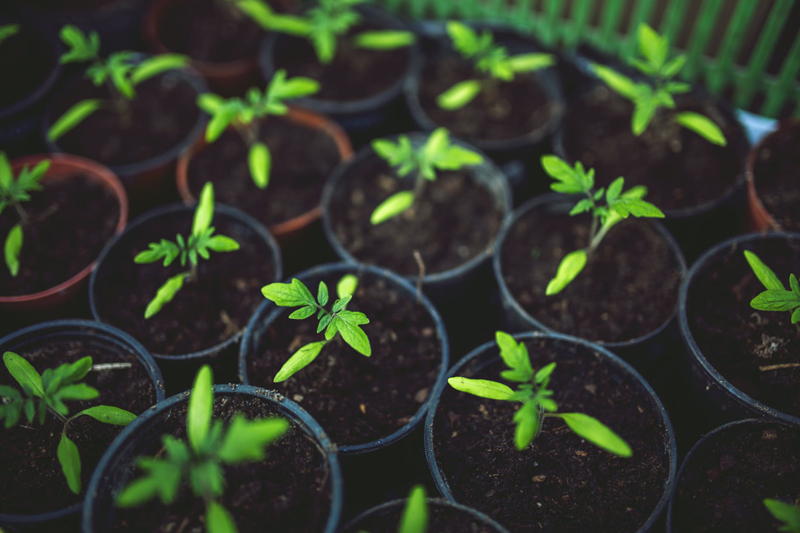 Tomatoes are perhaps the most common vegetable found in today's gardens. People love them, whether cooked in a tangy sauce or as cool crisp slices in a summer salad. It's hard to believe people once believed this delicious and versatile vegetable was poisonous. In Renaissance times they were called "Love Apples." It wasn't until Thomas Jefferson began growing them at his plantation that people began to enjoy them. Before then they were grown as an ornamental plant.

To achieve a successful tomato harvest, you need to start by being sure you choose varieties bred to do well in your area. The best way to do this is by purchasing them from your local nursery or garden center. You'll also want to decide if you want determinate or indeterminate plants. Determinate plants are short, bushy, and set all their fruit at once, while indeterminate are large, sprawling vines that produce fruit continuously all season. For containers, go with determinate varieties, as they are more compact and better suited to that type of growing. You'll also want to go with the most disease resistant varieties you can find.

The final, and probably most fun choice is in deciding just what types of tomatoes to grow. For sauces and canning, you can't go wrong with Romas. For the best BLT you've ever tasted, try a Beefsteak variety. For small spaces, Cherry or Grape tomatoes are perfect. You can grow them in a windowbox or hanging planter. They are delicious in salads, grilled dishes and just as is fresh from the vine. Some gardeners swear by the heirloom varieties for flavor. The best thing to do is to by a couple of different types and see which you like best.

When you're ready to plant, choose an area that gets lots of sun. Tomatoes are heavy feeders, so you'll want to amend the soil with manure and bone meal. The richer and more friable the soil, the happier your tomatoes will be. Make sure they have plenty of space, because they will need it. A good 6 square feet per plant is a good guideline. Indeterminate varieties will need to be caged or staked for support so take that into consideration as well. While you can let them sprawl on the ground, it's not really recommended because it makes the fruits more prone to rot, disease, and the hunger pangs of little critters like squirrels.

Once planted, you'll want to mulch around each plant to help conserve moisture, and water regularly and evenly. Uneven watering leads to cracks and blossom end rot. Other problems you may run into are verticillium and fusarium wilt and mosaic virus. All present themselves as wilted, yellowing and discolored leaves. Fungicides sometimes help but usually the best solution is to remove the plant. As for insects, aphids and tomato hornworm are the biggest pests-aphids can be dealt with by simply knocking off with the garden hose, or of infestation is particularly heavy, spray with a insecticidal soap. Tomato hornworm is best dealt with by simply picking off any you find on the plants.

Tomatoes are a fun and delicious vegetable to grow. Try some yourself this summer and see for yourself!


You Should Also Read:
Burpee Gardening
Park Seed Co.


Related Articles
Editor's Picks Articles
Top Ten Articles
Previous Features
Site Map





Content copyright © 2019 by Sue Walsh. All rights reserved.
This content was written by Sue Walsh. If you wish to use this content in any manner, you need written permission. Contact Gail Delaney for details.