Skunks Need PR Consultant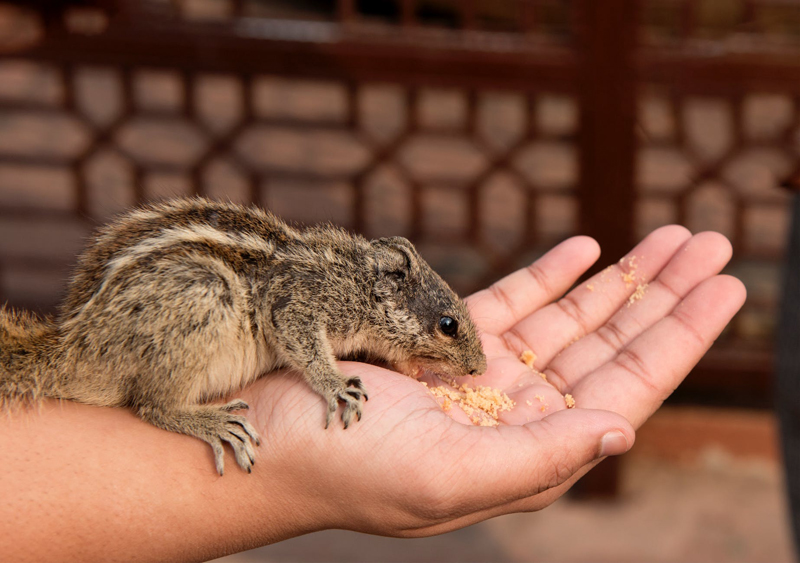 Domestic skunks can make outstanding pets for the right people. As with all people and animals it could be a match made in Heaven or a match that should never happen. Not all people are meant to have pets.
Skunks are VERY independent animals. They don't necessarily come when called. They may or may not be able to be trained. They most likely will do what they want to do and when they want to. They may or may not use a litter box. (At the bottom of this article is a link for my article on how to care for the domestic skunk with detailed instructions and pictures of skunks; including litter box training).
In addition, of all pets, the skunk is the pet in the most need of serious public relations work. Here is a sweet, extremely intelligent, and delightful animal and people can only visualize the stinky spray and rabies. First of all there hasn't been an incident of a wild skunk transmitting rabies since 1984. Domestic skunks are unstinkered very young (scent glands removed from each side of inside of anus).
Soon spring will be here and people will be buying baby skunks. Please don't buy one until you know everything you possibly can about the animal. The time to start learning is now. You should also have a veterinarian that is knowledgeable about skunks; arranged in advance of bringing the baby skunk home.
I have a few articles on skunks and I will list some excellent resources. One is a PBS show I will link. It is very interesting, fun, and will definitely set anyone straight on skunks and skunk myths and misconceptions. (Links at bottom of article)
Not many states allow skunks. There is no legal rabies vaccination as of yet, nor is there a quarantine period established as there is with other pets. States that allow skunks may also require permits. Legal skunk states
State Laws / Skunk Ownership
People that have skunks and want skunks should actively seek a safe and legal vaccination. It has been proven that Imrab 3 is effective and safe but no formal tests have been done. Pharmaceutical companies couldn't care less what we want just what they can profit. Without a vaccination there will be few legal states and not enough skunks for drug companies to profit by doing the needed tests. With a vaccination there would be a lot of pet skunks and the drug companies would profit as they have with dogs and cats.
Most drugs used on animals have never been tested on animals. These drugs are used off label; especially drugs used on animal cancer victims. Without those tests the law or lawmakers are not going to budge an inch on skunk legalization or the biggie a recognized quarantine period.
If your dog or cat bit someone the animal would be quarantined. If no rabies was found they would be released if the animal wasn't found vicious. If a skunk bit someone they would be seized from their home, from kids and adults who love them very much, their heads would be removed, and the animal destroyed.
With enough people pushing we could eventually get domestic skunks legal in all states. Except, for of course California who can't even get ferrets legalized. What a backward state.
My Exotic Pet Shop
Very good show on skunks full version Is That a Skunk "Is That Skunk? Paints a complete portrait of the misunderstood skunk family, Mephitidae, and the people who love them."
Skunk as a Pet
How to take care of the pet skunks, includes pictures.
Striped Skunk
Essential skunk information.
Bow to Me for I AM the Domestic Skunk
More skunk information on the lite side. Is there such a thing as a lite skunk?
My Exotic Pet Shop
Scroll down a litter further and sign up for the exotic pet's newsletter. Your email is 100% safe, I never even see it. You will receive a newsletter twice a week. Once in a great while an emergency newsletter may go out, but this would be only for a big illness outbreak or other emergency. Subscribe so you will know when new content comes out!
If you have a comment about this article, if you have a question, or just want to say hello, stop by the Exotic Pet Forum!
Comment Here
Feel FREE to Contact me anytime. You can reach me via my bio page. Click on my name.
Contact Diana
This site needs an editor - click to learn more!

You Should Also Read:
Complete Exotic Pet Index
Children's Pet House
Exotic Pet Shopping (the safest for your pets)




Related Articles
Editor's Picks Articles
Top Ten Articles
Previous Features
Site Map





Content copyright © 2022 by Diana Geiger. All rights reserved.
This content was written by Diana Geiger. If you wish to use this content in any manner, you need written permission. Contact BellaOnline Administration for details.