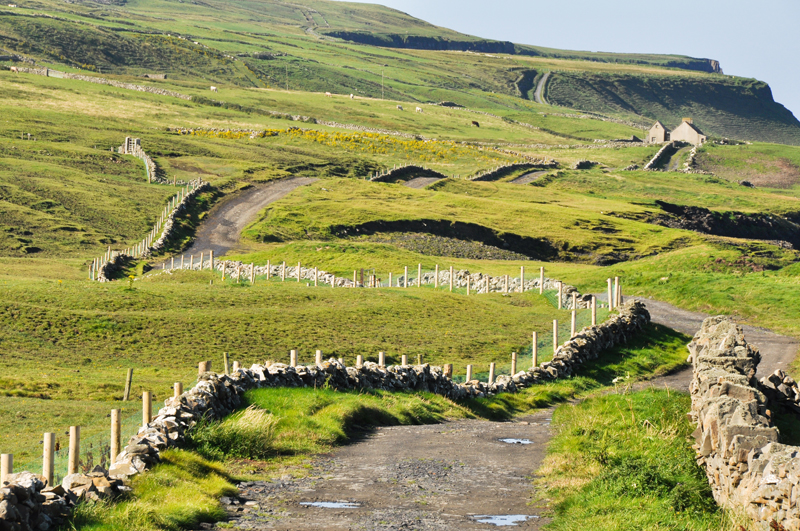 The article title translates as "Are you a Potato Picker?" Although digger might be a more apt description of how you harvest Irish potatoes. Generation upon generation of Irish seem to be born with the skill to set, nurture and harvest this South American import to the Irish culture.

While many an Irish café has gone all trendy and can offer you panini and all manner of newer imported culinary trends, you can still find places where you can get meat and two vegetables (carrots, peas or cabbage usually) along with potatoes. Ireland was the first place where I encountered potatoes being served three different ways at a single meal. These are usually in the form of mashed, plain-boiled and fried as either a chip or a roastie. Low carb it is not!

Ireland is the kind of place where if an old timer is told in a restaurant that he can have any kind of potato he wants, the answer is likely to be something like "Kerr's Pink" or "Rooster." You see native Irish pay keen attention to potato variety. You want a good floury variety for mash and making tatie bread, but a firmer one for plain-boiled so it doesn't disintegrate into a gray mush. Then there are the waxy kind for salad and roasties. Although there is generally a heated debate as to the perfect variety for roast potatoes, which will degenerate into equally opinionated exchanges on the merits of parboiling, goose grease and olive oil.

Potatoes are a passion in Irish culture. Part of this is the fault of the Lumper, the sole seed potato variety that was very prone to blight disease. This led to the greatest scar upon the Irish heart, the Great Hunger or Famine (between 1844-1852.) This was because rural Irish smallholders were so dependent on this single variety, which is why it was so calamitous. No wonder that now in Ireland the fields are awash with potato blossoms from scores of potato types - blue skinned ones, eel worm and blight resistant, first and second earlies, main crop varieties, floury, waxy and good cooking 'all-rounders'.

Spuds are on my mind because it is that time of year, just past St. Patrick's Day, when there is a buzz to check on your seed potatoes. Empty egg boxes cradle single spuds 'chitting' or sprouting prior to 'setting' or planting out. The chits are the little sprouts from the potato eyes. With luck you may get three or even four chits to set in the potato ridge from a single seed spud.

If you live in a place with poor, heavy or boggy soil, then you need to prepare your ridge. Making a 'lazy bed' is far from a lazy person's job. In a place with heavy clay soil – and believe me around where we live there is plenty of blue daub that could make Belleek china! - there is even a particular spade to do the job. The Fermanagh Spade can cut into the grassy, heavy sods. You cut these sods and lay to one side creating a drainage trench either side of a ridge. Along the ridge you put down manure or seaweed if you live near the coast. Set your spuds on the manure bed. Then turn each of the sods grassy-face-down and construct a roof like ridge line.

Spud setting is a Lenten activity with planting the first early varieties like Orla. In areas that are less prone to potato blight, they can plant later but we stick to first early varieties. The Irish weather service still issues Blight Warnings. It takes quite particular weather trends to create those conditions. It requires warm air temperatures, as well as, humidity for forty-eight hours. Today we have many blight resistant potato varieties to plant and we can also treat the plants with bluestone or an organic spray made of macerated mare's tail and garlic.

There is a lot of time, energy and skill put into becoming a successful "Tatie Hoaker" come summertime. This is where all the fun begins. So, are you ready to dig at your Irish roots?



Related Articles
Editor's Picks Articles
Top Ten Articles
Previous Features
Site Map





Content copyright © 2022 by Bee Smith. All rights reserved.
This content was written by Bee Smith. If you wish to use this content in any manner, you need written permission. Contact Bee Smith for details.