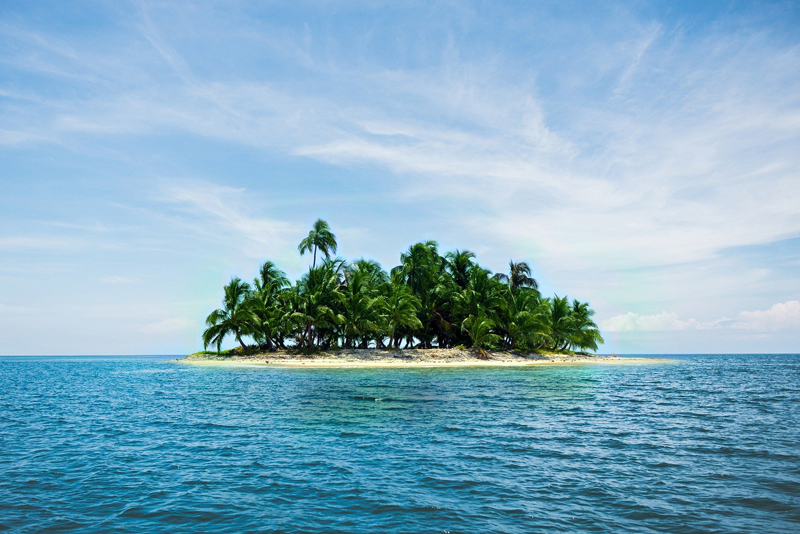 The Cook Islands are the perfect place to carry out daydreams of being castaway on a tropical island – complete with room service, internet, and, possibly, the warmest welcome in the Pacific. These islands may have caught your attention with the reality show "Survivor" but there is no need to worry about surviving your vacation.

Spread across a sizeable area of the South Pacific, the Cook Islands can present a challenge to the visitor wanting to see all of the islands. Most first time visitors will usually concentrate their travels in the "Southern Group" of the Cook Islands that includes the two more populated and larger islands of Rarotonga and Aitutaki.

The islands run with New Zealand graciousness and efficiency coupled with the inherent Cook Island hospitality, creating an atmosphere that genuinely welcomes and treats the visitor very well.

The major Cook Islands, Rarotonga and Aitutaki are about the same distance from the equator as Hawaii and are similar in climate, with little humidity and pleasant trade winds. November to April is the hurricane season. The Cook Islands experience one about every other year, originating from the direction of Samoa.

What is there to do in the Cook Islands? Sunning, swimming, snorkelling and water sports. These are islands! Surrounded by a sparkling lagoon of tropical azure blue water, backed by beaches of bone white sand and lush coconut palms the beaches of the Cook Islands are among the most beautiful and unspoiled in the world. The south coast of Rarotonga is noted for the best beaches and snorkelling spots. Here the reef is generally further out to and the sea floor is relatively free of spiny corals and rocks.

Snorkellers will revel in the crystal clear and pleasantly warm waters filled with brightly colored fish and corals. Good choices for snorkelling include the channels in Muri Lagoon, Aro'a Beach, Tikioki Beach, and the beach by the Rarotongan Beach Resort.

For serious SCUBA divers, the Cook Islands are also an excellent choice. Outside of the reef the water level drops sharply, to depths of up to 4000m with lots of canyons, caves, tunnels and wrecks to explore. Rarotonga has several accredited diving operators including: Cook Island Divers, www.cookislandsdivers.com; and Dive Rarotonga, www.diverarotonga.com.

For a more leisurely and equally memorable water experience try a lagoon cruise. Glass-bottom boats are very popular on both Rarotonga and Aitutaki. The lagoon at Aitutaki is hard to beat for a viewing experience, filled with giant clams, the ones with the big wavy edges, schools of parrot fish and an abundance of coral; it's a natural water playground.

For those eager to do more than lay on a beach, several tour companies offer varied experiences of the Cook Islands. Raro Mountain Safari Tours (www.rarosafaritours.co.ck) offers three hour tours in custom built jeeps to take your clients off the beaten paths and into the islands rugged mountains and valleys. If you want your sightseeing experience to be from the comfort of an air-conditioned bus, Raro Tours (www.rarotours.co.ck) has half day circle island tours Monday to Friday.

A visit to the Cook Islands Cultural Village is a great way to experience island life prior to the arrival of the Christian missionaries. Daily guided tours around the village begin at 10 am with stops at traditionally constructed huts, demonstrations of island skills including fishing, wood-carving, weaving, dancing, coconut husking and costume making. The tour continues with a performance of dances, songs and chants, followed by a feast of local foods. (www.cookislandsculturalvillage.com)

The early Christian missionaries exerted a powerful influence over the Cook Islanders and the locals responded with great enthusiasm. Most people regularly attend church services and this is far more than a religious ceremony. Locals turn out in their Sunday finery and will seriously frown on those who attend in skimpy attire. Visitors are welcome to attend and the service is filled with music and high spirits.

Hungry? Almost everything from sushi to pasta, even lattes, can be found. Traditional Cook Island cuisine is composed of fish, pork, chicken and vegetables. Side dishes quite often include steamed taro leaves, taro and coconut. The ubiquitous island snack, ika mata, strips of raw fish marinated in lime or lemon juice and coconut cream can be found in almost every restaurant or snack shop.

There are no mega-sized convention hotels and most of the companies running these establishments are New Zealand, and not globally familiar, brand names. Many smaller hotels in the Cook Islands are reluctant to take children under the age of 12 so be sure to inquire if this is a consideration.

Any accommodation with a thatched roof is going to be expensive. Memorable and private, but expensive, very expensive.

The Little Polynesian Resort (www.littlepolynesian.com) has been a favourite in the Cook Islands for more than thirty years. There is an elegant simplicity to the accommodations, perfectly suited to a tropical lifestyle. The range of rooms includes duplex units, private bungalows and "ares" that extend over the beach areas. All of the accommodations have been constructed with high-pitched roofs that are indicative of traditional Cook Island style. Little Polynesian is a truly romantic and intimate getaway.

The Rarotongan Beach Resort (www.therarotongan.com), the largest hotel on the island, is decked out in the Hollywood version of Polynesia complete with tikis and other island paraphernalia. Rates range from $270 NZ for a garden room to $1,965 NZ for a 3 bedroom villa with private pool. Included in the price are a welcome cocktail and island fruits, daily tropical buffet breakfast, loan of snorkel gear, hammocks, sun loungers, beach towels, and daily activities program. An added bonus is that hotel packages may be shared with the sister resort, the Aitutaki Lagoon Resort and Spa.




Related Articles
Editor's Picks Articles
Top Ten Articles
Previous Features
Site Map





Content copyright © 2023 by Ann Carroll Burgess. All rights reserved.
This content was written by Ann Carroll Burgess. If you wish to use this content in any manner, you need written permission. Contact Malika Bowling for details.