Determined toTat? Tools that will help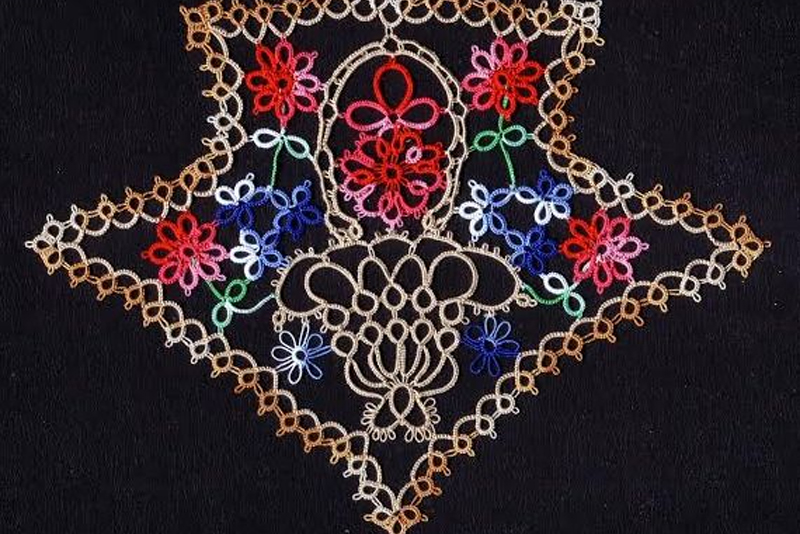 Determined to Tat
In the Nov/Dec 2013 issue of PIECEWORK magazine I read the story of Mary Stavraka and the Embroidery of Karya written by Mary Polityka Bush, a writer and needlework designer. Mary Stavraka was born in the late 1800's in Greece. Early on she lost a hand and later damaged her remaining hand. Already knowing the rudiments of local embroidery style, she determined to continue to embroider. She devised a method of attaching the working cloth to one of her legs and used her damaged hand to make the stitches. She continued to embroider and to teach her style all her life.



This story reminded me of the first time I taught tatting to a couple of ladies with damaged hands. One had suffered an accident and the other was suffering the arthritis which twists our hands and fingers as we age. Neither one of them had the dexterity needed to hold a shuttle and manipulate the threads. They were greatly disappointed.



I then thought of needle tatting. Along with a tourist from Germany who was left handed, these three formed my first needle tatting class. The two original ladies took to the needle like a duck to water and were making lace by the next week. I had to go slower and teach left-handed needle tatting in German to the other one since the tourist did not speak English! What a class that was! But neither physical drawbacks nor language differences deterred these three who were determined to tat.



My thoughts continued on to tatters today who might have physical challenges to their hands as well. I recalled that Helen Chesno published a book. "Tatting with One Hand."




This diagram shows the basic concept for the one-handed method. It is very similar to the method and device patented by David F. Randall. The "Manufacture of Tatting and Device Therefor, [sic]" (US patent 31624 3/5/1861.)




In both these diagrams, the pins and the posts on the lyre-shaped loom provide the support that the fingers would normally provide. Helen's diagram shows a chain in the process of being made. The Randall loom shows a ring in process. Fig. 3 illustrates the ds unflipped and on the right it shows the ds properly flipped and positioned.



"Where there is a will, there is a way." Happy Tatting all.
You Should Also Read:
Shuttle vs Needle Tatting


Related Articles
Editor's Picks Articles
Top Ten Articles
Previous Features
Site Map





Content copyright © 2019 by Georgia Seitz. All rights reserved.
This content was written by Georgia Seitz. If you wish to use this content in any manner, you need written permission. Contact Georgia Seitz for details.