Most Unique Islands of the World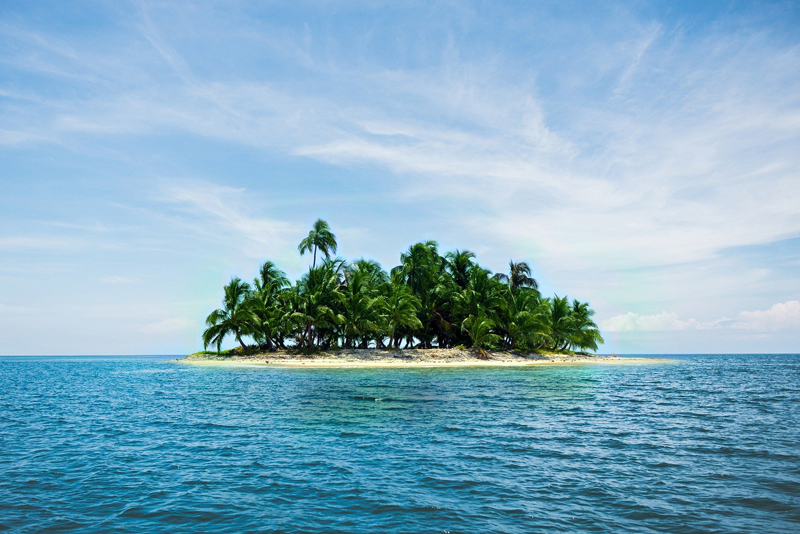 There are hundreds of thousands of islands in this wonderful world of ours, so it's not surprising that many of them can promote some "claim to fame" that makes them somewhat unique. So what are some of these claims?
Let's start with the measurement based claims. The largest island in the world is Greenland. Many of you may be thinking "wait a minute, what about Australia?" In strict geographical terms, Australia is actually a continent, and therefore is not considered an island. So that leaves Greenland in first place for biggest at over 800,000 sq. miles, leaving the second largest island (New Guinea) far behind in its wake. So what about the smallest island? Well, that's a bit of a poser because how do you define what is an island vs. an islet vs. a cay vs. just a pile of rocks? So the island usually has to make a claim in addition to just its small size. For example, Bishop Rock is often cited as the "world's smallest island with a building on it". This truly is barely more than a rock popping out of the Atlantic Ocean several miles off the coast of England, but they somehow managed to build a lighthouse on this rock that has been in operation for over 150 years, and was actually inhabited by lighthouse keepers up until 1992! Another "smallest" island claim is the smallest island nation – this honor goes to Nauru in the Pacific Ocean, somewhere between the Solomon Islands and the Marshall Islands, with an area of only about 8 sq. miles and a population of just over 9,000.
Other common island claims to fame focus on population. Java heads the list as the most "populous" island, meaning it has the highest population density at over 1,000 people per sq. km. Ouch! Not sure that's something I'd want to brag about! The least populous island award is commonly given to the Pitcairn Islands – with a population of only about 50 on a total of about 28 square miles of land. The other unique thing about the Pitcairn Islands is that all residents are descendants of the infamous Bounty mutineers. And then there's Ometepe – an island in the middle of Lake Nicaragua whose claims to fame include being the oldest inhabited island in the world (since at least 300 B.C.), being the world's tallest lake island (at over 5,000 feet), and the largest volcanic island inside a fresh water lake.
But how about some islands that have claims to fame for just being really "unique"? Sometimes the uniqueness is based on something tangible – like the "most biologically unique" island. Several islands vie for this honor – Socotra, off the coast of Yemeni in the Middle East; Tasmania – an island territory of Australia; Madagascar, in the Indian Ocean off the eastern coast of Africa. Or jurisdiction – the island of Borneo is the only island shared by three different countries – Indonesia, Malaysia and Brunei. Or remoteness – the tiny island of Bouvet grabs this prize since the nearest land mass would be Antarctica, nearly 1100 miles to the south.
And then there are the claims that are just plain weird. Have you seen pictures of "The World"? This is a group of manmade islands off the coast of Dubai built in the rough shape of a world map; or on the same coast there are the manmade Palm Islands – seen from the air they look like palm fronds. Or how about the island of Sark (in the Channel Islands), which up until 2008 still operated under a feudal system of government? For eeriness, Poveglia Island in Italy is often cited as the most haunted place on earth. The island of Gunkanjima in Japan also reeks of eeriness – since it's an old very developed coal mining town that was completely abandoned, and is therefore now essentially a ghost town of an island. And in this group we should add La Isla de Las Munecas, Mexico's "island of the dolls". The trees on this island are filled with hanging, decrepit, decomposing dolls. Yes, they were all placed there by a previous resident for superstitious reasons, but the result is a rather macabre atmosphere.
The list could go on. But you get the idea. There are hundreds of thousands of islands in the world, and many of them have claims to uniqueness – some more legitimate than others. What unique island can you discover?
Note: no promotional consideration was provided or paid for this article.


Related Articles
Editor's Picks Articles
Top Ten Articles
Previous Features
Site Map





Content copyright © 2022 by Laura Hartney. All rights reserved.
This content was written by Laura Hartney. If you wish to use this content in any manner, you need written permission. Contact Malika Bowling for details.