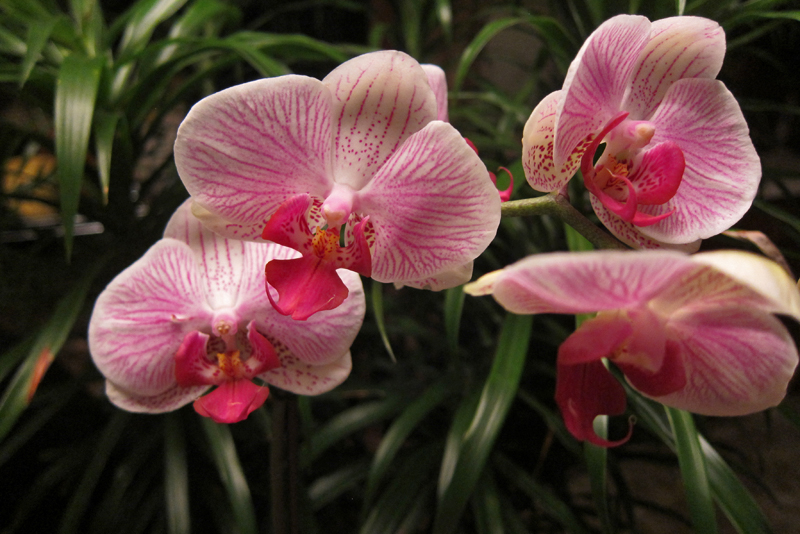 Repot as orchids go out of bloom
Encyclias, Miltonias, Stanhopias, Doritis and Doritis hybrids should be repotted as they finish their summer blooming cycles. This is also the time to repot any seedlings that are starting to outgrow their compots as the cooler conditions will make it easier on them.

Watch your watering schedule
Fall and spring are the hardest times of year to water orchids, especially outdoors or in a greenhouse. Reduced heat and fewer daylight hours cause your plants to grow more slowly and therefore need less water. You need to be very careful so that you do no overwater and rot roots. Indoor plants should be kept on the same watering schedule.

Phalaenopsis or Moth Orchids
Now is the time to initiate cool nights for your Phals if you want them to flower for you in the Spring. Night-time temperatures around 60 degrees Fahrenheit, or 15.5 degrees Celsius, for about 2-3 weeks will start the inflorescence. Once initiated, you can put the plants back in their normal conditions.

Get ready to bring your orchids in
September is an extremely variable month in most areas and it requires vigilance for orchid growers who need to watch those night-time temperatures so that their plants do not get chilled. Start checking your plants for insects in the pots, clean up sheaths where bugs can hide and ready your plants to bring inside at a moment's notice. You will be ready to go without panicking on that first chilly night.

Air Circulation
With the cooler fall temperatures, insects and fungus will start to take over your collection if you let them. Good housekeeping and air circulation will help to keep things in control. It is natural to think that fewer fans are necessary as the temperature goes down, but keep them going at a lower rate to discourage mold and fungus. Keep an eye out for scale and other insects.

Plan to remove shade cloth on Greenhouses
As the days get shorter, the light levels will also be reduced. If you have shade cloth on a greenhouse you will need to remove it in the latter part of September or early October. When you do so, be sure to move your plants around so that those that can take the higher light levels are shading those that need less. It is very easy to burn leaves on low light level plants when you make a sudden change like this.
You Should Also Read:
Orchid Growing Tips #21
After Your Phal Flowers
Windowsill Growing - Humidity


Related Articles
Editor's Picks Articles
Top Ten Articles
Previous Features
Site Map





Content copyright © 2022 by Susan Taylor. All rights reserved.
This content was written by Susan Taylor. If you wish to use this content in any manner, you need written permission. Contact Anu Dharmani for details.