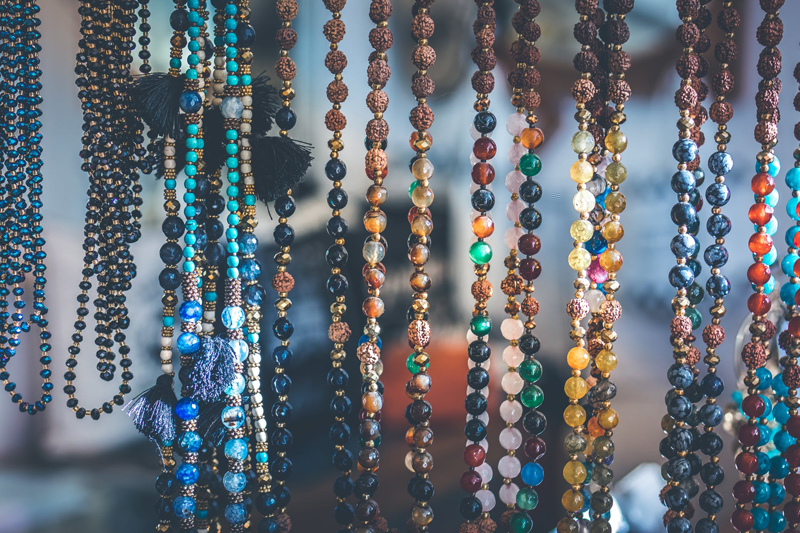 Today is
International Talk Like a Pirate Day
, September 19th. I was thinking of "What would be a good project?" and decided on a pun. If you split a number 8 into 4 parts, you get 4 semi-circles, so these are my Pieces of Eight earrings.
They are done in right angle weave. If you look at my
Diamond Chain
article, plain right angle weave is what the 4 bead units between the diamonds are done with. You can use either a single needle or double needle technique to make these earrings.
You will need:
Thread
Needles
Size 11 seed beads, preferable Japanese. I used galvanized gold and red.
Earring hooks
Scissors
Thread a needle with about 18 inches of thread.
Start by making a strip of right angle weave that's 10 units long following the graph below. It starts with 3 gold and one red, and ends with 3 gold.
Pass the needle and thread through the beads so it's coming out of a "top" bead.
Then you turn the strip into a semi-circle by adding beads between the "up" beads. The outside of the semi-circle is done by adding 2 beads between the first two top beads, 1 bead between the next two, and continuing in pattern until the last top bead.
Illustrations are done in a line to show where the beads go, the actual beadwork will curve as you pull the thread in.
Pass needle and thread through the end bead, and the bottom bead of the end unit, then for the inner part of the circle, pass needle and thread through the next "bottom" bead, add a bead, and pass through the next bottom bead. Continue that way, through two bottom beads, adding a bead between the next two.
Pull tight. Knot off thread, and weave in all ends.
For the top semi-circle, you're basically doing the same thing with just two changes.
Work the right angle weave strip, and start the outside beading, when you get to the second set of "add two beads" instead of adding two beads, go through the second set of "add two beads" from the end of the semi circle you finished, making sure to place the ends facing opposite each other.
Finish off the semi-circle the way you did the first one, then weave through to the top of the outside of the semi-circle, and make a loop for your earring wire.
Make the second earring the same way, and put them on your earring wires.
I hope you enjoy wearing them!
You Should Also Read:
Beaded Hair Clips
Bead Like A Pirate
The Golden Age of Piracy


Related Articles
Editor's Picks Articles
Top Ten Articles
Previous Features
Site Map



Follow @shala%5Fbeads
Tweet





Content copyright © 2023 by Shala Kerrigan. All rights reserved.
This content was written by Shala Kerrigan. If you wish to use this content in any manner, you need written permission. Contact Shala Kerrigan for details.