Windowsill Growing Basics – Light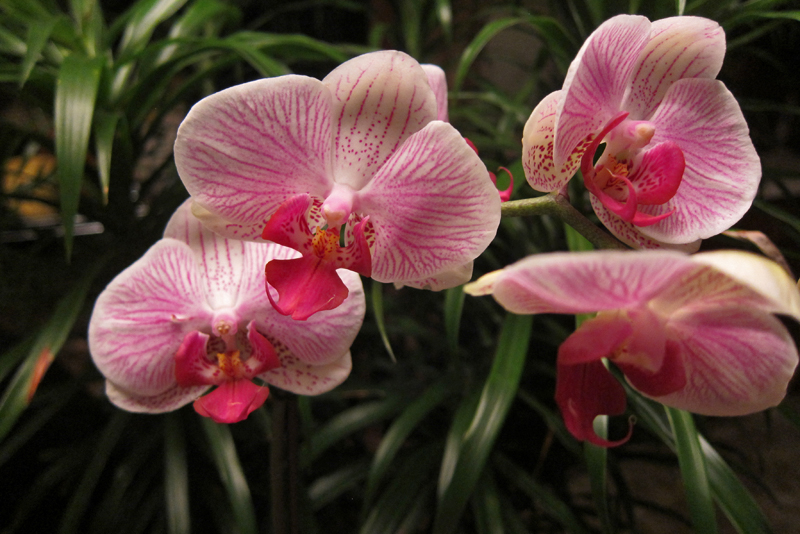 Growing orchid indoors on a windowsill is one of the most popular hobbies among gardeners. In general, these plants will grow very well, but re-flowering them requires more knowledge and care. A good rule of thumb, with the exception of Phals and Paphs, is that if they're growing nicely, but not flowering for you, they need more light.
How can you tell how much light your orchids are getting? The best way is to invest in a
light meter
. This tool will allow you to accurately track how much light your plants are receiving. Most experts recommend that you track light amounts on a regular basis (weekly) for a year so that you have an accurate measure as the seasons change.
If you do not have a light meter you can reach an approximation by using the "hand method." Hold your hand about a foot above the foliage of your plants. If you see a clearly defined hand and fingers on the foliage, then you have bright light in the range of 4,000 to 5,000 foot candles. A good test is to go outside on a sunny day and see what the shadow looks like under full sun – generally 10,000 foot-candles. Inside, if you can see the hand but it is somewhat blurry, then the light is probably in the range of 2,000 to 3,000 foot-candles. If the shadow is totally blurry, then you probably have about 1,500 foot-candles or less. Here are some commonly accepted light requirements for different varieties of orchids:
Phalaenopsis 1,000 to 1,500 foot-candles
Dendrobium 1,500 to 2,500 foot-candles
Cattleya 2,000 to 3,000 foot-candles
Paphiopedilum 1,000 to 1,500 foot-candles
Oncidium 2,000 to 5,000 foot-candles
Remember that light intensity is dramatically reduced the further away from the light source (or window) that you get. So you will need to put your higher-light plants nearer the window and the lower light varieties farther away.
Another important thing to consider is the number of hours your plants receive light. Many of the hybrids that we grow, especially when it comes to Cattleyas, come from species that grow near the equator where the hours of light change little during the year. These plants need a minimum of twelve hours of light a day to flower well. You can increase the number of hours of light if you are lucky enough to have a corner window – ideally southwest/southeast so that the plants receive light from both directions. Another option is to provide more light by using fluorescent fixtures or grow lights.
You Should Also Read:
Windowsill Growing - Humidity
Enough Light for Orchids
Light Meters and Hygrometers


Related Articles
Editor's Picks Articles
Top Ten Articles
Previous Features
Site Map





Content copyright © 2023 by Susan Taylor. All rights reserved.
This content was written by Susan Taylor. If you wish to use this content in any manner, you need written permission. Contact Anu Dharmani for details.