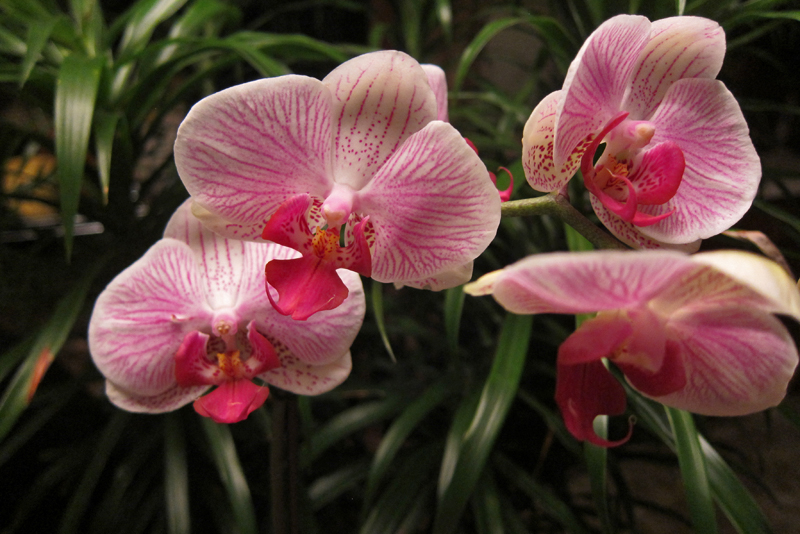 Change your watering and fertilizing schedule
Fall and winter is a time to watch your watering schedule as your plants will be using less water and growing more slowly with reduced temperatures. In conjunction with this slowing down, you will want to reduce your fertilizing. Instead of a twice a week watering schedule, you may need to water only every 10 days. One of the moisture meters available can be very helpful in determining whether you need to water, or use the "pick up the pot" method to see if the plants are dry. Continue with a every-other-watering fertilizing.

Consider additional lighting
Windowsill growers in the northern latitudes should monitor how many hours of light your orchids are getting and if it is under about 10 hours, consider adding lighting fixtures to extend the hours to encourage flowering.

Watch out for insect infestations
As the weather turns cooler, insects will find your orchid plants and take up residency. When you bring in plants that have lived outdoors, be sure to dunk them in a solution of 1 tablespoon of liquid dish soap or insecticidal soap in a gallon of water. It's best of you can dunk them entirely to catch any bugs on the plant itself. Allow to drain thoroughly.

Try to give your orchids a cooler night
Many orchids need a 10 degree, or ___ degree Fahrenheit, drop in termperature at night in order to grow properly. For windowsill growers this is a real challenge, but in the fall when it is extremely important, Mother Nature provides a hand. If possible allow the cooler night time temperatures from outside cool your growing area. Be sure that freezing temperatures do not get to your plants or that your plant leaves are not touching cold glass.

Use bubble wrap on your glass
In order to keep your plants from getting frozen leaves, be sure to keep them from touching cold window panes during winter weather. One idea I have recently seen recommends using commercial bubble wrap to cover your windows as extra insulation as well as providing protection for leaves close to glass. Many growers in very cold climates even use this idea in their greenhouses to add insulation and save on heating costs.

Tester pots
If you have trouble determining when to water, put a "tester pot" with your orchids and use it to determine when the media in your pots is dry. A tester pot is a pot without any plant in it filled with the same media that you use with your plants. Water the pot at the same time you do your other plants. When you want to see if the plants need water simply dump out the tester pot and feel the media in the middle of the pot to see if it is still damp. When it's dry, then you know to water.

You Should Also Read:
Fall Orchid Growing Tips
Orchid Windowsill Gardening
Beginner Orchid Supplies


Related Articles
Editor's Picks Articles
Top Ten Articles
Previous Features
Site Map





Content copyright © 2022 by Susan Taylor. All rights reserved.
This content was written by Susan Taylor. If you wish to use this content in any manner, you need written permission. Contact Anu Dharmani for details.