Holiday Tips for the Caregiver
The Holidays are coming and along with it fun and nervous energy. As a caregiver to an Alzheimer's patient, it is often difficult to feel festive and grateful. However, this is the time to get grounded and befriend yourself. Music, humor, decoration and aromatherapy will envelope you by signaling to your senses and so to your mind, that life is a series of recoveries and we must enjoy the interim. Open the door and invite people inside to help you, allow them to show their compassion and you can share the wisdom of your experience with them.
Taking care of two parents with Alzheimer's taught me to live in the moment and let go of old baggage. The moment is all we really have. Being truly present and in focus helps one to live life more intensely and in greater joy as opposed to experiencing life with a loose mind. When I sip my morning coffee and look out the window, I reset my natural rhythm according to the season.
This holiday season avoid the traditional weight gain which is unhealthy for you, physically and emotionally. By weight gain I also mean a heavy heart filled with resentment. As a result of this emotional burden, many of us eat to fill an empty heart, packing on the unhealthy pounds. We keep super busy to escape the deficits of our own personalities, our unhappiness and disappointments. We become Addicted to Stress. For timely help on managing your stress please view my
interview on ABC's Good Morning America Now
. It's time to realize the pattern of Stress Addiction.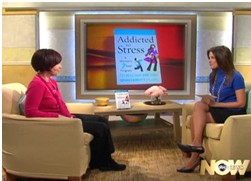 We begin to define ourselves based on what we do and as caregivers we define ourselves as sacrificial givers. However, I am here to tell you that you are so much more. It is time to reclaim your true identity. You have a right to your authentic life and to just breathe… don't feel guilty about having fun or feeling happy.
While new Alzheimer's research continues with a few steps forward and one back, we learn from the errors. For example, Ginko Biloba, which used to be touted in Alzheimer's prevention, is a supplement which does not prevent or treat Alzheimer's. In fact, neither does royal bee jelly. From my own experience with both my parents these supplements did not work to alleviate their symptoms, but now research proves my own personal observation. Meanwhile, the link between diabetes and Alzheimer's gets stronger and therefore it is important to be vigilant about food, exercise and medication needed to keep diabetes under control. In fact, some of the medications for diabetes apparently, help to reduce Alzheimer's plaques in the brain and so, these medications are being studied as a possible new treatment for the disease.
Keep your expectations realistic, live in the present and make room for a reasonable happiness. Appreciate what you have as opposed to what you don't have.
---
For more information on managing your stress and reclaiming your life read my book,
Addicted to Stress: A Woman's 7 Step Program to Reclaim Joy and Spontaneity in Life
. To listen to archived radio shows with guest experts visit
Turn On Your Inner Light Radio Show