Falling Leaves – Dendrobiums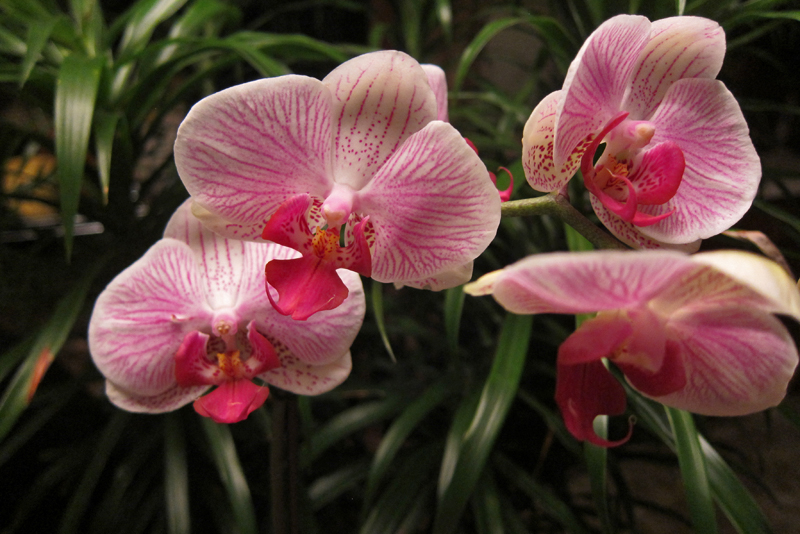 It is always worrisome when our plants start to lose leaves, so to better understand the process we'll look at
Dendrobium
which is extremely diverse and also prone to leaf drop for a variety of reasons.
Dendrobiums are "cane" orchids which store their energy in tall bamboo type canes. The
Phalaenopsis varieties
(with flowers and long inflorescences resembling Phals) will drop their leaves when the temperature goes below 50 degrees Fahrenheit or 10 degrees Celsius. In their native habitat the temperature rarely goes below 60 degrees Fahrenheit and they need year round watering and fertilizer as well as warm temperatures. They will also tend to lose leaves if the humidity is too low, so this is something that indoor growers should watch out for. Leaf loss is simply a mechanism to preserve their energy and does no harm to the plant. They will generally bloom on the old back bulbs, so don't them off.
The Nobile Dendrobiums
which are lovely with a large eye in the center of the flower need a long dry period so that they will lose their leaves. They bloom on short inflorescences right next to the cane in contrast to the long stems on the Phalaenopsis section. Keep them misted, but not watered as they will not flower if kept watered, but will product keikis (baby plants). Keep them dry until new growth is around ½ inch or 1.5 centimeters and then start water and fertilizer being extremely careful not to get any moisture on the new growth. They are sensitive to rot at the early stage of growth so keep an eye out for blackened areas and spray with a fungicide such as Physan.
Other causes of leaf fall in these orchids are spider mite infection and fungal growth on the leaves. Symptoms of spider mite are a silvery look to the leaves and sometimes evidence of minute webs on the undersides. It is a good idea to spray your collections in the fall and winter in order to protect against these pests. Fungal infections can be seen as dark spots on the undersides of the leaves or in the areas where the leaves connect to the cane. Eventually the leaves will die and fall off. Lack of adequate air circulation is often the culprit so be sure that you have fans circulating air. Spraying with Physan will control the problem once it has appeared. You will need to do so weekly for two to three weeks to completely control it. It is also important to dispose of any infected materials away from your healthy plants as mold spores are easily spread.
You Should Also Read:
Orchid Growing Tips #24
Repotting Your Orchids - Dendrobiums
Orchid Profile: Dendrobium biggibum


Related Articles
Editor's Picks Articles
Top Ten Articles
Previous Features
Site Map





Content copyright © 2023 by Susan Taylor. All rights reserved.
This content was written by Susan Taylor. If you wish to use this content in any manner, you need written permission. Contact Anu Dharmani for details.