Galapagos - Underwater Surprises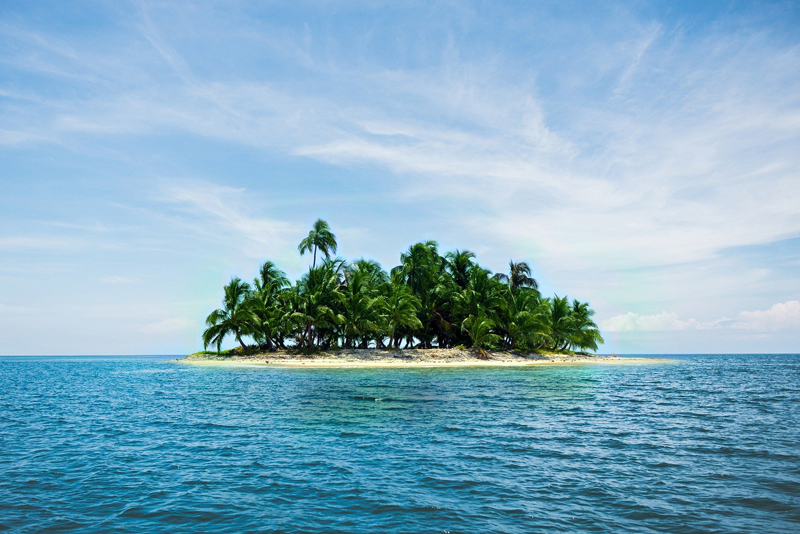 Yes, the Galapagos Islands are kind of out in the middle of nowhere. To reach the closest inhabited land you have to travel almost 600 miles eastward to the western coast of Ecuador (the country the Galapagos Islands are part of). To the south you would have to go almost 2,000 miles before reaching Easter Island; and to the north about 450 miles to reach tiny uninhabited Cocos Island, and after that Central America. To the west, well.... that's just pure Pacific Ocean for a very long way! So the Galapagos Islands are very isolated, which is, of course, why they provide for naturalists such a fascinating study of unique land animal species.
But the Galapagos Islands are also surrounded by one of the largest marine reserves in the world - nearly 27,000 sq. miles worth of protected ocean. And that creates some fascinating snorkeling and/or scuba diving adventures for those who enjoy the underwater world.
Many visitors are surprised by the cold temperatures of the waters around the Galapagos, expecting tropical island-like temperatures due to straddling the equator. But the Galapagos are affected by the Humboldt Current, that brings cold water all the way up the west coast of South America, and the Cromwell Current; the phenomenon of upwelling, as these currents bend, bathes the islands in cool water and also provides a very rich marine environment. So you won't see a lot of colorful coral reefs in the Galapagos and you'll probably need to wear a wet suit to snorkel comfortably; but you will see an amazing plethora of fishes. Well over 400 different species have been documented there.
From an oceanic perspective, there is a "warm season" (December to May) and a "cold season" (May to December) which brings variety in the larger migratory marine life, such as sharks. Hammerheads can be seen year round, but whale sharks are much more common in the warm season. On the other hand the cold season offers more chances for ray sightings, in schools during their mating season.
What I found most exciting about snorkeling in the Galapagos, though, was the unusual opportunity to swim with some creatures you don't often get to share the water with. I fairly spluttered in excitement when I watched the first Galapagos penguin dart past me under water! These penguins are the second smallest in the world and the only species of penguin found north of the equator. Like all penguins, on land they are slow and clumsy, but in the water they "fly" with amazing speed and agility. You have to be very observant to catch a good sighting.
Another unusual swim partner is the marine iguana. Yes, these iguanas do swim. It's a little unnerving to see this snake-like figure slithering through the water near you with just its head and maybe a few of its back "spikes" showing above the surface. Dive below it and you can watch how it uses its tail to propel itself through the water. Or if you're really lucky you'll spot one diving down to nibble algae off of the rocks below.
But one of the best surprises when snorkeling in the Galapagos is the playfulness of the sea lions. When our naturalist told us smilingly how they would swoop in our faces and tease us to play, we thought he was joking, or at best exaggerating. As the first couple of sea lions just swam past, we were thrilled to see them, but not tempted to play. Then the playful youngsters arrived. They were darting in our faces and swimming in circles around us and just generally making us laugh out loud. There was a 12-year old boy on our expedition who took a quick swim while we waited for a zodiac to come pick us up from one of the beaches. A young sea lion decided he was a wonderful playmate and when the boy's mother said it was time to get out of the water, the sea lion literally followed him back onto the beach begging him to come back into the water. And when the boy did jump back in, the sea lion frolicked around him in joy. It was truly an amazing human/wild animal encounter to witness.
So if you are a snorkeling aficionado and not worried by slightly chilly waters, then the Galapagos Islands should definitely be on your list of places to explore. And don't forget to bring an underwater camera – people back home may not believe your stories without the documented evidence!
For more info on the Galapagos Islands and the land adventures you can enjoy there, please read this article: Galapagos – Land and Wildlife Variety
Note: no promotional consideration was provided or paid for this article.
You Should Also Read:
Galapagos - Land and Wildlife Variety


Related Articles
Editor's Picks Articles
Top Ten Articles
Previous Features
Site Map





Content copyright © 2022 by Laura Hartney. All rights reserved.
This content was written by Laura Hartney. If you wish to use this content in any manner, you need written permission. Contact Malika Bowling for details.