Getting Ready for an Ochid Show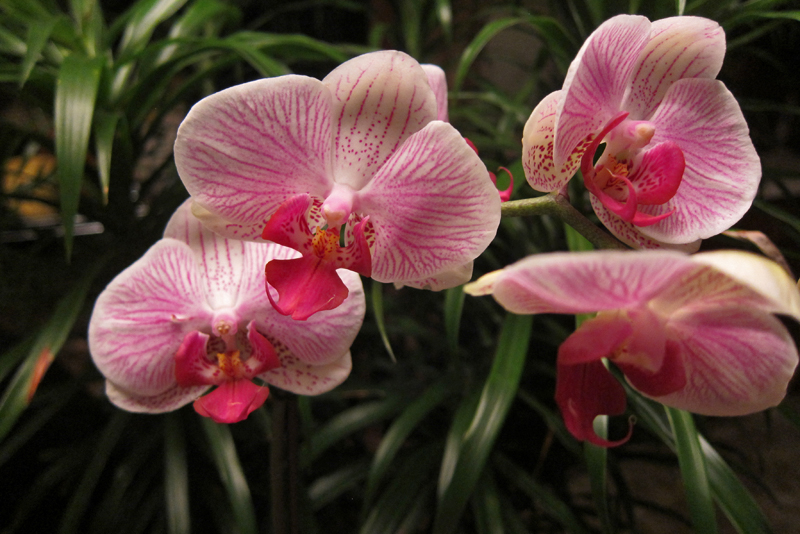 Growing orchids means that when they re-flower for you, you will want someone to know that you actually did it. And one of the best ways is to enter your flowers into a show sponsored by a local orchid society. Most societies will have a group entry in their show that allows you to put your perfect flower in with others.

January is the time to start preparing your plants to enter. Phalaenopsis can take several months to grow their inflorescences. The time to start staking is when the new stalk is about 6 inches, or 15 centimeters high. Carefully put in a stake near the base of the plant (be sure to avoid injuring any roots) so that you can attach the inflorescence with clips. You will want to stake the inflorescence, depending upon the size of the plant, to about 3 inches, or 7 centimeters, below the first flower, then allow it to curve naturally. Be extremely careful to keep the orientation of the plant toward a light source the same as the inflorescence develops or the flowers will not develop evenly. Humidity is crucial during flower development.

Cattleyas should be staked as they are growing so that the new growth and the inflorescences are held straight. Support the flower just below the stem to show off the shape and color to the best advantage. As with the Phals, it is imperative that you work with your plants early in the blooming process to make them as beautiful as possible.

Paphs and Phrags are best supported by thin wire stakes with a "U" shaped top. One problem with showing these slipper orchids is that they often will have a "nodding" habit or the flower will tilt downwards so that it is not displayed properly. Be sure to use a stake long enough to provide support and show the flower off.

Clean the leaves on a shady day with lemon juice so that you can remove any mineral or fertilizer buildup. This will allow your plants to grow easily and respire naturally. They will be able to enjoy the humidity you provide and be much happier. Clean up the plant by removing any dead sheaths or leaves, remove any dead pseudobulbs by cutting and then spraying the open wound. Check for pests and insects and treat so that you will not be spreading anything by taking your orchid to the show.

You Should Also Read:
Exhibiting Your Orchids - Preparation
Exhibiting Your Orchids - Before the Show
Look up the Reigstered Name of your Orchid


Related Articles
Editor's Picks Articles
Top Ten Articles
Previous Features
Site Map





Content copyright © 2023 by Susan Taylor. All rights reserved.
This content was written by Susan Taylor. If you wish to use this content in any manner, you need written permission. Contact Anu Dharmani for details.