Orchid Profile – Phaius tankervilleae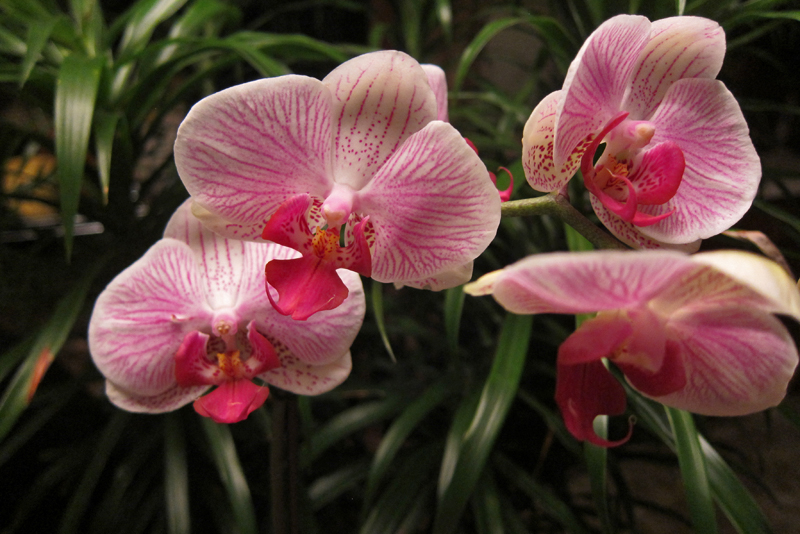 Phaius tankervilleae
, the Nun's Orchid, is without doubt one of the most spectacular species of the terrestrial Phaius group. In warm areas of the world it is grown either in the ground or in pots as a landscape plant with flowering in March and April in the southern United States. The flowering stems can reach four to six feet, or 122 to 180 centimeters, with flowers up to 5 inches or 13 centimeters across. The flowers are generally reddish brown with a deep red or maroon lip and will open in succession. The flowers are very long-lasting so that the plants put on a good display for up to a month. Their large thin leaves are also very decorative in a tropical landscape.
This species is a native of Australia and Southeast Asia and should be grown in tropical conditions. This means hot to warm temperatures on the orchid scale. Most growers use a combination of bark and terrestrial soil sometimes adding compost to the mixture. They require heavy watering during the growing period and then a rest period after flowering. There are two related varieties of the plant – one with white on the back of the petals and sepals and one which is the same color as the flower. The white backed varieties display especially well in shady locations. There is also an alba, or uncolored, variety which has golden petals and sepals with a white lip.
They require filtered light in order to flower, but can tolerate most sun except at noon day strength, however they do better in lower light conditions. Repotting should be done after flowering in the spring rest period so that the plant has time to acclimate before it starts growing again. One interesting feature of this plant is that the inflorescences can by cut after flowering and placed carefully on sand so initiate new plants. They will usually get big enough in about nine months to be able to pot. One source on the web has recommended this plant for those who consistently overwater since it is one of the orchids that loves to be moist all the time!
The genus has 30 to 50 species (depending upon the source) most of which are also terrestrial although there are several epiphytes in the group. They are widespread found from the Philippines through Australia all the way to Africa and Madagascar. They are generally large to medium size plants with
Phaius tankervilleae
being the largest.
You Should Also Read:
Orchid Profile - C. intermedia
Orchid Profile - Miltonia
Sophronitis cernua


Related Articles
Editor's Picks Articles
Top Ten Articles
Previous Features
Site Map





Content copyright © 2022 by Susan Taylor. All rights reserved.
This content was written by Susan Taylor. If you wish to use this content in any manner, you need written permission. Contact Anu Dharmani for details.