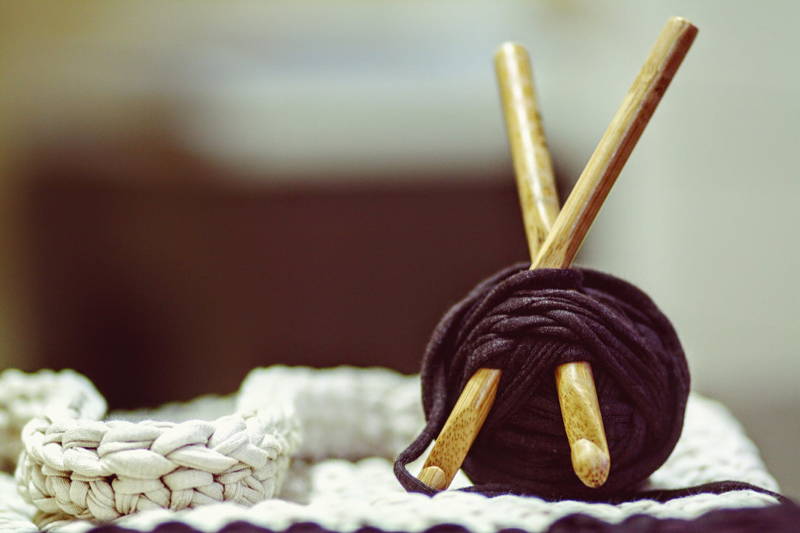 All too often, I've been at the doctors, waiting for a friend (whom I've dropped off somewhere), waiting for the school bell to release the kids for the day or otherwise waiting on something. Generally, I'll have pen and paper to make another one of my notorious lists, but what about those times when you want to be creative or to work on a stitch you've been perfecting? I think you'll find my emergency crochet kit an answer to your prayers.

First, you'll want to determine what you want to put your kit into. This could be anything from a toothbrush holder, mint tin, Skittles tin, pencil holder or any other item similar or maybe not so similar.

Here's a list of some of the items I'd keep in my Emergency Crochet Kit…

1. Crochet hook of favorite size (if you're using a tin, you may want to cut this hook down a bit and have a hole pierced in the end of it. This can, then, be put on a string or chain. This is so that it can be worn around the neck (while working with it) and if you drop it, it's no further than the end of the strings/chain it's hanging from.

2. Small fold-up scissors

3. A small skein of thread or yarn. If you wish to use a bigger skein of yarn, keep in mind that you'll need a larger container to keep it in and the idea of it being in a kit is so that it'll be easy to stash it in several different places without getting in the way or being too obvious.

4. A few small safety pins. These can be used as cable holders, stitch markers, small tapestry needle, needle threaded, etc.

Don't feel restricted to having just one emergency kit. There's many places you can store one; such as the car glove box, bathroom, purse, bedside table, gym bag or any place where it might be convenient to have or to get to.

Emergency crochet kits make great gifts for the crocheters in your life. Use them as a complimentary gift in the crochet swap groups you're in. For craft fairs, yard sales, these can be sold (especially if you decorate the tins/containers) for upwards of $5.00 each.



Related Articles
Editor's Picks Articles
Top Ten Articles
Previous Features
Site Map





Content copyright © 2023 by Beverly Elrod. All rights reserved.
This content was written by Beverly Elrod. If you wish to use this content in any manner, you need written permission. Contact Holly Messenger Aamot for details.