Sons of Albion:
A new band to watch out for is Sons of Albion who hail from Britain. The two songs I heard from them are just excellent and I'm looking forward to more. If you're attending SXSW, you can check them out on March 21 at Latitude as part of their official showcase. The band will also be doing some other club shows in the area as well as NYC during March.
Their first single "Take a Look" is now available for free download from their MySpace:
www.myspace.com/sonsofalbionuk It's terrific but even more impressive is the second song "Castles in the Sky". The material is of a hard rock variety with lots of melody delivered with a wallop that is heavy but not abrasive.
Band members are vocalist Logan Plant, guitarist Nuno Miguel, bassist Gones, & drummer Francisco De Sousa. And yes, that would be the son of Led Zeppelin icon Robert Plant.
Michael Schenker:
The enigmatic guitar god's first DVD
Worldwide Live 2004
will be released on March 24 in the US on Metal Mind Records. This live DVD contains a show from Metalmania Festival 2004. Also included is a band bio, discography, 25-minute interview, photo gallery, desktop images, and web links all in Dolby Digital 5.1 Surround Sound. As a bonus, there will also be a companion CD with tracks from the live show.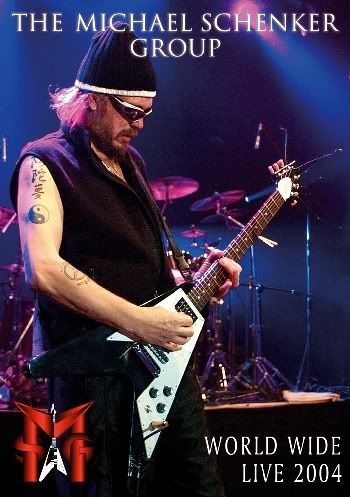 The track listing for both is as follows:
DVD:
1. Ready to Rock (MSG)
2. Mother Mary (UFO)
3. Assault Attack (MSG)
4. Let it Roll (UFO)
5. Lights Out (UFO)
6. Rock'n'roll Believer (MSG)
7. Arachnophobiac (MSG)
8. Into the Arena (MSG)
9. Only You Can Rock Me (UFO)
10. On and On (UFO)
11. Too Hot to Handle (UFO)
12. Armed and Ready (MSG)
13. Doctor, Doctor (UFO)
14. Rock Bottom (UFO)
CD:
1. Ready to Rock (MSG)
2. Mother Mary (UFO)
3. Assault Attack (MSG)
4. Let it Roll (UFO)
5. Lights Out (UFO)
6. Rock'n'roll Believer (MSG)
7. Arachnophobiac (MSG)
8. Into the Arena (MSG)
9. Only You Can Rock Me (UFO)
10. On and On (UFO)
11. Too Hot to Handle (UFO)
12. Armed and Ready (MSG)
13. Doctor, Doctor (UFO)
14. Rock Bottom (UFO)
Michael will be on tour shortly, again promoting last year's In the Midst of Beauty CD. The dates are as follows:
2009-03-18 House Of Blues Las Vegas, NV USA
2009-03-19 House Of Blues W. Hollywood, CA USA
2009-03-20 Vinnies Concord, CA USA
2009-03-21 Coach House San Juan Capistrano, CA USA
2009-03-22 Fat Cat Modesto, CA USA
2009-03-23 House Of Blues San Diego, CA USA
2009-03-25 Club 101 El Paso , TX USA
2009-03-26 House Of Blues Dallas, TX USA
2009-03-28 River City Bikefest San Antonio TX USA
2009-03-29 House Of Blues Houston, TX USA
2009-04-2 House Of Blues Chicago, IL USA
2009-04-3 Peabodys Cleveland, OH USA
2009-04-4 Blender Theater New York, NY USA
2009-04-5 Jaxx Springfield, VA USA
2009-04-12 Avalon Santa Clara, CA USA
2009-04-13 Roseland Theater Portland, OR USA
2009-04-14 Element Victoria, BC CAN
2009-04-15 Studio Seven Seattle, WA USA
2009-04-17 19 Broadway Fairfax, CA USA
2009-04-18 Angels Roadhouse Yucaipa, CA
You can look for a new acoustic record with Michael and MSG vocalist Gary Barden to be released in April. Keep track of worldwide release dates for
Gypsy Lady
by the Schenker Barden Acoustic Project at:
http://www.michaelschenkerhimself.com